We have come to the end of Ramadan 2021 – it's a bittersweet moment for us all as we welcome Eid 2021, yet bid farewell to the blessed month of Ramadan. But Alhamdulillah, many of us experienced a very different Ramadan this year compared to last. Here in Singapore, we're able to go back to the office, having the privilege of lightened COVID-19 restrictions, and we are so grateful for that. May we always remember to count our blessings, and reach out a hand to those who may not have the same privileges as us. May their burdens be eased as well, Insyallah.
This year, for Eid, we look forward to spending time with the ones closest to us – our families. With safety measures in Singapore limiting each household to 5 guests per day, we have to put in a little more planning into our Eid celebrations in 2021. Nonetheless, we are grateful to even be able to visit our loved ones, spreading out our visiting days over the whole month of Syawal, or even scheduling Hari Raya Zoom calls for some families.
To celebrate Eid, HalalTrip and CrescentRating wanted to do something fun to remind us to remain positive in the face of adversity. We decided on doing a music video to one of the classics, Selamat Hari Raya by Saloma. So we teamed up with a local (Singapore) acapella band, E.A.R.L to produce the music you heard in this video! Check E.A.R.L out on their socials: Youtube | Instagram.
Safety precautions, in line with IMDA's guidelines, were taken during the filming of this video.
The Singapore team got together in the office in our best raya clothes and got to filming. The video in the office was taken in one shot, so just imagine how many times we had to retake it! Next was the remote team, as we have colleagues working in Malaysia and Sri Lanka. We decided to do a little Zoom-style bit with them and got them to say a few words on behalf of the team.
Last but not least, we wanted to feature voices from around the world giving their own Eid Mubarak greetings, reminding us all that we are still united as an ummah, celebrating from our own little corners of the world. We had a lot of fun filming and we hope the end product managed to put a smile on your face.
And with that, we pray that Allah brings you happiness, health, peace, and prosperity during this blessed occasion. We at HalalTrip and CrescentRating would like to wish everybody Eid Mubarak!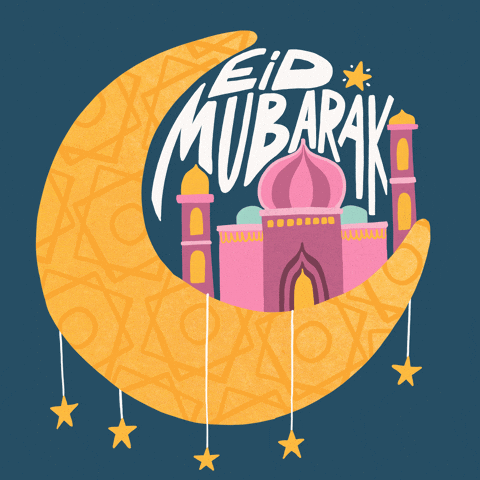 Via Giphy