Istanbul is the largest and the most populous city in Turkey. It is one of the biggest metropolitan municipalities in the world, and the economic, historic, and cultural epicentre of Turkey. Being a point of connection between two continents (Asia and Europe), it sees thousands of people visit every day for tourism, migration, and transit purposes, and the food is one of the most important features of the city.
There are thousands of restaurants all around the world that have gained reputations for their service, ambience and gastronomic achievements. But as Muslims, we always have to go a step further to look for Halal-friendly restaurants. This means searching for lists of restaurant that don't serve alcohol and also serve Halal food in Istanbul.
Don't fret, because HalalTrip has got you covered with the following Halal, alcohol-free restaurants in Istanbul!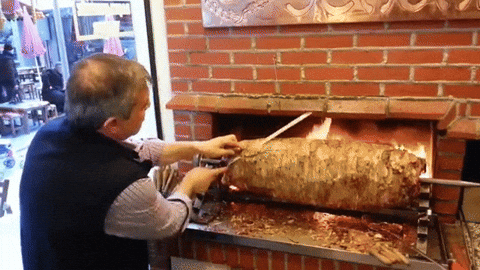 Credit - giphy.com
1. Baltazar Burger Karaköy
Picture Credit - baltazaristanbul.com
Location: Kılıç Ali Paşa Mescidi Sokak, No 12/A Karaköy, Istanbul.
Contact: (0212) 243 6442
Price Range: $25-30 for 2 people
Located just behind the famous Kılıç Ali Paşa Mosque, Baltazar Burger is the place to go to for a delicious bite after a long day of sightseeing. Their homemade beverages, burgers, starters, grills, etc. are to die for! Don't miss their unique and delicious signature burger (Baltazar Burger), which the shop is named after. The open kitchen is definitely an addition to the distinctive ambience of the place, where you'll get to watch your burgers and steaks being cooked to perfection.
2. Bayramoğlu Döner Kavacık
Picture Credit - 101yemek.com
Location: Rüzgarlıbahçe Mahallesi, G-69 Sokak, No 2, Beykoz, Istanbul.
Contact: +90 216 413 00 45
Price Range: $15 for 2 people
Your journey of Halal food in Istanbul would not be complete without authentic Turkish Doner, and Bayramoğlu's Döner is the best Muslim-friendly restaurant in Istanbul that serves them! Trust us when we say they know a thing or two about Doner, as they've been doing this for around 30 years!
Bayramoğlu's Döner journey starts with the carefully selected meats. Chefs turn these meats into delicious Döners with extra love and care, and by cooking them under wood fire. The special flatbread that is used to encase these juicy Doner kebabs is called Lavas, and it comes from a traditional Turkish bakery called Tandir. The final dish comes with a generous helping of French fries and pickles.
3. Takanik Balık Yeniköy / Takanik Fish
Picture Credit - nerede.cenderevadisi.com
Location: Yeniköy Mahallesi, Köybaşı Caddesi, No 155, Sarıyer, Istanbul.
Contact: 0212 2995656
Price Range: $35 for 2 people
Takanik is a Halal alcohol-free restaurant in Istanbul that specializes in seafood, as you might have guessed from the name. It is an awesome Muslim-friendly restaurant to visit with your family, and they have a wide variety of seafood dishes to satisfy anyone.
Takanik's humble beginnings go back to 1998 at the port of Yenikoy out of a small boat. It quickly rose in popularity thanks to its delicious food and reasonable prices. Later it grew into a boat and shack, and soon everyone in Istanbul had heard of it. Soon after, Takanik opened up their first spot in Yenikoy with a more extensive menu. Since then, Takanik has expanded to four more branches in different locations of Istanbul and is working hard every day to improve its taste and service even further.
4. Huqqa
Picture Credit - theistanbullite.com
Location: 1- Emirgan Mahallesi, Sakıp Sabancı Caddesi, Kalamış Sokak, No. 1, Sarıyer, Istanbul.
2- Emaar Square Mall, Ünalan Mahallesi, Ayazma Caddesi, No. 78, Üsküdar, Istanbul.
3- Kuruçeşme Mahallesi, Muallim Naci Caddesi, No. 56, Beşiktaş, Istanbul.
Contact: +90 212 265 06 66
Price Range: $50 for 2 people
Huqqa is a Halal-friendly restaurant that you can add to your list of restaurants that don't serve alcohol. Their service is great and Huqqa's menu offers a range of cuisines from all around the world and serves up dishes that are the perfect blend of East and West. The décor features geometric designs and pastel shades, which is a reflection of the modern vision of the young team. But perhaps the best part about the restaurant is the amazing view of the Bosphorus that it overlooks, which makes it a nice romantic restaurant to eat at without alcohol.
5. Hacı Abdullah Beyoğlu
Picture Credit - haciabdullahsaraymutfagi.com
Location: Hüseyinağa Mahallesi, Atıf Yılmaz Caddesi, No. 9/A, Beyoğlu, Istanbul.
Contact: +90 212 293 85 61
Price Range: $30 for 2 people
Haci Abdullah has been serving up authentic Ottoman cuisines since 1888! People from all over flock to Haci Abdullah to try their special, world-famous Serbet (a type of homemade juice). Apart from their delicious food, they are also known for their tradition. Unlike a regular inheritance where something would pass down from the father to his child, the restaurant is passed down from the head chef down to his personal apprentice. Haci Abdullah has 3 locations all together in Istanbul, Ankara, and Zorlu Center.
6. Virginia Angus
Picture Credit - dailysabah.com
Location: Mercan Mahallesi, Uzunçarşı Caddesi, No. 136, Fatih, Istanbul.
Contact: +90 212 528 38 08
Price Range: $20 for 2 people
If you're meat-lover and are looking for Halal and alcohol-free restaurants in Istanbul to get a good, juicy steak, then you cannot go wrong with Virginia Angus. This is probably the best "steakhouse" in all of Istanbul and is widely popular with meat-lovers. Having started in 2011 in Eminonu, they have since expanded their reach to Nisantasi as well.
7. Hatay Medeniyetler Sofrası
Picture Credit - hataymedeniyetlersofrasi.com.tr
Location: Katip Çelebi Mah, 34433 İstiklal Caddesi, No. 39 (Fransız Konsolosluğu Karşısı) Beyoğlu |
Aksaray, Vatan (Adnan Menderes) Bulvarı, HorHor Caddesi, No. 49 Fatih
Nispetiye Caddesi No. 18 Beşiktaş.
Contact: +90 212 523 3131
Price Range: $60 for 2 people
Hatay Medeniyetler Sofrası is not just a place to get awesome Halal food in Istanbul, but also great for a bit of entertainment as some of the dishes come with a bit of a show (like the konafe, which comes with fireworks!). This is one of the most famous places in the city for delicious meals of Hatay cuisine. They have a Halal certificate and also do not serve alcohol. Make a reservation before heading there, or you might be waiting for quite some time before you can get a table.
8. Emirgan Sütiş
Picture Credit - sutis.com.tr
Location: Emirgan Mahallesi, Sakıp Sabancı Caddesi, No 46, Sarıyer, İstanbul.
Contact: +90 212 323 50 30
Price Range: $25 for 2 people
Emirgan Sutis is one of the most famous Halal, alcohol-free restaurants in Istanbul. It has 11 more branches other than the one that lent it the name. Emirgan is particularly popular for suhoor during Ramadan and breakfast during the rest of the year. Besides breakfast, they serve delicious milky desserts and authentic Turkish Doner to be enjoyed at any time of the day. You'll find the restaurant full almost any day, but they do not accept reservations, so the wait is sort of inevitable.
9. Şazeli Steakhouse Burhaniye
Picture Credit - sazelikisikli.com
Location: Burhaniye Mahallesi, Nurbaba Sokağı No:27, 34676 Üsküdar/İstanbul, Turkey.
Contact: +90 216 401 27 27
Price Range: $40 for 2 people
Sazeli, located on the Anatolian side of Istanbul, is undoubtedly the most famous and busiest steakhouses in the city. You can choose your meat and also the way you'd like it cooked, and pick from a variety of side dishes. The restaurant is a nice romantic restaurant to eat at without alcohol and is popular for its wide garden.
The venue is also home to a café that serves delicious desserts and world-class coffee. Once you're done with your scrumptious steak meal, you can just walk right next door!