Backpacking vacations are becoming more and more popular as it is an ideal way to holiday abroad - specially for students and families looking for budget or cheap vacations ideas. It can be a lot of fun and will give you a very realistic view of the holiday destination, but do be willing to give up some luxuries!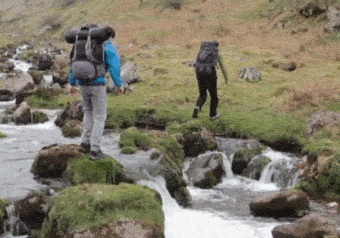 Source: Reddit
With the increase in tourism in most countries, there are plenty of last minute vacation deals and all-inclusive family holiday travel packages to choose from; even for the budget traveler.
The list below includes some of the cheapest destinations for a backpacking vacation. So, enjoy these fun places for an all-inclusive backpacking vacation.

1) Vietnam
Vietnam has been become a popular choice as a vacation destination over the last few years. Today, many people travel to Vietnam on backpacking vacations. While you need to be a bit careful not to get hoaxed into any tourist scams, this country has loads to see and do; from war museums to traditional village life...resulting in a fun vacation spot at cheap prices!
Things to do and places to visit: The most popular cities and towns to visit are Hanoi – the 11th century French influenced capital of the country, Ho Chi Minh City (Saigon) – for a look at the war museums, NhaTrang – for the beaches, Da Lat – for fabulous lakes and waterfalls and the colonial landmarks, Ha Long Bay – for the famous junk boats and caves, Mui Neb – for a view of a traditional fishing village and a river canyon walk nearby, and Sa Pa – for a trekking adventure close to hill tribes and a look at the rice terraces.
Accommodation: There are many hostels and hotels in Vietnam available at cheap prices as well as being Muslim-friendly...a search on the internet will get backpackers on the right path. If you are taking a family trip, then do search out hotels that have bigger rooms that can accommodate everyone.
If you are traveling with family and kids on this vacation, then checkout some of these family-friendly hotels in Ho Chi Minh City that offer children-friendly facilities - Tan Sot Nhat Saigon Hotel, Eden Saigon, Metropole Hotel, The Imperial and Golden Central.
There are also some hotels that are Muslim-friendly in Hanoi, including Vietview Hotel, Atrium Hotel, HanoiTirant Hotel among others, but they may come at a higher price.
Transportation: Traveling around Vietnam can be done by bus – buy the tickets in advance or as you feel like it. For longer journeys, the country has a good train service. If you just want to have some fun, you can easily rent a motorcycle and travel off the beaten track at your leisure! However, be careful when you drive and cross streets, as motorcyclists will be zig-zagging to avoid you but may not want to stop.
Muslim-Friendly Facilities: There are quite a few hotels and restaurants that cater to Muslim travelers in the towns of Hanoi and Ho Chi Minh City, while the smaller cities and towns in Vietnam may offer fewer Muslim-friendly facilities and Halal food. In this case, try the seafood dishes and the vegetarian street food as an option.
In Ho Chi Minh City check out the street next to Ben Thanh Market for such hotels/hostels and also many restaurants that serve Halal food. NhaTrang has only one Halal restaurant that serves Indian food - Omar's Indian Restaurant.
There are quite a few mosques in Vietnam's districts and provinces, but the most are found in Ho Chi Minh City and there is also one in Hanoi.
2) India
India is a hotspot for backpackers, with its widely varying landscapes, lifestyles and cultures. The Indian subcontinent is so vast that you may actually have to plan several trips in order to take in the essence of the country from its deserts to mountains to beaches, and the diversity in cultures and people that is only found in India.
India is actually a good country to travel on family vacations and even travel with kids. There is usually plenty to do and see. Children will be accommodated and welcome almost everywhere you go.
What to do and see: Just go about India, visit the different States and cities, and take in the different cultures and lifestyles. Visit the Himalayan Mountains which span 10 States of India, go to Goa and live by the beach, and visit some of Indian heritage cities and sights. Take a tour of the Golden Triangle of Dehli, Agra, and Jaipur or the state of Jammu and Kashmir, visit South Indian cities like Bangalore, Mysore, Pondicherry, Ooty, Kodaikanal, and Kanyakumari, or venture into the famous Bollywood town of Mumbai…there is plenty to do and see…thus, giving you one of the best vacation spots to visit.
Accommodation: There are many hotels and hostels in most major cities of the country, choose one that fits your budget and requirements. But as you're planning a cheap vacation, please do be ready to give up luxuries, although some Indian cities will surprise you with great value-for-money hotels.
Transportation: The Indian public transport is quite extensive and cheap. There are also plenty of taxis or tuk-tuks depending on the city you are in. The Indian Railway system is quite fantastic and can be used for getting from one place to another in the city, between cities, and even states. In some cities such as Mumbai, the train actually gets you to your destination faster because of traffic congestion on the roads...it's also cheaper than being stuck in a taxi in traffic!
Muslim-Friendly Facilities: Food in India is generally quite affordable and there are plenty of Halal food options in India. There are also ample vegetarian restaurants, which actually serve some fabulous Indian veg food… do try out the Gujarati vegetarian thaali, it's truly a delicious meal, and you will not miss the meat! Indian street food is also delicious, cheap and a must-try… just make sure you ensure the place is clean.
There are mosques in most major cities of the country, and generally, Muslim travelers should not find it difficult to find Muslim-friendly facilities in India.
3) Thailand
Everyone travels to; or wants to travel to Thailand… and why not? It is one of the cheapest travel spots in the world, known as a shopping heaven for shopaholics, and has natural beauty together with a traditional cultural heritage. Thailand is renowned for its celebrated beaches and star-class resorts. However, it is also a go-to destination for backpackers worldwide.
Sightseeing: Enjoy the lush jungles, hot springs, waterfalls, and beaches of Thailand. Take the time to indulge in some world-class diving, snorkeling, kayaking, and rafting. Enjoy hiking and cycling adventures through jungles and national parks. Visit museums, temples, and ruins; enjoy the floating markets, and take a boat ride or an elephant ride as you, please. Some of the places to visit include Bangkok, Pattaya, Chiang Mai, and Phuket.
There are tour operators who will be able to arrange special day tours at reasonable prices, and if you are really into diving, register for the popular PADI dive certification course in this tropical paradise.
An interesting beach holiday for family travel for Muslim visitors to Thailand would be the Krabi Province, which has a large Muslim population and thus provides facilities for Muslims.
Accommodation: There is no dearth of hotels, motels, guesthouses, hostels, and even dorm rooms in Thailand. As a popular tourist destination, the country has enough rooms to cater to tourists with wide-ranging budgets. With the increase in awareness of Muslim-friendly facilities, you can also find hotels and guesthouses that will cater to such clientele.
Transportation: Transport is also cheap in Thailand as is most everything else in the country. Options available are the local buses, the Metro, Skytrain, and metered taxis in Bangkok. There are tuk-tuks as well, but these are not metered and usually more expensive. Motorbike taxis (in orange vests) are available all over the country for short trips – no meters but negotiate the price before you get in. Trains are another cheap option for longer distances and night travel. For going between islands, there are boats available. There are packages available for travel combining different transport modes – most commonly bus and boat, a cost-effective option to use.
Muslim-Friendly Facilities: Most of the major cities have Halal food and Halal restaurants. In some of the smaller towns, you may need to check with the restaurants about the Halal options available. However, there is no shortage of seafood available in the country.
If you want to try out street food, then Bangkok is your safest bet, as Pratunam Market has a few stalls that serve Halal food and drinks.
In the Krabi Province, you can be sure to get lots of Muslim-friendly facilities and enough Halal food.
As for mosques; Bangkok, Chiang Mai, Pattaya, and Pattani do have mosques. For other places, I suggest taking your Qibla compass and prayer mat along on your travels.
4) Sri Lanka
While Sri Lanka is a small island surrounded by the Indian Ocean, the country is versatile in providing all types of holiday fun from luxurious upmarket holidays to cheap vacations for the entire family. Today, the country is becoming an ever-popular holiday destination with its all-inclusive landscape, and the availability of all-inclusive vacation packages by many travel companies.
Sightseeing: Sri Lanka also offers travelers options from beaches and jungles to wildlife sanctuaries and rolling hills. Some popular sightseeing destinations have different rates for locals and foreigners – including museums, the Botanical Gardens in Kandy, national parks, cultural centers, and archaeological sites. But a walk on the beach is quite free unless you get haggled by the local vendors. Also take the time to wander around the cities of Colombo, Galle, Kandy, and Jaffna, to gain a view of the eclectic culture of the country.
This country does also make a very good case for trying out a beach vacation – as it offers surfing, swimming, snorkeling, diving, and water sports, as well as whale and dolphin watching!
Accommodation: There are many hostels, rental rooms, small hotels/motels, and seaside cabanas available for use by backpackers. There are also some resorts and hotels that offer special off-season rates and this is truly a bargain with all-inclusive deals for family vacations.
Transportation: Public transport is cheap - use the bus or the train… they may not be high luxury but they will get you from one town to another. Another option is tuk-tuks for shorter journeys, and this is ideal if there are three people to share the fare… also make sure to ask them to use their meters, or foreigners can be charged extra! If you are willing to walk, that is also something that can be considered as things and places are close enough within some towns and city centers! For longer journeys, there are rental cars and also long-distance luxury buses.
Muslim-Friendly Facilities: Having a large Muslim population, Sri Lanka has enough Halal food and Halal restaurants, while many other restaurants are willing to accommodate your special requests to avoid certain ingredients in your meals. However, do try the more low-key restaurants and food outlets if you are looking for cheaper prices. Some places may serve alcohol and non-Halal meats, but check if the chicken is Halal (which in most cases it is) and ask them if they can prepare it without mixing any non-Halal ingredients.
You also need not worry about the availability of mosques, which are found in the majority of towns and cities.
5) Cambodia
Cambodia is another Asian country that is made for a backpacking holiday. Its landscape spans low-lying plains and mountains, and also includes the Mekong Delta and the Gulf of Thailand coastline. It is a country that is still coming to grips with development and its increasing attraction as a tourist destination, hence, the low-cost hotels and tourist attractions!
Sightseeing: Cambodia's capital city, Phnom Penh, is a must-visit with its central market, Royal Palace, and the National Museum's historical and archaeological exhibits. Then visit Angkor Wat, considered one of the famous sites in Cambodia's northwest region. In fact, arrange a day trip there as it is quite close to Phnom Penh. Visit Sihanoukville for its selection of beaches from Serendipity Beach - a happening and partying stop for backpackers, to Otres Beach – a place to relax and take in the sun. Try to include a day trip to Bokor National Park while in Sihanoukville. Also, go to Battambang to get a feel of the colonial architecture and visit the surrounding hilltop temples and rustic villages. You can also take a scenic river trip here.
Accommodation: There are many hostels and low-budget hotels available in Cambodia. Then, there are some better hotels that are also quite reasonably priced. There are also many Muslim-friendly hotels in Phnom Penh, but these are more expensive. In the beach towns, there are guesthouses and cabanas that can be rented.
Transport: Public transport is cheap but unreliable and cramped. However, there are metered taxis (a bit expensive) and the REUMORK (Tri-cycle motor) or Cyclo (Tri-cycle) which are the preferred method of in-city travel by tourists. The country does have private bus companies that operate semi-luxury and luxury buses from Phnom Penh to other provinces. The other way to travel is by Boat, but this is limited due to low demand and limited destinations, and tickets have to be bought a day in advance. There is only one train from Phnom Penh to Battambang Province which takes a full day to reach your destination.
Muslim-Friendly Facilities: As Cambodia does have a small Muslim population, there are quite a few Halal restaurants in Phnom Penh, Siem Reap, and Sihanoukville. Halal food is also available in other cities which are most visited by Muslim travelers. There are also mosques in Phnom Penh, Siem Reap, Kampong Cham, and Kampong Thom.
6) Morocco
Morocco's mixed influences make it an interesting and cheap vacation spot for backpacking enthusiasts! A North African country that borders the Atlantic Ocean and the Mediterranean Sea, it has an eclectic atmosphere that is a mix of Berber, Arabian and European influences. The country features on many travelers' radar as a short-stay travel destination but has a lot on offer as a cheap and reasonable backpack travel destination. There are even travel companies that will pre-book and organize special travel packages custom-made to your needs and requirements. Morocco also has lots of family-friendly attractions and can be an ideal family vacation.
Things to do and places to see: While in Morocco do not forego a trip into the Sahara Desert…wake up to a sunrise over the sand dunes, take a camel ride at sunset and drive through the Atlas Mountains. Visit a UNESCO world heritage site that has been used in famous films like 'Gladiator, Indiana Jones, and Lawrence of Arabia', take in the Moroccan architecture; its famous walled cities, and the Kasbahs, and visit the monuments and famed sites in the cities of Marrakesh, Casablanca, Tangier, and Fez. You can also enjoy the beaches and water sports in many of the coastal cities of the country.
Accommodation: You can easily find cheap hotels and hostels in Morocco, and if you are trekking through the mountains then take the opportunity to sleep in a Berber tent. Also, try the traditional houses known as 'Riads' – this will not only give you a truly authentic Moroccan experience but will provide some privacy if traveling with family and children. Some larger hotels may have a liquor license, so if you want to avoid this, check when you make your reservation.
Transportation: Public transport can be used and is cheap, but not very clean. Use sharing cabs or tour buses to take you to and from cities. The most popular tour bus companies are Supratours and CTM, these are cheaper than cabs but charge you for luggage. Buy the bus tickets a day in advance. There is also one train line to a few of the cities which can be used to travel on longer journeys in more comfort.
Muslim-Friendly Facilities: As nearly all Moroccans are Muslims, there is absolutely no shortage of mosques and halal food. All meat is halal, but there are some restaurants that serve pork and alcohol, as a means of catering to the growing non-Muslim tourist population. However, the restaurants in smaller cities and towns are still true to Islamic traditions. The cheapest way to experience the food of Morocco is to buy your meals from market stalls and street vendors.
7) New Zealand
New Zealand is a very low-key country and should feature more often as one of the best vacation spots ideal for the backpacker! Synonymous with the filming location of the movie – 'The Lord of the Rings', the country has such a diverse landscape that you will wonder if you are being transported to different Lands throughout your journey. I would advise you to not forget to take your camera if you plan to make this country the next stop for a fun family holiday.
Things to do and See: When backpacking through New Zealand's two islands you will come across volcanic lakes, beautiful forests, mountains dotted with waterfalls, and miles of beaches. But, while enjoying the breath-taking views of this ideal vacation spot, also take time off to surf in Raglan, hike through the mountains, experience white water rafting down the world's highest commercially rafted waterfall, try out a few adventure sports such as bungy jumping, skydiving, hang-gliding, and zip lining; and last but not least check out the famous Hobbiton Movie Set. Another exceptional activity that New Zealand offers is stargazing, possible because of its vast and natural landscapes, clear of man-made buildings!
Accommodation: As New Zealand caters to backpackers, there are plenty of accommodation options for backpackers from hostels to small rental rooms. These are generally clean and have shared bathroom and kitchen facilities. There is also plenty of bed and breakfast (B&B) accommodations on offer. And if you are traveling with family or a large group of friends, then try renting out holiday homes – ideal for Muslim travelers, as it will give you the required privacy and you can cook your own meals!
Transportation: New Zealand is made for backpackers… the country offers fabulous cycling and walking trails from the North to the South. There are also special backpacker buses where you can meet like-minded travelers! The best option may be to drive around the country using a rental car, or try something different if you are traveling with kids, and rent a campervan, also known by some as a motorhome – this will give you great flexibility, and allow you to travel at your pace. Don't worry, the country has many campgrounds and holiday parks where you can park and take a break for the night.
Muslim-Friendly Facilities: Due to the growing Muslim population in New Zealand, getting Halal food in the big towns of the country is quite easy. Also as backpackers, if you are willing to cook your own food, getting Halal meat is also possible.
Read the article on New Zealand on this blog for more details
8) Portugal
A country not always on the top of one's 'to visit list', Portugal should be considered for a not-so-crowded backpacking vacation. Although more expensive than some of the Asian destinations listed in this article, it is still considered a cheap vacation spot especially being situated in Europe! With its unique allure of sandy beaches, rugged coastline, fabulous architecture, World Heritage Sites, and vineyards, Portugal is worth a visit. For those Muslim travelers living in Europe and the West, I am sure that you can get hold of fabulous last-minute vacation deals to enjoy this summer vacation in Portugal.
Things to do and see: Lisbon, the capital of Portugal, is a cosmopolitan city with an old-world charm and architecture to blend.
Visit the cities of Sinatra, Porto, and Braga, and go to Cape Sagres to stand at the edge of Europe. For the beaches, visit the Azores Islands and Faro. Visit the region of Alentejo to find the vineyards, olive groves, and even Roman ruins. In all of Portugal there are 15 listed World Heritage Sites by UNESCO, and visiting these alone would make an interesting and educational family holiday.
Accommodation: There are lots of hotels from two-star onwards in Portugal and you can make a choice from these to suit your budget. There are also many hostels and lower-star-class hotels that are very affordable. As for Muslim-friendly facilities at the hotels, it will be best to check when making your reservation.
Transportation: Taxis are an expensive form of transport in Portugal. It would be best to use the public transport system such as the Metro and buses in the cities or walk wherever possible. For longer distances use long-distance buses and the Eurail network.
Muslim-Friendly Facilities: Lisbon has ample Halal food and restaurants for Muslim travelers. Other restaurants may serve Halal food together with alcohol and non-Halal meats, so, check before you order anything. Other big cities like Faro also have a choice of Halal restaurants, and there are plenty of places that serve seafood. As for mosques, Lisbon has the most number, while some of the other cities may have one mosque. Best to be prepared to say your prayers in your hotel/hostel room.
9) Fiji
A Pacific island destination that offers travelers the beauty of a rugged landscape filled with lagoons and palm-lined beaches, and activities ranging from mountain climbing, and zip-lining to surfing and soft coral diving. While Fiji has its share of luxury holiday venues, it is popular for mid-range vacation deals. However, today, the Fiji Islands are also emerging as another cheap vacation spot for a backpacking holiday, especially the Yasawa Island chain. However, the Muslim traveler will have to do some pre-holiday preparations before embarking on this particular vacation.
Vacation Activities: There are lots to do from island hopping, and dolphin watching to swimming with Mantra Rays, snorkeling (some islands offer this free of charge, so make the most of it!), and hiking in the Wasali Nature Reserve. Also, visit the famous Blue Lagoon on the North of the Yasawa Islands and try to spend a few days on the mainland of Viti Levu (in Suva and Nadi) doing the usual touristy things. You can also plan a day trip to the South Sea Island which is close to the mainland and is quite popular with travelers with kids.
Accommodation: There are a variety of budget resorts to choose from in the Mamanuca and Yasawa Island chains. These resorts offer basic accommodation which includes meals (check if they offer Halal food on reservation). Accommodation on the mainland of Viti Levu should not be a problem, although a bit more expensive. For the budget
Muslim travelers, in Suva, try the Roseland Inn which is run by a Fijian family and has a kitchen where you can cook your own meal. In Vanua Levu, you will find lodges and small hotels catering to backpackers.
Transportation: The bright yellow ferry (a trademark) will take you to the islands, as well as take you off the islands. The Ferry visits the islands daily so that travelers can be taken to the next island in the chain. It would be best to buy the 'Bula Combo Pass' that ranges from 5 to 21 days if you are planning to Island hop. There are also individual tickets available. However, be prepared to wait when catching the ferry, as it sometimes is quite flexible when it comes to timings.
Muslim-Friendly Facilities: There are several Halal restaurants in Suva, the capital city, located on the main island of Viti Levu and all the McDonalds here are Halal certified. Also, the island of Vanua Levu has a few Halal restaurants, but do check before you go.
As for the popular backpacker destination of Mamanuca and Yasawa Islands, the availability of Halal food may be a problem. But Fiji is quite famous for its seafood and that is an option to consider. Just check that they do not use any alcohol or any other non-Halal items in their food preparations. An alternative is to stock up on snacks and take some easy-to-prepare meals to these islands. A tip – buy bottled water from the mainland as it will be cheaper than buying it from the other Islands.
10) Croatia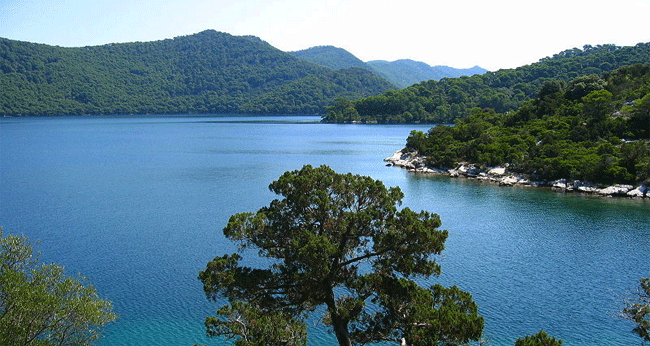 Croatia is an Eastern European country, encompassing more than a thousand islands, with a stunning coastline of the Adriatic Sea. The country is dotted with castles as well as medieval and Gothic architecture and buildings. The Dinaric Alps also cross through the country. It is also a popular destination where backpackers can tour through the country on vacation packages… so, what more can you ask for on a backpacking holiday?
Things to do and see: With over 1,000 islands, island hopping via the sea is the best way to see the Croatian coast with its unspoiled beaches, oceans, and fishing villages. While on this tour, take some time to enjoy the many water sporting activities and also visit the 'Blue Cave' on the BiševoIsland and the famous Dubrovnik Old Town. To travel through time, go inland to see the medieval castles, museums housing fabulous ancient art and objects, and the many other monuments spread across the country. Visit Split, the capital city of Zagreb, Rovinj, Motovun, Plitvice Lakes National Park, Šibenik, Korcula, and Hvar.
Accommodation: There are enough hostels in Croatia, similar to other European countries. There is also the option of renting rooms and apartments by using sites such as Airbnb. Croatia also has many hotels which offer good value for money. A popular option for the coastal region is small inns and guesthouses to get a real Croatian experience. For Muslim travelers, there are a few hotels that are Halal certified in Zagreb, SlavonskiBrod, and Baska.
Transportation: The most popular way to travel through Croatia is by Eurail. However, take note that the train only runs as far south as Split, and then you have to use buses. Using the bus network is another popular option and both local buses and regional buses for longer journeys are easily available. An interesting way to travel in Zagreb is to use the tram system. For island hopping there is the boat and ferry services.
Muslim-Friendly Facilities: The cities of Zagreb, Dubrovnik, and Split have Halal food and Halal-certified restaurants, as well as mosques. In other cities and towns getting Halal food can be a bit difficult, but they always will have a seafood option…just ensure it isn't an exotic sea creature being served!