Shibuya is known for its shopping and entertainment, but with so many stores, it's hard to know where to start. That is why you need our Muslim-friendly guide to the best shopping places in Shibuya, Tokyo. The coolest thing about Shibuya (besides all those shops, of course) is that since the entire shopping area is located within walking distance of both Shibuya and Harajuku stations, there are auto lockers available in the district to keep your bags. That's right, you don't have to actually shop till you drop because your arms won't be weighing you down as much! Here is our guide to the must-go shops in Shibuya:
1) Shibuya 109
Shibuya 109 is a fashion paradise. If you are a young fashionista who always keeps up with the trends, this is the place for you. With fashion always evolving, Shibuya 109 works on a system which only the latest trends can be found here. So if this is not your first visit, don't expect to see the same stores as before. The shopping centre also offers free wifi, and tourist discounts for those with passports, so make sure that you have yours on you!
2) Kiddy Land
Wondering what to get the kids from Japan? Wonder no more because Kiddy Land is the answer! This 4-storey shopping complex caters to kids of all ages, and every taste. They sell anime, international action figures, soft toys, board games and educational games, as well as drones, robots and remote control toys. Whether you are looking to keep your child occupied for a while, or the perfect present, or even just to feel like a kid yourself, be sure to drop in here!
3) Tokyu Hands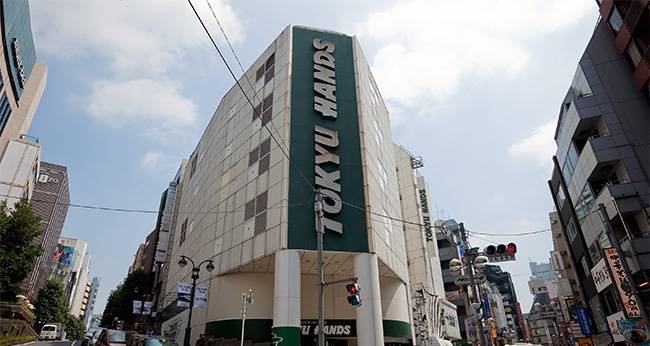 Tokyu Hands is one of the top places to shop in Shibuya as it is an exclusively Made in Japan store. It may be hard to place Tokyu Hands into a specific retail genre, but it is generally known as the DIY local craft store. If stationery is one of your loves, you know you cannot miss this place, but they offer much more than that. Home décor items, beauty products, travel goods, and more, on top of crafting tools and interesting stationery. A great place for souvenir shopping too!
4) Don Quijote
Don Quijote is a very hard to miss building with its black and yellow logo, and one of the most popular discount stores in Japan. With constant deals, and stores packed with merchandise from the ground up, being in Don Quijote (fondly known as Donki) is a bit like being on a treasure hunt. If your gift budget is limited, this is a must-stop shop for food, electronics, toys, make up and beauty products, fashion accessories and shoes, home décor, stationery, and more.
5) Shibuya Mark City
Shibuya Mark City is directly connected to the JR Shibuya station which makes it a very convenient spot for those passing through. The usual women's fashion stores are available, as well as restaurants if you want to grab a quick bite.
6) Seibu Department Store
If you need a good reason to go to Seibu Department Store, we can give you ten. The ten floors in this department store make it a one-stop shop for clothes. The building is conveniently divided into two wings – one for women's clothes stores, and the other for men's and children's.
7) Centre Gai
Centre Gai has a street shopping vibe, with buildings hosting stores on the top floors too. They are open for almost 24 hours, and you can find anything from fashion to fast food. Since it is a touristy spot, most of the sales people are English speaking – always a bonus!
8) Aoyama Area
Aoyama Area has stores that are unique to that area, in addition to cozy coffee shops and bookstores, making it the perfect place to spend a few hours shopping, and then treating yourself by relaxing afterwards.
9) BIC Camera
BIC Camera is an electronic goods store where you can find the latest gadgets. Whether you are a tech-geek or not (and who isn't these days?), you will want to stop here to see what Japan has in terms of technology.
10) Franc Franc
Lastly, but definitely not the least, is Franc Franc – a store that specialises in household items. Every home owner's dream, this store has seasonal sales and great discounts happening occasionally, so be sure to drop in and check them out!
This is by no means a comprehensive list, and there is SO much more to explore. Take a few hours (or more) discovering the great shopping zone that is Shibuya, and do let us know what some of the best shopping in Shibuya was for you!