Especially with the increase in Muslim millennial travelers, there is no doubt that the Muslim Travel Market is continuing to evolve due to new trends that are shaping and changing Halal travel. Muslims who love to travel and seek amazing, yet authentic travel experiences are well aware of the common issues that arise while they travel to certain destinations.
Looking at the results of the Global Muslim Travel Index (GMTI 2018) by Mastercard-CrescentRating, some of the top non-OIC travel destinations have also recognized the rapid rise in Muslim travelers and are aiming towards improving Muslim-friendly travel. This latest report goes into detail on how the availability of Halal food, prayer facilities, and other requirements can make destinations more Muslim-friendly. Most non-OIC destinations have higher scores than in the previous years, as they have started to understand the Muslim Travel Market better and improve their services accordingly.
So, if you are stuck wondering where you can have Muslim-friendly holidays, don't miss out on these non-OIC destinations listed below.
Singapore
Image Credit: Swapnil Bapat on Unsplash
With numerous options when it comes to Halal food, prayer facilities, and even Halal-friendly hotels, it's no surprise that Singapore is at the top of the list of Muslim-friendly holiday destinations for families and millennials. Not only is Singapore a popular shopping destination, but it's also a great place to try out a variety of cuisines both local and international alike – and there are wonderful Halal food options available too. According to the GMTI 2018 report, Singapore is at the top of the list of destinations that create a supportive environment for Muslim travelers. Additionally, Singapore is within the top five destinations when it comes to good communication according to the report.
Thailand
Thailand also makes it to the list of top Muslim-friendly non-OIC destinations according to the GMTI 2018 report. You don't need to postpone that exotic trip to Thailand just yet – Muslim travelers no longer have to struggle when it comes to locating Halal food, prayer facilities or mosques in Thailand. The city's capital Bangkok has plenty of Halal restaurants where travelers can sample the excellent local cuisines and will also find many mosques as well. From breathtakingly beautiful islands framed by the turquoise ocean to the fascinating local culture, Thailand is undoubtedly an interesting place to visit.


United Kingdom
With a growing Muslim population, the United Kingdom is another destination to add to your travel list especially, if you are looking for Muslim-friendly cities in Europe. Muslim travelers will be able to find Halal restaurants and prayer facilities quite easily in most towns, and the United Kingdom has always been a popular travel destination. There are many interesting historical landmarks, attractions as well as famous places that you simply must not miss out on, and most main cities are just great for Halal holidays in Europe. Cities such as Birmingham, Liverpool, and Manchester just to name a few, are especially Muslim-friendly with a number of Muslims dwelling in these areas.
Japan
Image Credit: Su San Lee on Unsplash
Japan is another fascinating destination that is worth visiting, and that makes it onto the list of Muslim-friendly non-OIC destinations. While most Muslim travelers will say that locating Halal food might be challenging, there has been an increase in the number of Halal restaurants in cities like Tokyo, Kyoto, and Kobe. Additionally, there has been a rise in Muslim-friendly facilities as well, due to the growth of the Muslim population, including an increase in Muslim travelers to Japan. So, you can still enjoy Muslim-friendly holidays and take in the sights and sounds of Japan.
Taiwan
Most Muslim visitors to Taiwan will face a few issues when it comes to locating Halal food or ensuring a Muslim-friendly experience, however, there is no need to reconsider your travel plans. The main city of Taipei has become much more Muslim-friendly with a small but growing Muslim population and there is an increase in Halal restaurants as well. When it comes to prayer facilities, travelers can visit the Taipei Grand Mosque which is a historical landmark, and the other option is the Taipei Cultural Mosque.
Hong Kong
There has been a noticeable rise in Muslim travelers to Hong Kong, which is on the list of top non-OIC destinations according to GMTI 2018. While Muslim travelers need to be aware that Halal restaurants or outlets are limited, the increase in Muslim travelers has prompted the need to create more Muslim-friendly options. Hong Kong's Muslim population is growing as well, and that comes with an increase in Halal restaurants and Muslim-friendly facilities too. You will also find more Halal products in stores than in previous times.
South Africa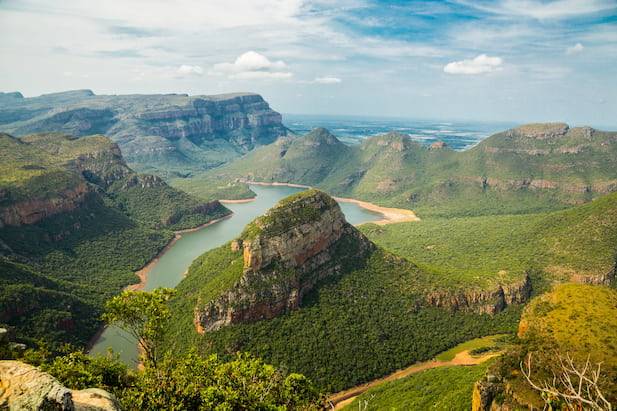 Image Credit: Lina Loos on Unsplash
Despite being a non-OIC destination, South Africa has become a major favorite among Muslim travelers, especially in Cape Town where there is a significant Muslim population. It's one of the more ideal holiday destinations for Muslim families with a very interesting culture and unique places for nature lovers too. Muslim travelers won't face major issues when looking for prayer facilities or Halal restaurants, especially in Cape Town and Johannesburg. But overall, Muslim travelers will be able to enjoy a Muslim-friendly holiday in South Africa.
Germany
Germany is another excellent place to visit, especially if you prefer to visit more Muslim-friendly cities in Europe, which will include Berlin, Dusseldorf, and Munich to name a few. Germany has an intriguing history as well as many interesting sights and monuments – which are some great reasons to go on a Halal tour where you can learn more about this destination. Additionally, Muslim travelers will be able to locate mosques and places that serve Halal food quite easily since there is a growing Muslim population in Germany. According to GMTI 2018, Germany is in the top ten list of destinations that are more accessible.
France
France is another great non-OIC destination that you can add to your travel list, which is known for its excellent cuisine, culture, and interesting history. Referring to the GMTI 2018, this destination also falls in the top ten accessible countries. There are plenty of Halal restaurants in Paris due to the increasing Muslim population, and this is where you will get to sample a variety of international and local cuisines. Due to ethnic diversity, France has some of the mot Muslim-friendly cities in Europe and there will be no shortage of prayer facilities as there are several mosques in the main cities such as Paris and Lyon.s
Australia
Image Credit: Caleb Russell on Unsplash
Although Australia is a non-OIC destination, there is a great variety of Halal dining options around the country – especially in Sydney, Brisbane, and Queensland. With the rise in Muslim travelers to the continent, there has been an increase in Muslim-friendly facilities and Halal restaurants too. There are plenty of interesting activities and amazing places to see in Australia, especially when it comes to wildlife. Mosques and prayer places are easily accessible in the main cities too. Australia is also one of the best holiday destinations for Muslim families as there is something for everyone to enjoy.