Buka Puasa or Iftar, during the holy month of Ramadan, is a very special occasion. It is the time when Muslims break fast at sunset. Generally, the fast is broken first by consuming dates and water, followed by an array of foods. In this month of spiritual cleansing, the sunset meal, iftar, or buka puasa as it is called in Singapore, is a much-awaited meal, and there are plenty of restaurants that cater to the Muslims with all-you-can-eat Ramadan buffets. This year, 2016, in Singapore, the holy month of Ramadan started on the 6th of June and will end on the 5th July.
If you are looking for places to break fast in Singapore, in a very unique "Buka Puasa Buffet" environment, here is a list of places you should try:
1. Carousel
Photo credit : http://www.carouselbuffet.com.sg/
Voted the "Best Buffet Restaurant" for the seventh consecutive year, and Crescent rated too, Carousel hosts guest chefs for the month of Ramadan to tantalise taste buds. From Mediterranean, Japanese, French inspired dishes, and seafood, Carousel's Buka PuasaBuffet leaves you wanting more.
Prayer facilities: Prayer facilities are available at the hotel. Al Falah is the closest mosque
Address: Royal Plaza on Scotts, Lobby Level, 25 Scotts Road, Singapore
2. Straits Kitchen
The iftar buffet at grand Hyatt offers a range of mouth-watering dishes from various cuisines like Indonesian, Indian, Lebanese, Saudi Arabian and Turkish. Lassi and tea, and unlimited juice are also offered with the buffet.
Prayer facilities: Available on request at the hotel. Masjid Al Falah is the closest mosque
Address: 10 Scotts Road, Grand Hyatt Hotel, 228211, Singapore
3. 21 on Rajah
A fusion of Mediterranean and Asian food, 21 on Rajah's Ramadan buffet includes favourites like Sambal Prawns, Beef Rendang, Slipper Lobster in Chili Crab Sauce, and Lamb Moussaka.
Prayer facilities: Closest mosque is Masjid Hajjah Rahimabi Kebun Limau, but prayer rooms are available at the hotel too
Address: Days Hotel Singapore, 1 Jalan Rajah, 329133, Singapore
4. AquaMarine
The savoury Indonesian Oxtail Soup is a crowd favourite, along with Live Prawns in Tamarind Curry, with their flavours tingling the senses. Diners get extra special dishes like the Roasted Whole Baby Lamb with Rendang Spice, and more, on weekend nights.
Prayer facilities: Diners are accommodated at the hotel with facilities to pray upon request
Address: Marina Mandarin Singapore, 6 Raffles Blvd, Singapore
5. Fika Café
The Swedish café hosts diners for a semi-buffet at the Beach Road outlet with salads, drinks and desserts, and a choice of one main course.
Prayer facilities: Closest Mosque is Masjid Sultan
Address: 257 Beach Road, Singapore
6. Sedap Café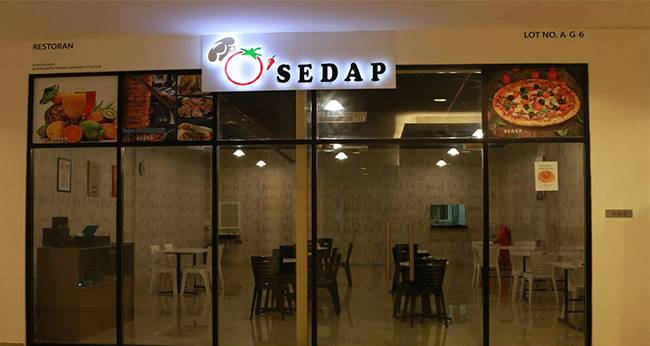 International and Asian cuisine at Sedap Café include dishes such as Terengganu grilled chicken, squid salad, wasabi chicken, deep fried prawns, and more, as well as local dishes like biryani.
Prayer facilities: You are spoilt for choice with plenty of mosques around, Hannah Mosque Kindergarten being the closest, while Masjid Hasanah and Masjid Darussalam Mosque are not too far as well
Address: The Sports Stage, 200 Pandan Gardens, 01-12, Singapore
7. Rumah Rasa
At this Pan-Indonesian restaurant, watch out for chicken and meat dishes like Lemak Ayam Cili Padi and Sate Jawa; vegetarian dishes like Lemak Nangka – stewed young jackfruit in coconut milk; and Pepes Ikan Bakar to tempt seafood lovers
Prayer facilities: Masjid Temenggong Daeng Ibrahim is right next door
Address: Bay Hotel Singapore, 50 Telok Blangah Road, Singapore
8. Asian Market Café
As its name suggests, this café is home to ingredients from all over the world, offering a large range of cuisines from Indonesia and Japan to Turkey and the Middle East. The seafood bar is a favourite, as are local dishes like chicken panggang and prawn masak sambal petai.
Prayer facilities: Level 2 of Raffles City Convention Center
Address: Level 2, Fairmont Singapore, 80 Bras Basah Road, Singapore
9. Flava Contemporary Asian Bistro and Grill
The relatively new bistro tantalises diners with a Mediterranean and Asian semi-buffet. Watch the chefs prepare your grill on the live carving stations, while filling up on breads, soups, salads, and appetisers. Watch out for specials like the Moroccan spiced lamb and Thai roasted chicken.
Prayer facilities: Masjid Abdul Aleem Siddique is the closest mosque, a little distance away
Address:907 East Coast Road, Singapore
10. The Landmark
Celebrity chefs are gracing the iftar buffet at The Landmark, with mouth-watering food from cultures like Western, Mediterranean, Indian and Asian.
Price range: 1st session (6pm to 8pm) $35++ an adult, $15++ a child (Monday to Thursday), $45++ an adult, $20++ a child (Friday to Sunday), 2nd session (8.30pm to 10.30pm) $25++ an adult, $15++ a child (Monday to Thursday), $35++ an adult, $20++ a child (Friday to Sunday)
Prayer facilities:Prayer room available on site
Address:Village Hotel Bugis, 390 Victoria Street, Singapore
Muslim diners may also use the Food Spotter feature on the HalalTrip Mobile App to discover more places to break fast during Ramadhan in Singapore. Click on the below links to download the free App: