There are many Halal bakeries in Singapore popping up, following the recent café trend, but only a handful are Halal or Muslim-owned. We cracked our brains and sifted out the 10 best bakeries in Singapore for you to ease your aching sweet tooth.
1. Konditori
Credit: Konditori IG
Konditori is an artisanal European bakery with bakes such as loaves, croissants, fruit tarts and cakes. The main star - Swedish Semla Bun, an almond paste with cream sandwiched between two buns.
Address: 33 Bussorah St, Singapore 199451
Nearest prayer place: Sultan Mosque
Business hours: 11am to 8pm daily
2. Spatula Bakery
Credit: Spatula Bakery IG
Spatula Bakery started off as a home-based business back in 2012 and through social media and word of mouth, they now have a bakery based in Joo Chiat. The desserts are baked daily by the owner and her team of talented bakers.
Address: 60 Joo Chiat Road #01-09 Singapore 427726
Nearest Prayer place: Darul Arqam
Business hours: 10am to 7pm (Tue-Sun), Closed on Monday
3. By ButterTrade
Credit: By ButterTrade website
As like many similar bakeries, By ButterTrade started off humbly as a home-based business. A unique addition by them is Workplace Thursdays, in which they bring their bakes to your office for special events or just to kick that mundane office routine out!
Address: 14 Beach Rd #01-4709 Singapore 190014
Nearest prayer place: Masjid Hajjah Fatimah
Business hours: 1pm-6pm (Wed-Fri)
4. All Things Delicious
Credit: All Things Delicious website
Things Delicious certainly lives up to its name – everything is really yummy! The bakery café uses all-natural ingredients as far as possible, so don't fret about feeling guilty about what goes into that cupcake! All Things Delicious also doubles up as a cafe, so hop on to their website for the menu.
Address: 34 Arab Street S199733
Nearest prayer place: Sultan Mosque
Business hours: 8am to 7pm (Tue-Fri), 9am to 7pm (Sat & Sun), closed on Mondays
5. The Twelve Bakeshop
Credit: The Twelve Bakeshop Facebook
The Twelve Bakeshop is found by the people behind Twelve Cupcakes, with a Halal twist. Cupcake flavours change on a weekly basis so it is best go over to their Facebook for the day's flavours.
Address:
1) Parkway Parade. 80 Marine Parade Road, #01-16, Singapore 449269
2) 391B Orchard Road #B4-33, Singapore 238874
Nearest prayer place:
1) Masjid Khalid
2) Al-Falah Mosque
Business hours: 10am to 10pm daily
6. Mad Batter
Credit: Mad Batter SG Facebook
Mad Batter serves Halal cakes, tarts and all things sweet! In addition to that, they also hold baking classes for those cake enthusiasts that wants to go the extra mile. Mad Batter works by online order and self-pick up at their bakery.
Address: 11 Sin Ming Road. Thomson V2. #B3-09 Unit 12, Singapore 575629
Nearest prayer place: Masjid An-Nahdhah
Business hours: By appointment only
7. Butter Studio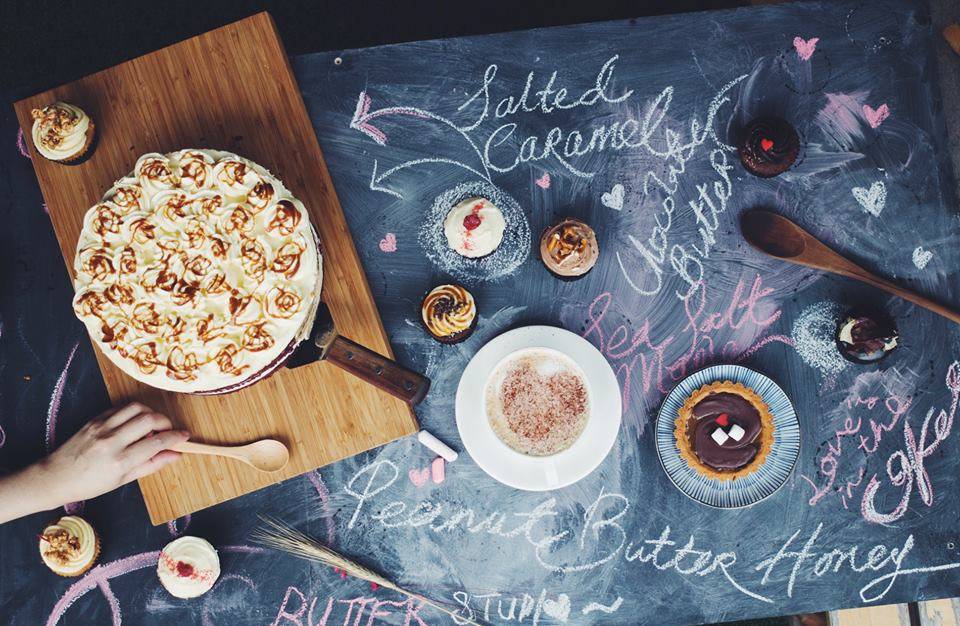 Credit: Butter Studio Facebook
Halal-certified by MUIS, Butter Studio @ Jalan Besar is one of the best bakery cafes around, serving a wide selection of cakes as well as tarts. Plus, they have a pop-up stall at Takashimaya and One KM.
Address: 147 Jalan Besar, Singapore 208865
Nearest prayer place: Masjid Abdul Gafoor
Business hours: 12pm to 10pm (Mon, Wed-Thu), 12pm to 12am (Fri), 10:30am to 12am (Sat),10:30am to 10pm (Sun)
8. Fluff Bakery
Credit: Fluff Bakery Facebook
A bakery not to be missed - Fluff Bakery is the most popular among enthusiasts. Go for their interesting bakes with a delicacy twist such as Durian Pengat, Chendol and even Mooncake that only comes seasonally. A tip for those coming down, queues starts even before they open and on most times sold out by the end of the day, so make sure to come early!
Address: 4 Jalan Pisang, Singapore 199071
Nearest Prayer place: Sultan Mosque
Business hours: 12pm to 7:30pm / till all bakes sell out (Tues-Sat)
9. Wheebake
Wheebake makes freshly baked cupcakes daily. Their main forte is wedding and events planning, but that doesn't mean they can't make delectable bakes! You can order party packages or drop by their store.
Address: 415 Pandan Gardens #01-114, Singapore 600415
Nearest prayer place: Masjid Ar-Raudhah
Business hours: 1pm to 7pm (Tue-Thurs), 1pm to 9pm (Fri-Sat), 11am to 6pm (Sun)
10. Lynn's Cakes and Coffee
Credit: Lynn's Cakes & Coffee Facebook
Nestled in a quiet neighbourhood in the west, Lynn's Cakes & Coffee is a popular hangout place for the locals nearby. They're a super friendly bunch so drop by to say hi and grab a slice!
Address: 11 Eng Kong Terrace, Singapore 598983
Nearest prayer place: Ngee Ann Polytechnic, Ar-Raudhah Mosque
Business hours: 11am to 7pm (Tue-Thu), 11am to 9pm (Fri-Sat), 11am to 8pm (Sun), closed on Monday
11. Riz Delights
Credit: Riz Delights
A Muslim-owned establishment, Riz Delights is a petite cafe at JCube. They make almost anything, from beautiful cakes, cupcakes, cookies, candy buffet, cake pops and other sweet delights for that special occasion you're planning.
Address: 2 Jurong East Central 1, JCube #B1-K09, 609731
Nearest prayer place: Prayer place @ Big Box
Business hours: 11am to 9pm daily
12. Royals Cake
Credit: The Royals Cafe Facebook
Royals Cake is one that cannot be missed. They're MUIS Halal-certified and has two cafes, on top of a bistro and a steakhouse. A notable bake that you have to try is their Crunchy Chocolate, which is chocolate sponge cake layered with chocolate ganache with a layer of crunchy feuilletine at the bottom.
Address: 19, Upper East Coast Road, Crescendo Building, (beside Jalan Tua Kong), Singapore 455209
Nearest prayer place: Kampung Siglap Mosque
Business hours: 9am to 10pm (Mon-Fri), 8:30am to 10:30pm (Weekends & PH)
13. Secret Recipe
Credit: Secret Recipe website
Although they're a restaurant, their cakes are definitely worth a try, given the fact that that they have a special section just for their cakes. There are currently five outlets in Singapore.
14. Polar Puffs & Cakes
Credit: Polar Puffs & Cakes website
Polar Puffs & Cakes is one of the popular franchises for cakes to-go. They have cartoon cakes, fruit cakes and even a brownie cake! Other than cakes, they sell savoury puffs which are also worth a try.
15. Primadeli
Credit: Primadeli website
Another popular franchise for quick cake fixes, Primadeli has numerous outlets all over the island. Other than cakes, their must try is definitely the waffles, which are made fresh right in front of you.