Wondering where to pray in Brunei? HalalTrip has listed a few of the top mosques in capital of Brunei, Bandar Seri Begawan, for your Muslim-friendly trip to Brunei! These include some truly beautiful Muslim prayer places in Bandar Seri Begawan that Muslim travelers simply should not miss out on – mosques featuring amazing architecture and very unique design elements. Here's our list!
1) Sultan Omar Ali Saifuddin Mosque
2) Jame'Asr Hassanil Bolkiah Mosque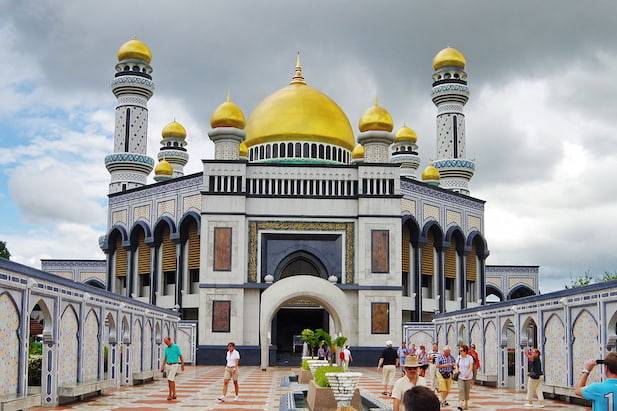 3) Ash Shaliheen Mosque
4) Pengiran Muda Abdul Mateen Mosque
Image Credit: MeSixty Apps on flickr

Pengiran Muda Abdul Mateen Mosque is one of the most-visited Muslim prayer places in Bandar Seri Begawan. This mosque features an interesting combination of both Malay and Islamic architecture with traditional styles. The two fountains located at each side also highlight the beauty of the mosque.
5) Brunei Darussalam University Mosque

The University Mosque was built in 1992 and is also among some of the top Muslim prayer places in Bandar Seri Begawan. In addition to functioning as a place of prayer for students, the university mosque also serves as a community mosque. The interior of the mosque consists of a large spacious brightly-lit main prayer hall with a simple, modern design that can accommodate up to 1,800 worshippers. The exterior features include a beautiful entrance to the courtyard with an archway decorated in a simple Islamic architectural design and the golden-brown roof tiles look especially beautiful during mid-day.
Brunei is an ideal Muslim-friendly destination. Make your visit even more special by visiting some of these famous mosques in Bandar Seri Begawan!