Suhoor is the start to your fasting day, that is why a filling meal is necessary. But be careful not to take that to mean you need to eat heavy foods that are full of carbohydrates, sugar, fat, etc. It is important that you eat a balanced, nutritious meal that will satiate your hunger for the entire day, but also won't weigh you down.
Nevertheless, just because the meal is good for you doesn't have to mean it doesn't taste good. That's why we've compiled a list of healthy and tasty Ramadan recipes for Suhoor!
1) Banana Protein Shake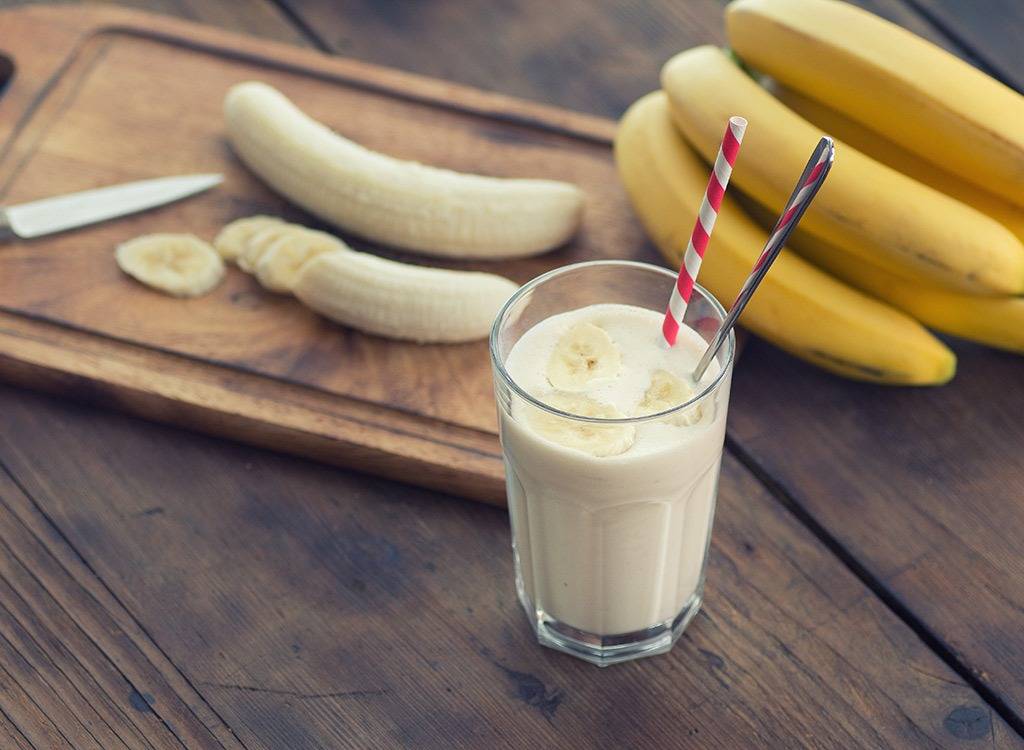 Picture Credit - www.eatthis.com
Source: https://www.asweetpeachef.com/banana-protein-shake/
This banana smoothie is not only delicious, but is also full of protein, potassium, vitamins and more, which is what makes it a great Suhoor snack recipe. The addition of the frozen banana gives it a creamier texture, and eliminates the need for too much ice. And it's pretty convenient for a Suhoor meal, as you'll be able to ingest the entire thing in a couple minutes flat!
Ingredients:
1 cup plain unsweetened almond milk
1/2 cup plain full fat Greek yogurt
1 heaped teaspoon vanilla protein powder
1 sliced banana, frozen
A pinch of ground cinnamon
Ice, if needed

Method:
- Add all the ingredients into a blender, and whizz away until it's all combined, creamy, and lump-free.
- If the smoothie seems too thick for your liking, just add some more almond milk, a little bit at a time, and blend until it reaches the desired thickness.

2) Healthy One Pot Asian Pasta
Picture Credit - www.apronstringsblog.com
Source: http://www.yankeekitchenninja.com/2015/06/healthy-one-pot-asian-pasta.html
A hearty pasta meal will provide you with your recommended daily dose of complex carbohydrates. With the addition of whole-wheat pasta, as well as all other vegetables and chicken, and the fact that it can all be done in one pot, it is a super-easy, delicious, guilt-free meal that is the perfect Ramadan recipe for Suhoor!
Ingredients:
3 tablespoons fish sauce
2 tablespoons low-sodium soy sauce
3 teaspoons ginger-garlic paste
1/2 teaspoon red pepper flakes
1 small onion, thinly sliced
1 bell pepper, seeded and chopped
1 cup mushrooms, sliced
3/4 cup carrots, shredded
8 oz. boneless skinless chicken breasts, cubed or shredded
1 packet whole wheat spaghetti
2 cups water
2 cups low-sodium chicken broth
1 tablespoon sesame oil
2 cups bok choy (leaves and stems), thinly sliced

Method:
- In a large pot or Dutch oven, combine fish sauce, soy sauce, ginger-garlic, and red pepper flakes. Mix well.
- Add all the remaining ingredients, except the bok choy.
- Bring to a boil over high heat, then reduce the heat to medium.
- Cook the mixture, and keep the ingredients in the pan moving by tossing and stirring continuously until the pasta is cooked, about 8-10 minutes.
- Take the pan off the heat and stir in the bok choy immediately.

3) Basic Chicken & Vegetable Soup
Picture Credit - www.mumslounge.com.au
Source: http://bestrecipebox.com/recipes/chicken-soup-recipe/
This chicken and vegetable soup is loaded to the brim with goodness. It's a quick and easy recipe for Ramadan that will fill you and provide you with all the nutrition you'd need without weighing you down.
Ingredients:
1 tablespoon Olive Oil
3 cloves Garlic, finely minced
1/2 medium Onion, cubed
2 medium Carrots, peeled and diced
2 stalks Celery, diced
1/2 medium head of Broccoli, cut into small florets
1 medium Zucchini, diced
1/2 pound (225g) Cooked Chicken, cubed or shredded
4 cups (950ml) Chicken Broth, low-sodium or homemade
Salt, to taste
Pepper, to taste

Method:
- Set a medium saucepan over medium heat and add the oil.
- Add the garlic and onion. Cook, stirring occasionaly for 2-3 minutes or until they start turning translucent.
- Add all the remaining vegetables. Cook until they start losing moisture, about 2-3 minutes again.
- Pour the broth and increase the heat. Bring the soup up to a simmer and then reduce the heat to medium to maintain a gentle simmer.
- Check the vegetables in 5 minute intervals to gauge whether they have reached the softness you prefer. How long you let them simmer is entirely up to you.
- Add chicken and seasoning. Turn the heat off once the chicken has come to temperature.

4) Wholegrain Toast with Toppings


Picture Credit - www.theyummylife.com
This one is more of an idea for what to eat during Ramadan, rather than a recipe. Wholegrain toast is another way to check off your complex carbohydrate requirement. And then you can top them with so many delicious and healthy ingredients; the world really is your pickle when it comes to toppings. A few of the options have been listed below.
Ingredients:
Whole grain bread, 2-3 slices, toasted.
Toppings:
- Almond butter: you can make some yourself right at home by blitzing up some roasted almonds in a food processor until it is smooth and creamy. Arrange some sliced bananas on top for added nutrition and deliciousness.
- Avocados, feta cheese, and pomegranates: A meal loaded with protein, vitamins, potassium and more, what more could you need?
- Smoked salmon and poached egg: Recreate an eggs benedict by stacking some smoked salmon and a gooey poached egg on top of whole-wheat English muffin for a protein-packed meal.
- Leafy greens (kale), fried egg, cheese: Let's be clear, stay away from the processed stuff when it comes to cheese. Otherwise, it's up to you what kind. Along the other ingredients, this will definitely keep you full and energized throughout the day.

5) Baked Peach Almond Oatmeal


Picture Credit - www.honestcooking.com
This is not only a mouthwatering meal that is full of healthiness, it is also a great meal for Suhoor because it can be made in advance and heated up right before serving. You can also make a big batch to feed the entire family, and while you're at it, why not make an extra batch and throw it in the freezer for a ready-made meal when you're in a pinch?
Ingredients:
2 cups rolled oats (substitute for gluten-free if preferred)
1/4 cup light brown sugar
1/2 teaspoon salt
1 teaspoon baking powder
1 teaspoon ground cinnamon
1/2 cup chopped almonds
2 cups Almond Breeze Vanilla Unsweetened Almond Milk
1 large egg
3 tablespoons coconut oil, melted and cooled slightly (or melted and cooled butter)
1 teaspoon vanilla extract
1/4 teaspoon almond extract
1 1/2 cups chopped peaches
Peach slices for the top, optional

Method:
- Preheat the oven to 350 degrees F/170 degrees C. Get an 8x8 square baking dish greased and ready.
- Whisk together the oats, brown sugar, baking powder, salt, cinnamon, and almonds.
- In another bowl, combine the almond milk, egg, coconut oil, vanilla, and almond extract and whisk until combined.
- Lay the chopped peaches on the bottom of the greased baking dish. Scatter the oat concoction evenly over the peaches, and pour the almond milk mixture over the oats. - ---- Give the dish a gentle shake to make sure the milk covers all the contents of the baking dish evenly.
- For an extra pretty presentation, lay a few sliced peaches on top of the oatmeal.
- Bake for 40 minutes, until the top is golden and oatmeal is set. Let cool for 5 minutes and serve while warm.
- Notes: You can easily double this recipe and use a bigger pan, or divide between two pans. Use the microwave to heat this oatmeal, and add a splash of almond meal for extra crispiness!