Beitou
, a mountainous district in the north of
Taipei City
, Taiwan renowned for its hot springs and spas, some of which date back to the late 19th century. Today, travelers to Taipei City need only spend a 30-minute MRT ride to reach Beitou and its glorious green vistas and the famed Beitou Hot Spring Park. Located in the most mountainous region of Taipei City, Beitou with its rivers running through the meadows and valley have plentiful steam rising from them, a consequence of geothermal warming. But, this is not all on offer. Courtesy of its rich history and geographical location, Beitou has an abundance of historical and natural sites for the Muslim
https://www.halaltrip.com/halal-holiday-packages/https://www.halaltrip.com/halal-holiday-packages/
.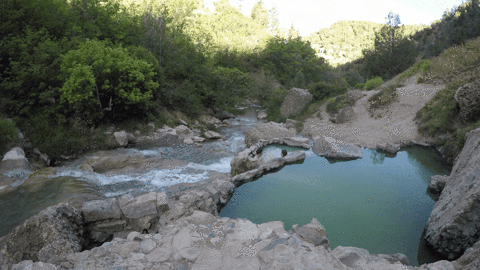 Credit - giphy.com
Hot Springs

Picture Credit - www.vimeo.com

Some of the Beitou recommended hot springs include Thermal Valley, Millennium Hot Spring, Beitou Fuxing Park - Hot Spring Foot-Soaking Pool, Qinghuang Hot Spring and the Hot Spring Street Xingyi Road. Get ready to get impressed and dip your feet in these Beitou hot springs.
Mountaineering and Hiking Trails
Picture Credit - www.vestiges-of-kura-kura.blogspot.com
For the energetic
Muslim traveler
, Beitou District offers plentiful hiking trails. So, get geared up to visit Battleship Rock (Dog's Head Peak),
Qixing Mountain
, Phoenix Mountain, and the Jyun Jian Yan Trail.
Parks and Gardens
Picture Credit - www.mathiassauer.blogspot.com
Beitou has so many parks that choosing one can sometimes be a problem. However, don't miss visiting the
Yangmingshan National Park
, Beitou Park, GuanDu Park, Yang-Ming Park, Datun Waterfall, and the Menghuan Pond. These parks wow visitors with their plentiful flora and fauna, birds and wildlife, mountain and dormant volcanoes, waterfalls and ponds, rare aquatic ferns, protected wetlands, and of-course open-air Beitou hot springs!
Museums
Idouyama in
Japan
. A comparatively new addition is the Beitou Museum which opened in 2008 and features exhibits of various folk arts, pottery, wood and stone carvings, and puppetry.
The
Ketagalan Culture Center
will give visitors a more in-depth view of Taiwan's indigenous people's culture and showcases exhibits, performances, pictures and artefacts.
Architecture and Temples
The Plum Garden which is a historical building in the
Beitou District
is an interesting blend of Japanese and Western architectural styles dating back to the late 1930s.
The Guandu Temple
is one of the oldest temples in Taipei and is a is built right into the side of a mountain, while the Puji Temple was built in 1905 as a is a Japanese-style wooden temple.
Beitou Muslim Travel Guide
Picture Credit - www.agoda.com
While Taipei is Muslim-friendly with the availability of
Halal food
through its many
Halal restaurants
which are either Muslim restaurants or Muslim-friendly restaurants, the Beitou district only has limited Muslim-friendly restaurants.
The Gaia Hotel
,
The Grand View
and Atami Hotel are a few Halal food places and hotels in Beitou I came across. However, there are plenty of Halal food places near Beitou that any Muslim traveler can access.
Mosques
and prayer places in Beitou is also limited. However,
Taiwan
is a religiously tolerant country and offers prayer rooms in its railway stations, and other select locations. In addition, there are quite a few Mosques in Taipei City, of which the Taipei Grand Mosque is the biggest and a must visit for any Muslim traveler.
So, when in Taipei City, take some time to make the most of the natural beauty only a short distance away offering the Muslim traveler an unparalleled adventure! Take at least a day for a
Halal Trip
to the Beitou Hot Springs!