We all dream of spending time off on a holiday every now and then. While travelling abroad may be tempting, budgetary constraints often keep us from doing so. But have you ever stopped to wonder how many things you can do during a tour around Singapore itself? That's right; we are talking about enjoying your very own staycation in Singapore. To help you get started we have put together a list of things every Singaporean should do that will give you inspiration for the ultimate one-day itinerary in Singapore.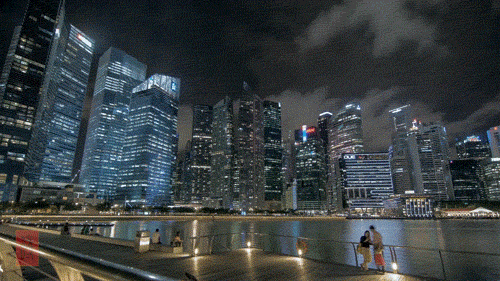 Credits - giphy.com
Admire the beauty of the sunrise
Credits - commons.wikimedia.org
What better way to welcome a perfect day in Singapore than to admire the beauty of the sunrise over the coastline. While there are many places where you can enjoy this picturesque scene we recommend you visit the Changi Boardwalk around 6 am to enjoy the spectacular view of the sunrise causing the calm sea waters to glisten like diamonds. The East Coast Park is another great option to catch a glimpse of the sandy shores greeted by the warm rays of the sun. The ships docking in the background will also look great in all the amazing photos you capture.
Get energized with a nourishing breakfast at Penny University café
Credits - www.yelp.com.sg
After feeling refreshed by the morning breeze and warm sun-rays, you could head down to East Coast Road where you can find the lovely coffeehouse called Penny University, a great stop for breakfast. This cozy little eatery is Muslim owned and is known to offer great tasting and affordable meal options. Their freshly baked bread with a plate of Turkish eggs is a great breakfast option to get you fueled up for the day.
Visit one or more museums for free
Credits - http://www.buschartersingapore.com
Visiting museums that help you learn more about the proud history of this nation is among the many things every Singaporean should do. While the learning opportunities are truly rewarding, what's great is that as a Singaporean you can visit many of the famous museums for free. So feel free to include a visit to the National Museum, Asian Civilizations Museum, Peranakan Museum, Reflections at Bukit Chandu, Singapore Art Museum and Singapore Philatelic Museum as part of your trip within Singapore.
Enjoy a picnic lunch at the Marina Barrage
Credits - commons.wikimedia.org
Looking for a perfect place to enjoy a picnic for lunch? Then you should head down to the Marina Barrage. Even if you are travelling with a larger crowd, you all will be able to find a quiet space to relax in the grass. To add to the fun you might want to take a kite along and enjoy flying it, as you enjoy your lunch.
Watch a movie alfresco
Credits - www.timeout.com
To make your day out in Singapore complete, you might want to include watching a movie. And courtesy of the MovieMob, you can enjoy a lovely movie outdoors, absolutely free! Just keep checking their FB page for updates on the next screening location and simply drop by to enjoy this amazing alfresco experience.
Witness the sunset at the Esplanade Roof Garden
Credits - commons.wikimedia.org
As your day out draws to an end, you should not miss the splendour of the sunset as part of the ultimate one-day itinerary in Singapore. One of the best places to enjoy this magnificent view is the Esplanade Roof Garden. The atmosphere is very carefree and happy making it a great place to spend time with friends and family catching up on interesting things that took place during the day. The rooftop gives you a panoramic view of many other famous landmarks like Marina Bay Sands, the Singapore River and the entire city landscape that lights up at night, creating many amazing photo opportunities.
After having a glimpse of what Singapore has to offer for merely a day, check out our Singapore city guide to learn about what more this tiny red dot has in store for you.