Australia is the smallest continent and largest island in the world, located between the Indian and Pacific oceans. There are so many sights and marvels to discover and enjoy in Australia. From visiting the Aboriginal people to exploring their lifestyles to other city hot spots, there's something special for every visitor in Australia.
If you plan to travel to Australia anytime soon, you'll find some of the things you should know in this article.
Why Visit Australia?
Australia is undoubtedly one of the most fascinating places to visit in the world today. It's easy to see why many people travel to this region, from the numerous natural wonders to cosmopolitan metropolises, plenty of wildlife, the outback, and dazzling beaches. Australia is one of the few places on earth that matches every age, interest, budget, and taste. In addition, it also delivers unique experiences that you can't find in other places. Australia is not only a paradise for people seeking adventure but also a delight for art lovers, budget travelers, and foodies.
When Can I Travel to Australia?
You can travel to Australia anytime you want. However, there are certain times of the year when everything is different, and you'll enjoy your stay even better. Autumn and spring are the best times to travel to any part of the country. International flights are generally cheaper during this time, and the weather is equally friendlier. This time of the year generally offers the best travel conditions, especially for foreign travelers.
What are the Best Places to Visit in Australia?
With so many great things to see and explore, you might be confused about where to visit in Australia. These are the best places you can visit in Australia:
5. Broken Hill
Image Credit: tinlala in pixabay
There are only a few places on earth as complex, unexpected, and fascinating as Broken Hill. It was discovered in the 1880s on the richest silver, lead, and zinc orebody. This was one of the most prosperous settlements during the early colonial days. Movies like Mad Max 2 and Priscilla Queen of the Desert were filmed in this tourism hotspot. If you seek to see the beautiful sun-scorched plains close to civilization, the Broken Hill is a destination for you. What's more, there are nice accommodations around this Australia's desert interior.
4. Kangaroo Island
Image Credit: envasa on pixabay
This is the third-largest island in Australia, and it's known for its sugar-white beaches, national park, and native wildlife. You can go to the Remarkable Rocks, which are in Flinders Chase National Park. Here you'll find clusters of orange-tinged, eroded granite boulders, which are more than 500 million years.
3. Sydney
Image Credit: pattyjansen on pixabay
Sydney is a modern city with a rich history, characterized by its scenic harbor. This is a destination for adventurous travelers because of the fun that awaits them. From Sydney, you can take a ferry to Manly Wharf, where you'll find kayaks for rent. The Federation Cliff Walk is also another place you'll like to see. Your visit to Sydney won't be complete if you don't take a tour of the Sydney Opera House. The bottom line is that there's a lot more to behold in Sydney, and it's simply a destination for everyone.
2. Kakadu National Park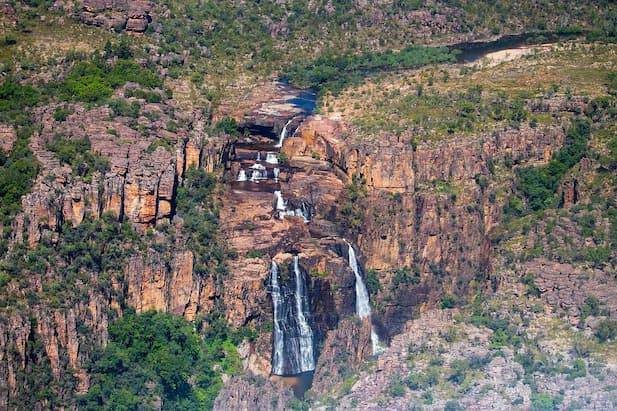 Image Credit: Squirrel_photos on pixabay
There's no other place where you'll appreciate the beauty of nature like in the Kakadu National Park. This is a place with immense cultural and natural significance. It's a huge park with different stunning sights, and you'll particularly like the Kakadu Escarpment. It's a region with different ecosystems, and as such, you can be bathing in waterfalls, and the next minute, you are in a deserted sandstone escarpment. What's certain is that you'll enjoy all that Kakadu National Park offers.
1. Whitsunday Islands
Image Credit: Barni1 on pixabay
This is also a popular destination in Australia for tourists. Aquamarine waters surround the region, and it's part of the Great Barrier Reef. Picture-perfect beaches and stunning scenery mostly characterize Whitsunday Islands. It is a great place to go scuba diving and snorkeling. In addition to its outstanding beauty, it's also home to Australia's oldest Aboriginal archaeological sites.
If you're thinking of visiting Australia and don't know where to go on your tour, these are some of the best places you should consider.