Kagoshima is a beautiful city in Japan, by the bay, that overlooks the Sakurajima volcano. Once located on an isolated island, Sakurajima altered geography and now joins the mainland after an eruption in 1914. The volcano might be a major attraction, but Kagoshima caters to tourists of all kinds, including shopaholics. There are numerous shopping areas scattered around the city - from arcades to malls to ports. Here are some of the best places in Kagoshima to do a bit (or a lot) of shopping! .
Tenmonkan Arcade
In downtown Kagoshima, Tenmonkan Arcade is the number 1 shopping area in the region. It provides outdoor shopping, with the convenience of a roof to protect from the heat of the day as well as volcanic ash from Sakurajima, giving it a lovely glow and a different experience. Tenmonkan houses retail stores, boutiques, bookshops, department stores and restaurants, coffee shops and more. You can also find a series of pop up photo-op stands around the complex, with different views on different days, to add some fun to your shopping experience. .
Dolphin Port

Located close to Tenmonkan, is Dolphin Port, a building with graceful architecture to match the beautiful views of the bay and the Sakurajima Volcano across it. It offers some shopping, with more focus on relaxing and eating - the volcano being the prime view from the restaurants, and a free foot bath sourced by a hot spring. The wide array of stores sell special local products and sundries, so drop by Dolphin Port for your souvenirs and take-home presents! And after a hard day's shopping, what's better than soaking your feet right there - you won't even have to wait to get to your hotel room! .
Aeon Mall
Even though logistics would be your concern here - the easiest way is by car, buses are not very frequent - Aeon Mall makes it worth the trouble. Located close to the outskirts of the city, this mall is one of the best shopping spots, with over 170 stores and restaurants being spread across 3 floors. Boasting of Japan quality food, products and services, Aeon Mall's stores range from groceries to cosmetics, baby items to kitchen supplies, and more. Be sure to wear your walking shoes when visiting this mall! .
Amu Plaza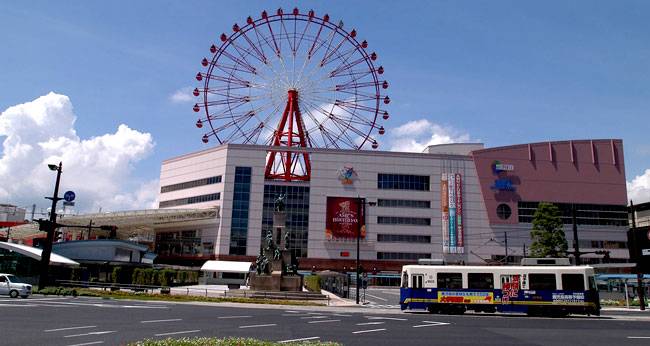 What used to be the largest floor space for a mall once, is now second to Aeon Mall, but it remains the largest mall with 190 stores to shop from. Getting its name from the word "amuse", Amu Plaza lives up to it with a giant Ferris wheel at the top that has become a landmark of the city. Amuse yourself with a ride on it, or at the cinemas, or even working your dinner off at one of the best gyms in the city, Seika, housed at the mall. One of the busiest and most popular malls, Amu Plaza offers a large range of shopping, and is a place not to be missed. . Whether it's a day out to yourself, last minute shopping for souvenirs, or just exploring the Kagoshima street scene, be sure to drop by these hot spots! .