You need not travel far to visit a vegetable farm in Singapore. If you're unaware, there is an eccentric and refreshing organic farm called Bollywood Veggies right here on our tiny island!
If thoughts of visiting this farm are already making you excited, we're here to break it down for you. Bollywood Veggies could be your next location to spend a day off with your family and friends.
Where is Bollywood Veggies?
Credit: Bollywood Veggies Website
Bollywood Veggies is one of the farms located in the Kranji Countryside. You can hop on the Kranji Countryside Express Shuttle Bus from Kranji MRT Station. The bus will stop directly at Bollywood Veggies.
The bus runs at a scheduled timing and operates daily, including public holidays. It will cost $3 for adults for a roundtrip and $1 for children below the age of 12. You can hop on and off the bus for multiple trips within the day, just remember to keep your ticket!
Bollywood Veggies is open from Wednesday to Friday, from 7 am to 5 pm. Meanwhile, on Saturday, Sunday, and Public holidays, it opens from 7 am to 7 pm. Do take note that the farm is closed on Monday and Tuesday unless it is a public holiday.
Address: 100 Neo Tiew Road (Kranji), Singapore 719026
For Reservation: Do refer to their official website for contacts.
What to do and see at Bollywood Veggies?
Credit: Bollywood Veggies Facebook
Credit: Bollywood Veggies Facebook
Bollywood Veggies opened its gates to the public in 2000. It was founded by a couple, Mrs. Ivy Singh-Lim and Mr. Lim Ho Seng, as part of their semi-retirement plan. The name wasn't only chosen because of Mrs. Ivy's heritage, but it also portrays the personality of the farm.
Visiting Bollywood Veggies will open your eyes and minds to things that you might not be exposed to. It portrays a simple Kampong lifestyle utilizing the land for productivity as well as sustaining the environment. It is not only educational but fun here in Bollywood Veggies. You shouldn't be missing out on these activities when you are visiting Bollywood Veggies.
Disclaimer: Singapore is currently in Phase 2 of the COVID-19 situation. Some of the activities/places mentioned might be affected in one way or another. To avoid disappointment, do check in with the selected vendors before heading down. Information is correct at the time of writing.
1. Join a guided farm tour

Credit: Bollywood Veggies Facebook
Bollywood Veggies offers a guided farm tour that you and your friends/family can join. This info-ed tour is suitable for both adults and children. A 30-45 minutes tour led by experienced guides, you will learn amazing facts about the various types of plants at the farm and their uses. Apart from learning about the different types of plants, herbs, and spices, you will also be exposed to methods of sustainable farming.

For me, a guided farm tour is the best way to learn something new and experience things you can't learn on your own. If you're interested in joining one, do check in with them for availability!


2. Learn how to plant the paddy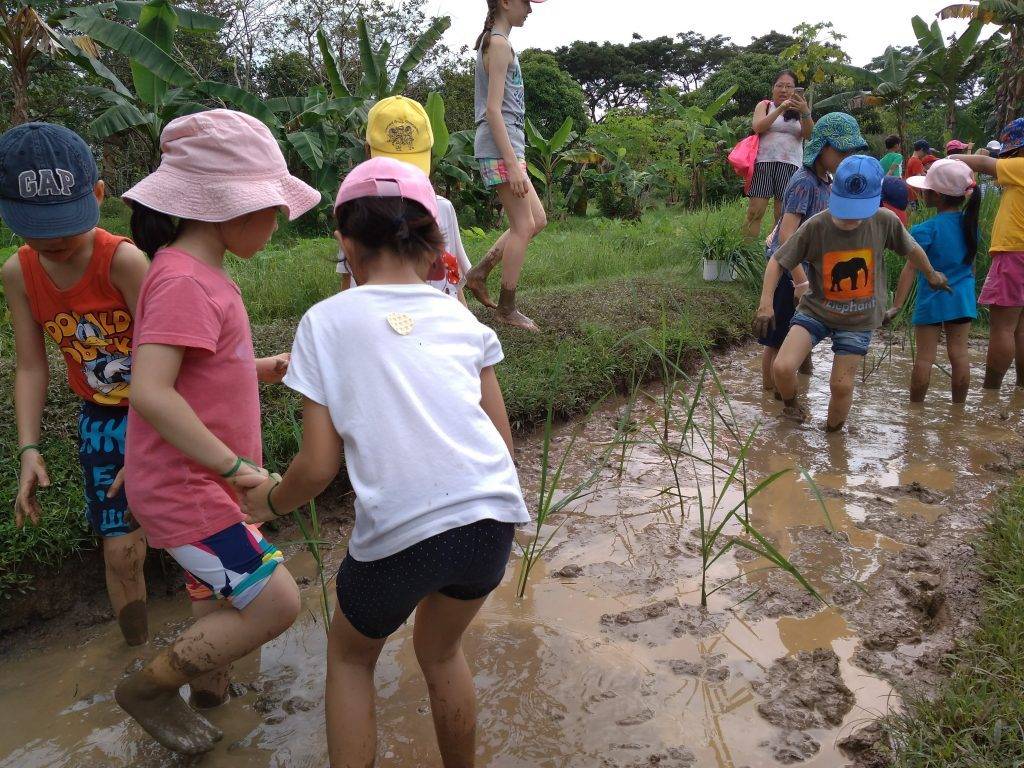 Credit: Bollywood Veggies FB
Let's be honest, when else can we get our hands dirty and learn how to plant the paddy? And in Singapore? Of course, it's at Bollywood Veggies! Opt for the Paddy Planting activities, and you can expect to learn about rice farming. This hands-on activity is suitable for older students and adults.

Learning about our staple food and how it's grown will help us better appreciate it and not take it for granted. This activity was truly an eye-opener and I would definitely recommend it!


3. Pot a plant and bring it home

You must have heard that potting a plant at your own house can be tedious because of the environment, but it's actually possible! If you ever wanted to learn how to pot your own plant, this activity is for you.

You can not only learn ways to pot a plant but herbs, fruits and vegetables as well. You will be guided by the facilitators who will also teach you proper techniques of tending to plants at home.
The best part of this activity is that you can bring your freshly-planted herbs home!


4. Create an art masterpiece with nature
Credit: Bollywood Veggies Website
If you want to get creative with nature, we recommend you opt for the Art with Nature activity. You will be given flowers, leaves, henna powder, and even natural paints from around the farm to create your masterpiece. This activity will open your eyes to the various uses of plants, and is something ideal if you're looking for something relaxing to do during your day in the sun.
For the children's session, they will get a chance to design a cotton banner, and for the adults, it will either be a pouch or a tote bag.
Credit: Bollywood Veggies FB
Alternatively, you can choose to join their terratium-making sessions if that's more up your alley!
5. Buy some 'souvenirs' from the Earth Shop
Credit: Bollywood Veggies FB
When travelling, most people would want to get a souvenir to remember the trip by. But the souvenirs I mentioned here are not your typical keychains or magnets. At Bollywood Veggies, the souvenirs offered are edibles!

Bollywood Veggies has been one of the nation's food sources. Haul some of the freshest greens, fruits, and herbs straight from their farms and the neighboring farms. You can also find some seasonal produce, and if you happen to be there on the weekends, you'll be able to buy the locally produced eggs and fish as well!
6. Explore these other places at the Kranji Countryside
Dine at Putra Delicacies at Gallop Kranji Farm Resort
There is a restaurant in Bollywood Veggies called Poison Ivy Bistro. According to the restaurant, they serve Halal-certified poultry and don't serve pork or lard. However, they are not Halal-Certified as alcoholic beverages are served at the premises. Please dine at your own discretion.
A safer option would be to travel to Gallop Kranji Farm Resort, just a bus ride away, to dine at Putra Delicacies. Putra Delicacies was previously at Bedok Reservoir Road but has been relocated to Kranji Farm Resort. Enjoy traditional Malay cuisine after a fruitful day at Bollywood Veggies!
Credit: @hadrianleaves on Instagram
You can check out their website here.

Address: 10 Neo Tiew Lane 2, Singapore 718813
Operating hours: Tue-Thu, 9 am to 6 pm; Fri-Sun, 9:30 am to 12mn; Close on Mondays.


Visit other farms in the Kranji Countryside

As mentioned earlier, Bollywood Veggies is not the only farm you can find in the Kranji Countryside. With almost 15 other farms open to the public, plan your day out to the Kranji Countryside and spend a productive day here! Do take note that each farm has its own operating hours.
Goats at Hay Dairies Credit: @fionkoh on Instagram
You can choose to visit an aquarium, like Hausmann Marketing Aquarium, or even a goat farm, Hay Dairies, to spend the rest of your day after visiting Bollywood Veggies. Apart from escaping the town for a day, maybe you'll learn a thing or two from this visit.


Enjoy the greenery at Sungei Buloh Wetland Reserve & the Kranji Marshes

Sungei Buloh Nature Reserve Credit: @wander.maverick on Instagram
Sungei Buloh should be your next destination if you are up for some bird watching and enjoying nature. Hop back on the Kranji Countryside Express Shuttle Bus to get to Sungei Buloh Wetland Reserve. You can either alight at the Visitor Center or the Wetland Center.

Known as Singapore's first ASEAN Heritage Park, this mangrove forest is rich in biodiversity. Not only can you witness migratory birds, but other mud land creatures like crabs, mudskippers, and even water monitor lizards in their natural habitat.

Address: 60 Kranji Way, #01-00, Singapore 739453 (Visitor Center); 301 Neo Tiew Crescent, Singapore 718925 (Wetland Center)
Operating hours: Mon-Sun, 7am - 7pm
Kranji Marshes. Credit: @visit_singapore on Instagram
Alternatively, enjoy a refreshing walk at the Kranji Marshes. Similar to the Sungei Buloh Nature Reserve, you can spot a variety of birds when vising the marshes, including migratory birds like the Japanese Sparrowhawk and the Black Baza between November and March. The Kranji Countryside Express Shuttle bus will also bring you there!
Address: 11 Neo Tiew Lane 2, Singapore 718814
Operating Hours: Mon-Sun, 7am - 7pm