If you're craving for some brown sugar bubble tea but don't want to go out to buy it, this is the article for you! Making your own bubble tea may sound daunting but trust us, it's not! It's really simple to make and definitely worth a try. The ingredients that you will need to make this amazing brown sugar bubble tea recipe is easily accessible and you could probably find them in your homes already. If you're up for the challenge, try making your own brown sugar bubble tea with this recipe. Once you're done, make sure to upload lots of pictures online to show off your creation.
Right now, we'll be teaching you how to make Brown Sugar Bubble Tea from scratch only on HalalTrip Cooks! Get your utensils ready!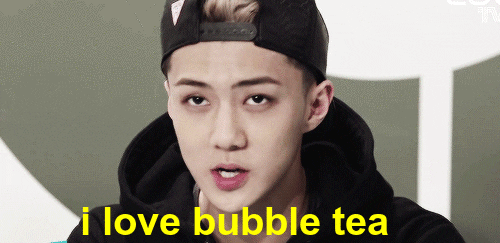 Ingredients for your Brown Sugar Bubble Tea
For the Tea
1 teabag
Water
2 tbsp sugar
1 tbsp condensed milk
For the Boba
2 tbsp brown sugar
6 tbsp tapioca starch (+1 tbsp for dusting)
4 tbsp water
For the Brown Sugar Syrup
6 tbsp water
2-3 tbsp of brown sugar

Instructions
To Make The Tea
Add the teabag, sugar and condensed milk into a cup and pour in some hot water.
Don't let the teabag steep for too long as this may take away the milky taste of the tea.
Leave the tea to cool down while you prepare the boba balls!

To Make The Boba Balls
Add water and brown sugar into a pot on medium to low heat.
Once the brown sugar has fully dissolved into the water, take the pot off the heat and add 1 tbsp of tapioca starch into the mixture.
After the tapioca starch has dissolved, put the pot back on the heat and stir the mixture until it thickens.
Turn the heat off and add in the rest of the tapioca starch into the pot and start mixing it. This is to ensure that the tapioca starch and the brown sugar mixture are mixed and stick together. (You can use your hands but be careful as it is still hot!)
Take the dough and transfer it onto a clean surface that has already been dusted with tapioca starch.
Knead the dough till it has a smooth consistency. Roll out the dough and cut it into smaller chunks.
Take each chunk and roll it out even further into a thin log (about 2cm thick). Cut the thin log into even smaller pieces.
Take each small piece and shape it into a boba ball by rolling them in between your palms. (The boba ball will expand when boiling so make sure it's not too big!)
Once you're done shaping each piece into a boba ball, place it in a bowl lightly dusted with tapioca starch so that the boba balls don't stick to each other.
Place all the boba balls into a pot of boiling water and wait for them to start floating.
Once the boba balls start floating, let it boil for another 15 minutes
After 15 minutes, turn off the stove and let the boba balls sit in the pot of water for another 10 minutes.
After 10 minutes, dunk the boba balls into a bowl of ice water for a chewier consistency!

To Make The Brown Sugar
Add water and brown sugar into a pot on medium heat and let the brown sugar dissolve in the water.
Once the brown sugar has dissolved, add the boba balls into the mixture and keep stirring.
Let the syrup reduce to a thick consistency and you're all done!

To Assemble The Bubble Tea
Add the boba balls into the cup and swirl it around to coat the cup with brown sugar syrup.
Pour in the tea and add some ice cubes!
And that's it, your brown sugar bubble tea is done!

For bubble tea lovers out there, we highly recommend you to try out this brown sugar bubble tea recipe! You can skip the queues and save some money by making your own bubble tea!
Our final verdict for this recipe is that it is simple to make! The ingredients are also easy to get. All you need is just a little bit of patience but we promise you, it's worth it! Show us your creations if you have tried this recipe by tagging us @halaltrip on Instagram! Check out our YouTube Channel for more videos like these!