Festivals bring people together, and so does food. Joy is magnified and is bound to ignite a glorious spark of happiness when the two are combined. Food festivals are action-packed social events that celebrate rich and varied cuisines. They are often used as a fundamental strategy in gastronomic tourism to showcase and promote the culinary heritage of regions worldwide. They serve as a tribute to mirror the widespread delicacies that have a significant potential to lure domestic and international visitors. Its popularity garners people from all age groups as they have something to offer to different taste buds. The country whose tourism tagline is 'Abode of Peace' has a well-organized, interactive, and lively food festival with activities, delicious food, workshops, competitions, fine dining, and much more!
Pause your diets and jump in to enjoy your unconditional love for food as a spectacular food festival exists for all kinds of food enthusiasts - The Brunei Gastronomy Week! Conducted in the serene Brunei Darussalam, the Brunei Gastronomy Week (BGW) is an annual event organized by the Brunei Tourism Board and Ministry of Primary Resources and Tourism. It strives to put the sumptuous Bruneian cuisine on the world food map and attempts to bring a significant inflow of tourists. It also seeks to encourage budding culinary curators to add more value to the Food and Beverage (F&B) Industry so that people worldwide can get an opportunity to indulge and relish the local specialties and other food items as part of Brunei's rich cuisine.
The primary mission of this food festival is to spread awareness regarding Brunei's distinctive cuisine. It endeavors to enhance passion for local food as it involves history and tradition passed down from many generations. Rightly so, they must be treasured and incorporated regularly so that the art of cooking local food is not forgotten with time.
Every food has a story behind it, and it is interesting to get brief insights about what goes into preparing a particular dish. The Taste of Brunei is an experience in itself. The locally available ingredients found across the country go into the making of epicurean extravaganzas of Brunei's distinctive cuisine.
Happenings at the Brunei Gastronomy Week


This unique event is a thrilling arena for local chefs to level up their culinary skills and put them on display for the visitors, motivate novel techniques of food presentation, attempt to play around with ingredients, and recreate local flavors. Brunei's premier food affair levels up with every new edition by establishing enjoyable food avenues for residents and travelers.
Local food is a potential resource in the arena of sustainable tourism and continues to be widely marketed. At the heart of the Brunei Gastronomy Week lies an underlying aim to create and promote the rich Bruneian cuisine through exciting and fruitful initiatives; encouraging the hotel industry to serve the expansive Bruneian cuisine in line with international standards; promoting the local culinary industry as well as boosting and refining the taste and presentation of the dishes. The Brunei Gastronomy Week culminates in a memorable Bruneian gastronomical experience for travelers and visitors.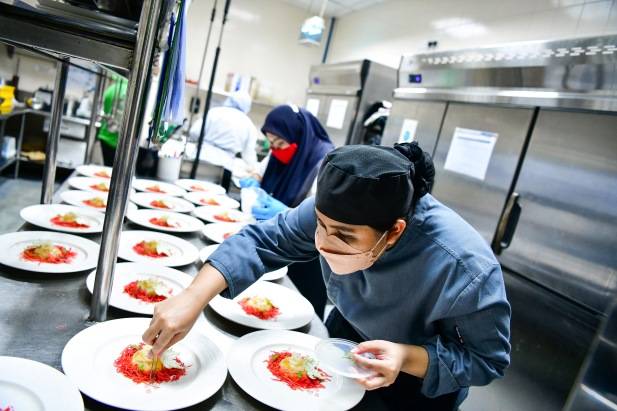 The food festival bestows home-grown chefs with an array of new ideas and experiences that add more value to their existing talents, which they can further use to enhance their culinary abilities. They are pushed out of their comfort zones so that they can carve their presence in the rapidly expanding culinary industry. Such golden chances are hard to come by, and many chefs make the best of this.
The 6th edition of the yearly event was held jointly with the 38th National Day celebrations, whose theme was 'Pandan Leaves.' Reportedly, twelve hotels, food service providers, and restaurants participated in this program.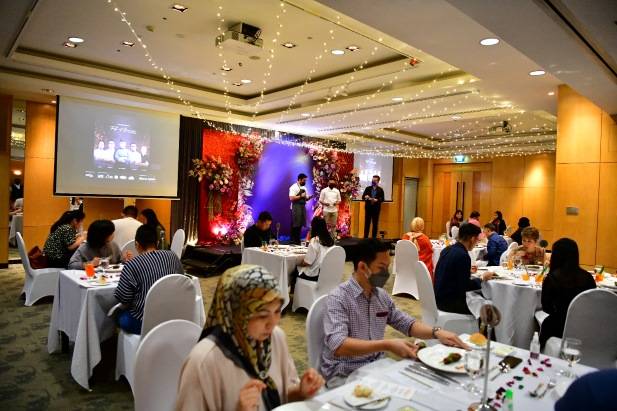 In the course of two successful weeks, there were numerous fun and engaging activities, such as a cooking competition where participants competed for the prestigious Brunei Gastronomy Awards. Awards were categorized into two, namely food and chef. Under the classification of food awards, there were three sub-groups: starters, main courses, and desserts. The contestants were required to prepare a dish in each mentioned category centered on the theme, which had to be the main ingredient – the fragrant and flavourful tropical pandan leaves. Original dishes prepared exclusively for the event by F&B establishments could be seen promoted thoroughly. The winner of the competition was decided on their dishes' taste, visual aesthetics, and creativity. The participant who managed to impress the judges with their exceptional culinary qualities and prepared extraordinary signature dishes that made them stand out from the rest goes on to be the selected winner.
Other activities include a two-day fine dining experience at a high-end hotel in Bandar Seri Begawan and a new cooking workshop undertaken by the Tourism Development Department in collaboration with the Institute of Brunei Technical Education (IBTE) and Cloudstreet Restaurant Singapore, which was conducted by Chef Mark Tai, Singapore's first Michelin Guide Young Chef winner who shed light on ways to upgrade Brunei's local food with advanced and innovative cooking skills. He showed how to make his signature dish, a personal creation of the succulent buttermilk chicken, which is known as Fresh Poulet with Spiced Turnip.
Kinds of food exhibited that visitors can relish


This fiesta brings the best food of Brunei under one roof. The participating teams exhibit their excellent culinary skills and visitors can enjoy various food items, some of which they may not have tasted before. Brunei Gastronomy Week 2022 featured the delicious pan-fried beef with pandan mint sauce and potato pandan puree, the award-winning dish - Earth and Sea (Atlantic salmon belly crudo, crispy pandan rice, and nori pandan dust), Udang Sengkuang (prawn and jicama fritters), Cendol (sweet green dessert), grilled prawns with coconut kerabu (a local tropical salad with tangy dressing), Bubur Kacang (dessert based on various beans), the wholesome dish of Nasi Lemak, Daging Salai Masak Lemak (smoked juicy beef infused with turmeric and savory coconut milk), chewy Penyaram (a sweet snack made with palm sugar and rice flour), Sambal Mangga, the iconic Nasi Katok, Bubur si Bujang (glutinous rice ball with pandan and coconut milk), Seri Batek, everyone's favorite Manok Pansuh (Bamboo Chicken), Acar Buah-Buahan, Sup Tahai, Wajid, Selurut (traditional sweet snack made with rice flour), and so much more! This enthralling assemblage of food is a treat for the eyes and food for the soul!
Brunei's tourism is all set to upgrade itself with this food festival as tourists will be in awe of the beauty of Brunei, the welcoming nature of the locals, and the expansive Bruneian cuisine. Visitors will indeed undergo a culinary coma at Brunei Gastronomy Week with innovative and compelling dishes all around!
The Brunei Gastronomy Week will be a great time to visit the beautiful Brunei Darussalam as it is rightly believed that there is no better way to understand and enjoy a place than trying out its local food. The BGW will be a perfect opportunity to cherish the food treasure of Brunei's delicious delights. Brunei - the Abode of Peace welcomes one and all!