The holiday season is here and what better way to end the year than meeting your beloved Pokemons! These beloved characters will arrive in the M Malls (Jurong Point, AMK Hub, and Swing By @ Thomson Plaza) from 18 November until 26 December 2022. Jam-packed with exciting and family-friendly activities, make sure to drop by these malls and "catch" these Pokemon-themed festivities.
Meet the Three New Pokemons in the Pokemon Dance Parade


This year alongside the release of the new Pokemon Scarlet and Violet, "trainers" could also catch a glimpse of the three newly introduced characters that are featured in the game — Sprigatito, Fuecoco, and Quaxly. They'll also be performing alongside Pikachu, Eevee, and Piplup in an adorable dance parade that you should not miss.
You can also pose and take photos with these cute characters by spending a minimum of $30 on a single receipt. Make sure to be the fastest as the photo session is limited to the lucky 20 people at each session.
Jurong Point
Address: JP1 Centre Stage, L1
Time & Date: 2 to 4 December, 3 PM | 9 to 11 December, 7 PM
AMK Hub
Address: Atrium, B1
Time & Date: 2 to 4 December, 7 PM | 9 to 11 December, 3 PM
Pokemon Meet and Greet Sessions
Did you just miss the opportunity on taking pictures with these adorable characters? Don't worry; Snorlax will be waking up just for you and joining Pikachu and Piplup in each location and session. They'll appear at the meet and greet sessions every weekend at 3 pm and 7 pm on 19 November until 26 December 2022. These sessions are free for all to attend.
Jurong Point
November:
3 PM: 19, 20, 26, 27
7 PM: 26, 27
December:
3 PM: 10, 11, 17, 18, 24, 25
7 PM: 3, 4, 17, 18, 24, 25
AMK Hub
November:
3 PM: 26, 27
7 PM: 26, 27
December:
3 PM: 3, 4, 17, 18, 24, 25
7 PM: 10, 11, 17, 18, 24, 25
Swing By @ Thomson Plaza
November:
3 PM: 26, 27
7 PM: 26, 27
December:
3 PM: 17, 18, 24, 25
7 PM: 17, 18, 24, 25
Pokemon Themed Adventures and Activities to try
Trainers and Pokemon fans rejoice! As throughout the event you'll be one of the first to try out the Pokemon Scarlet and Pokemon Violet Games over at the Nintendo Switch game demo booths.
Are you an avid fan of the Trading Card Game? There are also Trading Card Training Sessions that'll help you in understanding the rules and helpful strategies of the game. Receive a set of cards for free by joining the training session and spend time dueling other players! Ga-ole machines and other carnival games are also available for you to try and complete the experience.
More into handicrafts? Make sure to get involved in daily workshops that could show off your artistic skills! Try creating Pokemon-themed badges (every 2 PM) or window cling art (5 PM) that you could participate in by spending $30 on a single receipt.
Trading Card Training Sessions
From 28 November to 25 December 2022
Friday - Sunday, 4 PM to 6 PM
Visit and Take Photos in a World Full of Pokemon
Not only filled with Pokemon-related activities but each shopping mall has also been transformed into a Pokemon world. Therefore, make sure to snap a picture with family and friends to remember your fun day at the various photo spots! You can expect to meet a gigantic 2-meter-tall Pikachu, the three new Pokemon characters from the newly launched games, and a humongous Snorlax!
The Pokemon Centre Pop-up Store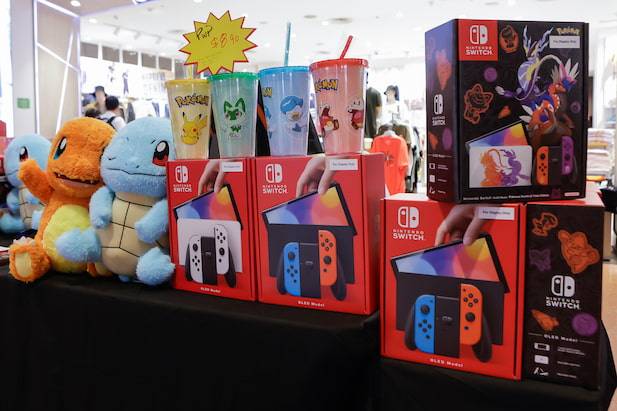 Having a great day? Before you go, don't forget to also visit the Pokemon Centre's Pop-up Store for some merch to take home! You can find Pokemon plushies, trading cards, new console games, and other exclusive collectibles that you can only find during the event.
Make sure to also redeem your spendings to get a chance in winning the lucky draw* or take home limited-edition collectibles (i.e. M Points, gift wrapper, luggage cover, and umbrella).
*Prizes include chances to win a gaming laptop, Nintendo Switch consoles with Pokemon Scarlet and Violet games, and more.
*Pop-up store available in Jurong Point only (22 November - 26 December 2022)