ASSALAMUALAIKUM. I felt so sleepy today so I just skipped my breakfast and of course I was so ready for our lunch since they told me that we would eat good food today. And that was one of the reasons why I skipped my breakfast today (kidding!). We started our day today at Museo Dabawenyo. Museo Dabawenyo - also known as "Museum of the people of Davao" - is one of two best known museums in Davao. So it is one of the main attractions here since most locals and foreigners come here to see a glimpse of Davao's past. And I was so excited so I admit that I really fell in love with the place since I really wanted to study and do some research about the past because it was also related to what I'm taking now (I mean related to my studies). My professor would be so proud of me – in my dreams!
Museo Dabawenyo is just meters away from the Andres Bonifacio Rotuna and Osmena Park if I'm not mistaken. But trust me, I did some research before we went to this museum last afternoon. But guys, don't worry because you can just ask the people around here. This is a famous museum and of course they know about the place well. But…I'm not the kind of person who can easily remember some things - especially places. Bye! People were actually not allowed to take pictures inside the museum but alhamdulillah they gave us permission to take some pictures inside, but not too much. To me it was really okay because it was such an honour to get a chance to take pictures inside. Thank you to the Museo Dabawenyo team and of course to HalalTrip team for this opportunity.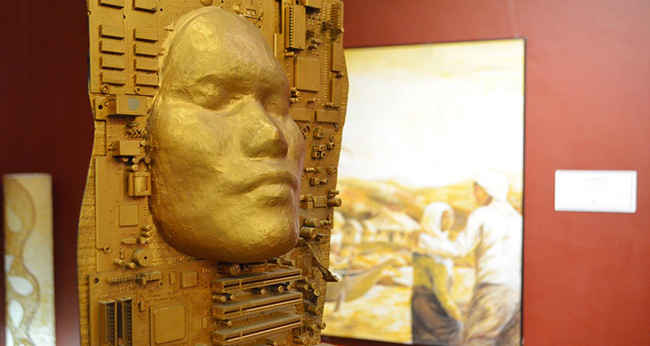 Hey it's me! – Please say hello from the other side. Our second destination was at the Philippine Eagle Center. Guess what they have inside? Of course eagles (please get an eye check-up if you have a problem guessing what they have inside) – see the place name laaa! The Philippine Eagle Center is located at the foothills of Mt. Apo in Malagos. But the best part of this place was that they not only had eagles there, but other birds, mammals and reptiles as well. Pretty cool right? If you want a tour guide, just ask for them at the front counter and they will help you of course!
The picture that was been taken was really cool and I'm so excited to upload it, honestly. I didn't expect the picture to have been taken like this.
So cool! Honestly this was the best part and my favourite part where my picture came out like this (crying blood because it's really really cool!).
And of course we were so hungry and we couldn't wait to sit down to a nice meal. Thank you to Koi Café for our lunch. The most excited person to eat of course was the person named "Aizat Abd", that's not me. We were so ready to eat!
Don't stare at this food too long or it will steal your soul. We ate so much here probably because we skipped our breakfast (not really skipped because we went for breakfast while we waited for Puteri). Or maybe because we felt hungry, hungry and hungry again? If you have the right table, you can watch the food being made in the kitchen.
Grilled chicken. Looks so tempting right?
Grilled tuna – I took only a little bit of it because I ate too much tuna yesterday.
I only ate the grapes and forgot to take other desserts. My favourite was the churros because we could eat it with melted chocolate. Extremely satisfying! Well, keep that in mind.
After the meal, we went to our next destination which was Samal Island. But before that, we went to the mosque to perform a prayer. There were so many beautiful mosques founded here. This was one of the most beautiful mosques here.
Our last destination today, Samal Island!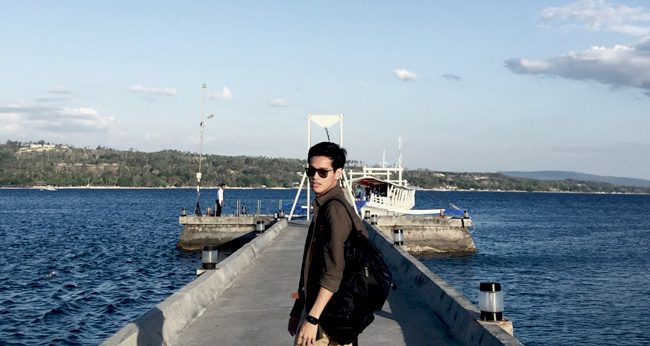 This island was really awesome and so beautiful. Can I live here forever with my family, and…future wife maybe? (I feel so shy huhuhuhu). You can get to Samal Island by a boat and it takes around 40 minutes. The water is really calm and so clear!
I wished a mermaid would suddenly appear here, but it just didn't happen - sad.
The view is pretty cool right? That is why I want to live at this place forever. Away from the busy world, away from my work (especially my academic research).
These were our rooms. The rooms and common areas were both beautiful and comfortable. It was not just beautiful, it was amazing because it was above the sea water and we could see the clear sea water directly when we went out from our room. Thank you to Pearl Farm BeachResort!
Our rooms were just a bit of a longer walk to the main areas but I didn't mind because you could call for a shuttle service here anytime you wanted, to anywhere you wanted to go - only around this resort. Everything was just perfect; the pool was beautiful too. Overall we loved, loved and loved our stay here.
The main highlight for the day - we were given a special dinner and a surprise! The entire event here was made just for us at the resort's special beach area. Along with the entire tour group, we got to taste the delicious and special menu here. So check out the pictures below to see what they all had to say about it. I do love if everybody dragged their family and friends here to try this food and to enjoy it like I did (I ate a lot, especially the shrimp).
This is only for me and I finished it all.
This is a special mango juice because they planted mango trees here. This means that they have their own mango farm just so that they can make fresh mango juice and serve mangoes to their guest everyday. And guess what? I want to cry again (such a cry baby!).
At the end of our dinner, we got to see a special fire performance. All of them were playing with fire and dancing. Crazy, right? I was not buying it because I might have died and turned out to be a grilled human. But yes, it was crazy good and I felt amazed by the entire performance. I had never imagined that I would get to see such a performance live. For those who want to see the performance, you can view it on my Instagram (@skullsulivan) and cry with me. Honestly, Samal Island is full of surprises and I'm so touched! Can't wait for tomorrow. Goodnight! . Click on my timeline for more updates from my journey: https://www.halaltrip.com/user/timeline/44924/ .