Unlocking the Charms of the Pearl of the Orient
Hong Kong, a vibrant metropolis that seamlessly blends Eastern traditions with Western influences, is a treasure trove of experiences for Muslim travelers. From indulging in delicious halal dim sum to exploring the bustling street markets, Hong Kong offers a plethora of attractions. To make your journey even more enjoyable, here are some essential tips that will help you navigate the city with ease.
1. Arrive Early at the Islamic Centre Canteen for Halal Dim Sums


Nestled within the bustling streets of Hong Kong, the Islamic Centre Canteen is a haven for halal dim sum enthusiasts. However, due to its immense popularity, this culinary gem often attracts hordes of eager diners, especially on weekends and during peak hours. To ensure you don't miss out on savoring your favorite dim sum delights, it is advisable to arrive early. By beating the rush, you not only secure a table but also relish the freshest and most sought-after dim sums, tantalizing your taste buds with every bite.
Address: 5/F, Masjid Ammar and Osman Ramju Sadick Islamic Centre, 40 Oi Kwan Road, Wan Chai, Hong Kong Island
2. Acquire the Octopus Card & MTR App to Get Around Hong Kong


Image Credit: Hong Kong Tourism Board
Hong Kong's efficient public transportation system, including the iconic MTR (Mass Transit Railway), offers a convenient way to explore the city's wonders. To navigate with ease, be sure to acquire the Octopus Card. This rechargeable smart card serves as your ticket to various modes of transportation, including MTR, buses, ferries, and even selected taxis. Seamlessly transfer between different modes of transport while enjoying discounted fares compared to single-journey tickets.
For tech-savvy travelers, you can even add your Octopus card into your mobile wallet. So you are always ready to travel around Hong Kong and not worry about losing your Octopus card. Simply wave your phone over the readers, and you're good to go!
Another handy app, while you're in Hong Kong, is the MTR app. This app will become your trusty guide, providing precise directions and valuable information on MTR routes, ensuring you reach your destinations swiftly and effortlessly.
MTR App: Apple Store | Google Play
3. Wear Comfortable Shoes to Explore One of the World's Most Walkable Cities


Image Credit: Ravi Sharma on Unsplash
In the heart of Hong Kong lies a captivating cityscape waiting to be explored. With its well-connected pedestrian walkways, neighborhoods like Central, Tsim Sha Tsui, and Causeway Bay invite you to embark on an adventure on foot.
Embrace the opportunity to immerse yourself in the vibrant tapestry of the city by wearing comfortable shoes as you traverse bustling streets and soak up the atmosphere.
Even if you forgot to pack your trusted walking shoes, Hong Kong's legendary Sneakers Street awaits, offering an array of affordable and stylish options to cater to every discerning traveler's taste. Keep a lookout for exclusive sneakers that can only be found in Hong Kong too!
Here a shopping tip!: To get the best prices at Sneakers Street, compare the prices of the item that you want to purchase at multiple shops in the area before purchasing. There are a number of shops selling the same item and better yet, some shops might even have discounts too!
4. A Full List of all the Halal & Vegetarian Food in Hong Kong and Where to Find Them

Hong Kong is a food lover's paradise, and Muslim travelers are no exception. Allow your taste buds to revel in the culinary wonders at renowned Halal restaurants all around Hong Kong.
There are many Halal and Vegetarian food options for Muslim visitors in Hong Kong. There is a very useful page on the Discover Hong Kong website that compiles all the restaurants and where to find them all. A very useful tool for anyone in Hong Kong!
Find the full comprehensive list of Halal & Vegetarian Food in Hong Kong here!

Michelin Guide-Recommended Halal Restaurants
These restaurants are in the list but we just wanted to highlight some of the Michelin Guide-Recommended Halal Restaurants you have to try when you are in Hong Kong:
Gaylord Indian Restaurant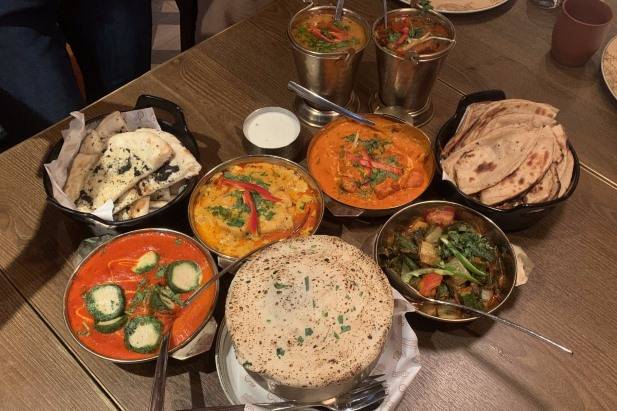 A renowned restaurant that received the prestigious recommendation from the Michelin Guide, the restaurant offers a diverse menu of masterfully crafted Indian dishes. From aromatic biryanis to tandoori specialties.
Address: 5/F, Prince Tower, 12A Peking Road, Tsim Sha Tsui

Jashan Celebrating Indian Cuisine

This restaurant has garnered much praise over the years. It was honored with a Masterchef Recommendation and a Cordon Bleus Recommendation for its culinary prowess. In addition to those, Jashan was also the first Indian restaurant in Hong Kong to be featured in the Michelin Guide. The restaurant serves a symphony of flavors with their aromatic curries and tandoori delights.
Address: 1/F, Amber Lodge, 23 Hollywood Road, SOHO, Central
Website
All restaurants mentioned here are Muslim-Friendly certified or Halal-Certified
5. Bring Back Halal Bakes from Imperial Patisserie as Souvenirs


While exploring Hong Kong, take a moment to indulge your sweet tooth at Imperial Patisserie, a renowned Halal bakery by renowned pastry masters, including a Michelin 2-star pastry master. This haven of flavors boasts an impressive selection of pastries, including their egg rolls, delicate mooncakes, and, of course, their Michelin-starred palmiers.
These delectable treats not only make for a delightful snack but also serve as unique souvenirs that tastefully encapsulate the essence of Hong Kong's culinary heritage. Share the flavors of your journey with loved ones back home and savor the memories with every heavenly bite.
Flagship Store Address: Shop 5, G/F, Haiphong Mansion, 53-55 Haiphong Road, Tsim Sha Tsui
Website

6. Capture the Essence of Hong Kong's Street Art


Beyond its towering skyscrapers, Hong Kong hides an artistic soul within its vibrant streets. Embark on a visual journey, immersing yourself in the city's captivating street art installations.
These colorful and eye-catching masterpieces add a touch of flair to the urban landscape and provide extraordinary photo opportunities. To truly immerse yourself in Hong Kong's vibrant arts and culture scene, consider joining intriguing walking tours like the Wanderlust Walks Hong Kong Street Art Tours.
Hong Kong is littered with aesthetically pleasing cafes, so take leisurely breaks at unique cafes where you can indulge in aromatic coffee or soothing tea and let the creative spirit of Hong Kong ignite your imagination.
Note: We recommend asking the cafes if the beverages are Muslim-friendly before consuming for peace of mind.
7. Bring Prayer Mats & Water Bottles for Wudhu

Discover Tranquility amidst the bustling cityscape, Hong Kong embraces religious diversity and offers several mosques, Islamic centers, and prayer rooms to cater to the needs of Muslim travelers.
Carrying a prayer mat, prayer garment, and a digital Qibla compass ensures convenience and tranquility during your prayers. While these facilities typically provide ablution (wudhu) facilities, it is always recommended to be prepared. A water bottle serves as a practical companion, allowing you to perform ablution (wudhu) when you do not have immediate access to a praying facility. With these essentials in tow, you can find solace and serenity amidst the vibrant cityscape of Hong Kong.
8. Explore the Hidden Charms of Hong Kong Beyond the City

While Hong Kong dazzles with its iconic skyline, there is much more to discover beyond the urban jungle. Venture into the lesser-known gems, where nature and culture intertwine harmoniously. Some places we recommend visiting are:
Dragon's Back


Image Credit: Mike Towers on Unsplash
Embark on a picturesque hiking trail offering breathtaking panoramic views of Hong Kong's stunning landscapes, revealing the city's natural splendor. It is a relatively easy hike that usually takes 4 hours to complete. Bringing you to lookouts where you can enjoy spectacular views of southern Hong Kong Island and its shoreline.
Ngong Ping


Image Credit: Mike Towers on Unsplash
Ngong Ping Home to the Ngong Ping 360 cable car where you can also enjoy stirring views of the rolling hills of Lantau Island. Also worth a visit is Ngong Ping Village, a culturally themed village that was built with traditional Chinese architectural rudiments.
Tai-O Fishing Village


Image Credit: Mike Towers on Unsplash
Step back in time and wander through the small streets of enchanting stilt houses in this traditional fishing village, immersing yourself in the vibrant local culture that thrives amidst the tranquil canals.
Uncover these hidden treasures, and let Hong Kong's quieter side enchant you with its natural beauty and captivating heritage.
9. Plan Your Trips Around the Weather & Events

Hong Kong enjoys a subtropical climate, offering a pleasant mix of colors, with each season bringing its own unique charm to the bustling city of Hong Kong. To make the most of your trip, it's always a good idea to pack accordingly to fully and pleasantly experience the beauty of Hong Kong.
In addition to the changing seasons, a myriad of events and festivals are happening in Hong Kong all year round! These events and festivals are a great way to experience the cultural richness and vibrancy of Hong Kong.
Here's what you can expect for each season and the notable events you might want to consider when planning your trip:
Spring (March to May)
Embrace pleasant temperatures as spring brings blooming flowers and occasional rainfall. Light clothing with a light jacket is recommended to stay comfortable and prepared for unexpected showers.
Art Basel
Usually held in March, the renowned Art Basel, a global art fair is where top galleries showcase cutting-edge contemporary art and emerging talents. Stroll through the art-filled halls, witness captivating exhibitions, and engage with artists and collectors from around the world. A must-see for art enthusiast or any curious travelers.

Hong Kong Sevens

Image Credit: Hong Kong Tourism Board
The exhilarating Hong Kong Sevens, an annual sporting extravaganza taking place in April. Prepare to be swept away by the electrifying atmosphere as over 28 top rugby teams from around the world compete in thrilling matches at the iconic Hong Kong Stadium. Join in the cheers and revelry as fans unite to celebrate this fast-paced and action-packed tournament.

Summer (June to August)

Immerse yourself in the vibrant energy of Hong Kong's summer. Be prepared for hot and humid weather, and frequent rain showers. Lightweight and breathable clothing, along with an umbrella or raincoat, will ensure you stay cool and dry while exploring the city.
Dragon Boat Festival
Image Credit: Hong Kong Tourism Board
Taking place in June, the Dragon Boat Festival is a thrilling and colorful event. Watch as teams from around the world paddle their dragon boats to the rhythm of drums, and experience the exhilaration of this traditional sport happening at the birthplace of modern dragon boat racing.
Autumn (September to November)
Revel in warm and pleasant temperatures, as autumn paints the city in golden hues. With lower humidity, light clothing is suitable, but it's advisable to bring a light jacket or sweater for cooler evenings.
Mid-Autumn Festival
Celebrated in September, the Mid-Autumn Festival is a significant event in Chinese culture. Experience the enchanting lantern displays, enjoy mooncakes, and witness vibrant celebrations across the city.
Winter (December to February)
Experience Hong Kong's cooler and drier winter season. While temperatures may drop, it rarely reach freezing levels. Layered clothing, including a sweater or jacket, will keep you cozy as you enjoy the city's festive atmosphere.
WinterFest

Image Credit: Hong Kong Tourism Board
Starting in late November and continuing through January. Watch as parts of Hong Kong transform into a winter wonderland with lights and displays at the harborfront of the West Kowloon Cultural District. Admire the festive decorations and enjoy the joyful holiday atmosphere with a series of festive activities at the top attractions in Hong Kong. Expect to see offers and sales, exclusive menus at hotels and restaurants, and even themed tours around the city.
Hong Kong New Year Countdown Celebrations

Image Credit: Hong Kong Tourism Board
Welcome the new year with a bang with the world renowned new year countdowns. Colorful pyrotechnics and lighting effects fill Victoria Harbour. One not to be missed!
Chinese New Year

Image Credit: Hong Kong Tourism Board
Celebrated in late January or early February, Chinese New Year is one of the most important and vibrant festivals in Hong Kong. Experience the lively parades, dragon dances, fireworks, and enjoy the festive lighting and decorations that can be found all around Hong Kong.
These are just a few examples of the events and festivals that take place in Hong Kong. By aligning your trip with these occasions, you can enhance your experience and witness the city's cultural richness and vibrancy. Don't forget to check the specific dates and plan accordingly to make the most of your visit.
10. Shopping & Bargain Places


For avid shoppers and bargain hunters, Hong Kong offers an abundance of retail therapy. Dive into the bustling atmosphere of the famous Ladies Market and Temple Street Night Market, where a treasure trove of goods awaits. From trendy fashion pieces to unique souvenirs, these iconic street markets are a paradise for those seeking great deals. Unleash your bargaining skills and negotiate with vendors to secure the best prices.
Additionally, Hong Kong boasts numerous other shopping destinations, each with its own unique charm. From the bustling Mong Kok area to the luxury boutiques of Causeway Bay and Harbour City, Hong Kong caters to every shopper's desires. Explore the iconic shopping streets, and bring home a piece of Hong Kong's vibrant spirit.
11. Grab Your Hong Kong Goodies Voucher
Before going out shopping in the vibrant streets of Hong Kong, don't miss out on claiming the Hong Kong Goodies Voucher! Enjoy attractive discounts at participating establishments, transforming your journey into a truly rewarding and unforgettable experience. The best thing is that you can enjoy all these benefits for free. Simply collect your Hong Kong Goodies Voucher from any Hong Kong Tourism Board Visitor Centres or Redemption Centre. We recommend just picking it up after you arrive in Hong Kong at the airport.
Click here for more information about Hong Kong Goodies Voucher
Muslim-friendly Hong Kong
In the bustling city of Hong Kong, Muslim travelers can embark on a remarkable journey, immersing themselves in vibrant cultures, savoring delectable cuisines, and exploring hidden treasures. By following these essential tips, you will unlock the true essence of Hong Kong, creating unforgettable memories that will linger long after you leave its shores. So, pack your bags, embrace the vibrancy, and let Hong Kong enchant you with its captivating blend of tradition and modernity. Your adventure awaits!
This article is brought to you by Hong Kong Tourism Board