There is nothing like an amazing Phuket shopping guide to help a shopaholic find the best places to hang out. Find out where to buy cheap clothes in Phuket and the perfect handbag or accessories to go with a new outfit. You will certainly need a handy Muslim visitor guide to Phuket town to avoid missing out on the top spots in a shopping paradise. From lively night markets to shopping malls – Phuket has it all.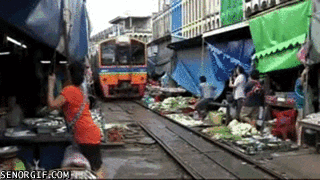 Credits - giphy.com

1. Phuket Walking Street Market


Picture Credit - www.twitter.com

Also known as 'Sunday Lardyai', this massive outdoor market is held on Thalang Road over the weekend in Phuket Old Town. Walk through a 350-metre street lined with interesting shops that highlight the cultural aspects of Phuket. Situated among Sino-Portuguese houses, you will find shops for clothes, accessories, fabrics and almost everything you can think of – even awesome handicrafts or souvenir items. You are guaranteed to find some unique or quirky things too. If you are wondering where to buy cheap clothes in Phuket and get great bargains – this is one of the places you must visit.
---

Address: Thalang Road, Tambon Talat Yai, Amphoe Mueang Phuket, Chang Wat Phuket 83000, Thailand
---
2. Central Festival Phuket


Picture Credit - www.youtube.com

Central Festival is one of the most popular shopping malls in Phuket to make your inner shopaholic very happy. From electronic goods to designer clothes, there is an awesome range to choose from and great quality items as well – the famous Jim Thompson silk store is worth a visit too. The best thing about Central Festival is that you have high-end items to splurge on, and you can find things to suit your budget – keep an eye out for great deals and promotions too. With at least 120 stores to choose from, you will be kept pretty occupied.
---

Address: 199 Rat-U-thit 200 Pee Road, near Bangla Road, Patong
---

3. Phuket Weekend Market (Naka Market)


Picture Credit - commons.wikimedia.org

While on your Halal trip to Thailand, drop by the Phuket Weekend Market and check out the amazing variety of items on display. Not only can you get unique items for lower prices, but there some amazing food stalls to check out too. This lively market is where you can find ranges of clothes, sunglasses, beauty products and more – not a bad place to spend a weekend.
---

Address: Chao Fa West Road, Phuket Town
---

4. Jungceylon


Picture Credit - www.twitter.com

Jungceylon is one of the shopping malls in Phuket that you cannot miss as a shopaholic. Drop by the main Robinson store for fashionable and casual clothes, perfumes, beauty products and sportswear. This is the place to visit for splurging on designer makeup and perfumes, but you will find clothing for reasonable prices. If you are traveling with kids, there are game zones and a game arcade to keep them occupied too.
---

Address: 181, Rat-U-Thit 200 Pee Road, Patong, Kathu, Phuket 83150, Thailand
---

5. Limelight Avenue Phuket


Picture Credit - www.youtube.com

Once you have to face the bustling night markets and larger malls, drop by Limelight Avenue for a more relaxing shopping trip. A bright, spacious interior with countless small shops, this is one of the popular shopping malls in Phuket to spend a hot summer's day just shopping and hanging out. You will find a good selection of clothes, accessories, cheap jewellery and more to satisfy the shopaholic in you.
---

Address: 2/23 Dibuk Road, Talat Yai, Mueang, Phuket 83000, Thailand
---

6. Chillva Market


Picture Credit - www.twitter.com

Chillva Night Market has been hailed as one of the trendiest places to shop and hang out in – ideal if you are wondering what to do in Phuket. But you can also find a range of clothes, beauty products and plenty more at a bargain. This vibrant night market is brightly lit up at night. Though smaller when compared to other night markets, you will find a great selection and some awesome stalls with handmade items too. This is an interesting spot to visit for a great mix of art, music and fashion.
---

Address: 141/2 Yaowarat Road, Phuket Town

---
Useful travel guides for Muslim Travelers like this one is perfect when you are planning a Halal trip to Thailand. So, satisfy your inner shopaholic and visit Phuket today!