Hawker centers are seen as important community spaces in Singapore. Just imagine, stepping into a space bustling with people, the wafting fragrance of freshly cooked food, and the sizzling sound of a wok. We compiled this list of well-loved hawker foods in Singapore that can't fail you and where you can find them.
Can't decide on what to have today? Here are 10 foods and see what you like!
Nasi Ayam Penyet
Image credit: Uncle Penyet on Instagram
Let's kickstart the list with Nasi Ayam Penyet (fried chicken flattened to produce a more tender and juicy chicken).
A plate of Nasi Ayam Penyet typically comes with fragrant rice, fried tofu and tempeh, and spicy sambal. Does that not sound mouthwatering enough for you?
Project Penyet by Ansar at ABC Brickworks is one of the spots to get your Nasi Ayam fill.
Address: 6 Jalan Bukit Merah, #01-26 ABC Brickworks Market and Food Centre, Singapore 150006 | Opening hours: 10.30am - 6pm (Tues - Sun)
Other places to try:
Super Penyet
Initially called 'Warong Penyet Super', be sure to try their well-known nasi ayam penyet and nasi lemak sambal.
Address: 105 Yishun Ring Road, Chong Pang Market and Food Centre, Singapore 760105 | Opening hours: 7am - 6.30pm (Wed - Mon), 2 - 6.30pm (Tues)
Sari Bistari Changi Village Ayam Penyet
Serving authentic and mouth-watering ayam penyet, Sari Bistari has been a local favorite for at least 30 years.
Address: 3 Changi Village Rd, Singapore 500003 | Opening hours: 10.30am - 10pm (Daily)
Ayam Penyet Ria
One of the highly-raved eating spots in Lucky Plaza.
Address: 304 Orchard Rd, #04-25/26 Lucky Plaza, Singapore 238863 | Opening hours: 11am - 8.30pm (Mon - Sat), 10am - 8.30pm (Sun)
Uncle Penyet
With several outlets islandwide, Uncle Penyet's ayam penyet paired with curry rice is all you need.
Address: Various locations
Warong Surabaya Ayam Penyet
A great alternative to try if you are at Lucky Plaza.
Address: 304, #03-36 Orchard Rd, Lucky Plaza, Singapore 238863 | Opening hours: 11.30am - 9pm (Tues - Fri), 11am - 9pm (Sat - Sun), Closed on Sundays
Satay
Satay, spelled as sate in Bahasa Indonesia and Bahasa Malaysia, is skewered and seasoned meat grilled over an open fire, often served with ground roasted peanut sauce.
Sate is originally from Indonesia but has grown its popularity in countries like Brunei, Malaysia, Philippines, Singapore, and Thailand.
Awarded the Best Satay at the first Hawker Awards at World Gourmet Summit 2022, Haron Satay 55 at East Coast Food Centre is popular for its consistent quality and generous meat per stick.
Other places to try:
Alhambra Satay
Specializing in the original style of Indonesian satay, Alhambra Satay also offers other local dishes such as gado-gado (Indonesian mixed salad) and mee rebus.
Address: #02-145 Geylang Serai Market & Food Centre Singapore, Singapore 402001 | Opening hours: 6pm - 12am (Tues - Sun)
Satay Power 6
Get your satay right in the heart of CBD at the only satay street.
Address: Lau Pa Sat, 18 Raffles Quay, Singapore 048582 | Opening hours: 7pm - 12pm (Mon - Fri), 3pm - 1am (Sat - Sun)
Geylang Serai Satay @ Satay By The Bay
Enjoy a delectable plate of satay by the Marina Reservoir
Address: 18 Marina Gardens Dr, #01-19, Singapore 018953
The Warung
One of the few Muslim-owned stalls at Chom Chomp Food Centre, treat your tastebuds to some Javanese-style satay
Address: 20 Kensington Park Rd, Stall 15 Chomp Chomp Food Centre, Singapore 557269 | Opening hours: 4pm - 11pm (Sun, Tues - Wed), 4pm - 12am (Thurs - Sat)
Rahim Ayam Penyet Satay Istimewa
You can't miss out on their specialty: satay bebek (duck)
Address: 1220 East Coast Parkway, Stall 54 East Coast Lagoon Food Village, Singapore 468960
Thai Cuisine
Image credit: Sedap Thai on Facebook
The beauty of our hawker centres is the variety of cuisines we can get. Thai cuisine is one of the more widely available Halal options.
Originating from Northern Thailand, Mu kratha (better known as Mookata in Singapore), loosely translated from Thai means 'pork' and 'skillet'. While the dish is typically consumed using pork lard to grease the metal skillet, there are Halal stalls that replace this ingredient with beef fat.
Sedap Thai is one of the rare Mookata shops that is Halal-certified and best of all, affordable. Their menu includes a la carte and platter options. What's more, there is a free flow of soup.
Address: 166 Jalan Besar, #01-08, Berseh Food Centre, Singapore 208877 | Opening hours: 4.30 - 9.30pm (Mon - Sat)
Other places to try:
Lukhon Thai
Another Halal-certified Mookata spot to try!
Address: 110 Pasir Ris Central, #02-05, Singapore 519641 | Opening hours: 1 - 9pm (Wed - Sun)
Thaksin Beef Noodle (Seah Im Food Centre)
Get a bowl of refreshing Thai beef noodle soup served with succulent and tender beef cooked with herbs and spices.
Address: 2 Seah Im Rd, Singapore 099114 | Opening hours: 10am - 10pm (Daily)
Japanese Cuisine
One of our favorite cuisines in Singapore, there are countless Halal Japanese restaurants in Singapore but what about the hidden gems in our hawker centres?
Making Japanese food more accessible, Oishii Corner - Halal Japanese Corner is hidden in the corner of Kim Keat Palm food centre and is owned by a Muslim-Malay couple. While they have been around since 2017, this stall remains to be a hidden gem at the corner of Toa Payoh.
Be sure to try their recommended Oishii Beef Don if you choose to try them out.
Address: Kim Keat Palm Market & Food Centre, 22 Lor 7 Toa Payoh, #01-61, Singapore 311022 | Opening hours: 11am - 6pm (Sat - Thurs)
Another place to try:
MAD BROS SG
Serving Halal ramen and Japanese curry rice, they are located in Tanjong Pagar Plaza.
Address: Tanjong Pagar Plaza, 6 Tanjong Pagar Plaza, #02-03, Singapore 081006 | Opening hours: 10am - 3pm (Mon - Fri)
Char Kway Teow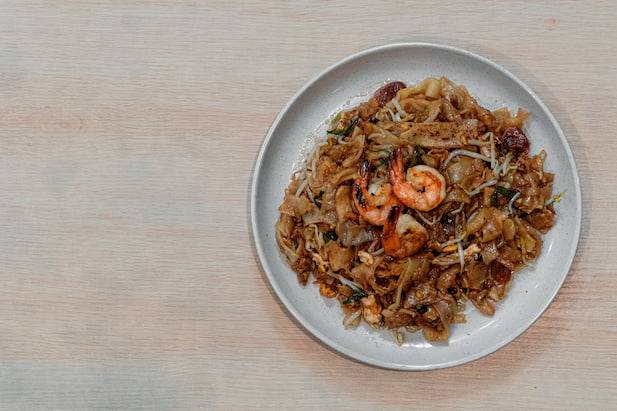 Image credit: Advocator SY on Unsplash
Stir-fried noodles with rice noodles, Char Kway Teow is a classic that you can find at every hawker but it's hard to find Halal versions. The difference between regular Char Kway Teow and the ones sold at hawkers is the 'wok-hei' taste (smoky flavor resulting from the caramelization of sugar).
A Chinese-Muslim revert, Mr Anis, has been running his stall for over a decade. If you want to get an authentic taste of Halal Char Kway Teow, visit 786 Char Kway Teow at Bukit Merah View Market & Food Centre.
Address: Bukit Merah View Market & Food Centre, 115 Bukit Merah View, #01-28, Singapore 151115 | Opening hours: 12 - 7pm (Sat - Thurs)
Nasi Padang
Honestly, can anything beat a hearty plate of nasi padang? This Indonesian meal will satisfy anyone with a big appetite and love for spicy food.
One of the older nasi padang places is Rumah Makan Minang, with regular long queues during lunch hour, which is a testament to how great their nasi padang is.
You definitely have to try their mouth-watering Indonesian Tahu Telur, you probably will not get enough of it.
Address: 18 & 18A Kandahar Street, Singapore 198884 | Opening hours: 9am - 7pm (Wed - Mon)
Other places to try:
Che Rose Nasi Padang
Serving excellent Chicken and Beef Rendang, enjoy a homely and comforting meal at Che Rose Nasi Padang.
Address: 128 Lor 1 Toa Payoh, Singapore 310128 | Opening hours: 8am - 3pm (Sat - Thurs)
Sinar Pagi Nasi Padang
Located in the iconic Geylang Serai Market, Sinar Pagi Nasi Padang prepares its dishes in the traditional Kapau style
Address: 1 Geylang Serai, #02-137, Singapore 402001 | Opening hours: 8am - 4pm (Mon - Sat)
Indian Rojak
Do you know the difference between Chinese, Indian and Malay Rojaks? While Chinese and Malay rojak ingredients are generally similar, the greatest difference lies in the sauce. The Chinese sauce features prawn paste whereas the Malay sauce uses shrimp paste instead.
Unlike the Chinese and Malay rojak, Indian rojak does not consist of fruits and the sauce is made of thickened chili, peanuts and spices.
Starting from a stall at a hawker centre, You have to try Al Mahboob Rojak to get a plate of their colorful goodness rojak.
Address: NTUC Income@Tampines Junction, 300 Tampines Ave 5, #01-02, Singapore 529653 | Opening hours: 11am - 8pm (Tues - Sun)
Chendol
Image credit: Old Amoy Chendol on Instagram
We cannot complete this list without a dessert! One of Singapore's favorite desserts, is a cold and delicious combination of coconut milk and Gula Melaka (palm sugar) with chewy bits of green rice flour jelly.
Old Amoy Chendol has been running for 3 generations, passing down their family chendol recipe. Having a bowl of their refreshing chendol is perfect for Singapore's hot weather.
Address: KAAAKIS, Pasir Ris West Plaza, Level 1 - #01-342, Singapore 510735 | Opening hours: 10am - 9.30pm (Daily)
We hope our list helps you to decide which dish to try next and to share some love to our talented hawkers. If you want to have a look at the different hawker centres there are, be sure to check this article out!