This classically beautiful coastal city is located on the southwest coast of Anatolia, boarded by the Taurus Mountains. Back in the day it was only seen as the gateway to the Turkish Riviera, but now it is a destination in its own right - being the largest city in Turkey's Mediterranean coastline, the city mixes old world charm and stylish modernism!
With white, sandy beaches and old buildings established during the time ancient Greeks were settled there in 200BC, the city has much to offer to the everyday tourist – whether it's relaxation, a romantic holiday or adventure, this city offers everything. The city was also under the Roman, Byzantine and Ottoman rule, adding to its rich history and culture. Antalya is the tourist hub of Turkey – the biggest international sea resort in the Turkish Riviera. A record of 2.5 million tourists have passed through Antalya in the year 2014.
The city has many great resorts and hotels for you to spend your time at while on holiday in Antalya. Almost all hotels and resorts line the coast looking miles away towards the blue Mediterranean Sea. The best part about holidaying in Antalya, Turkey, is that a Muslim friendly holiday is guaranteed as Halal food is served at almost every restaurant and hotel in this city.
Your stay at one of these accomadations will definitely keep the likes coming in on your social media accounts!
Here are the 4 best Muslim-friendly hotels and resorts in Antalya!
Find a Halal Restaurant near you in Antalya
1. Adenya Hotel and Resort
Picture Credit: www.agoda.com
Adenya is a popular beach resort amongst touristers – this 5 star deluxe resort is worth a visit! Keeping to the Halal lifestyle – they promise to offer a beach vacation that is sure to stay in your heart for a long time to come.
Being an all inclusive Halal hotel, no alcohol is served and all meals are Halal. The resort has separate beaches and pools for men and women as well as family pools. They also provide separate prayer rooms so that you can have a hassle free stay without worrying about the right accommodation for prayer.
Adenya has a capacity of 289 rooms with 11 different types of rooms; such as suites and De Lux rooms. They also provide rooms equipped to accommodate the differently abled – making sure everyone gets a chance to enjoy a stay at Adenya!
They also offer a variety of cafes and restaurants, serving cuisines ranging from the Mediterranean cuisine to the Ottoman cuisine. Take your time in Antalya as you relax at the Lobby Terrace Cafe, accompanied by the local Turkish coffee and head on over to Cafe Keyf for a game of scrabble or chess. Alternatively, spend a romantic evening by the fireplace overlooking the sea and enjoy an intimate dinner at the Taş Ev A'la Carte Restaurant.
Address: Fuğla Mevkii. Gölcük Cad. No: 19 07400 Türkler, Alanya, Antalya, Turkey
Contact number: (+90 242) 510 22 22
Fax: (+90 242) 517 39 40
Email: [email protected]
Website: www.adenyahotels.com.tr
2. Adin Beach Hotel
Adin Beach Hotel is 5 star certified hotel – comfort and luxury being their standard, Adin is sure to offer you the beach vacation of your dreams!
The hotel has a capacity of 377 rooms, with premium rooms which offer a view of the sea as well as Flora Coral rooms which offer a view of the surrounding flora as well as the sea. If you are looking for a more private and peaceful vacation they offer triplex villas, which have a private pool, private kitchen as well as 24 hour butler service to give you a stress free, relaxed experience.
The hotel has a 300 meter long beach which is divided into 3 areas – a private beach for ladies, private beach for men and a common area for families. The hotel beach is a certified Blue Flag site, assuring a clean and safe beach for people to enjoy. The hotel has freshwater pools as well as separate indoor pools for men and women; they also provide a common pool for families.
The hotel offers a premium all inclusive concept – alcohol is not served in any of the restaurants and it is prohibited for guests to bring alcohol into the hotel premises. All food and beverages served at the hotel are Halal certified.
The Adin restaurant is the hotel's main restaurant, offering breakfast, lunch and dinner buffets with a variety of dishes. There Seljuk restaurant also offers a buffet, while the restaurants Cleopatra, Keykubut, and Damlataş offer snacks. You can get a more personalised experience at any of their three à la carte restaurants, Ottoman à la carte restaurant, Mediterranean à la carte restaurant and the Tex Mex À la carte Restaurant.
Address: 07407, İncekum Mevkii, Alanya, Antalya
Contact number: +90 242 517 1180
Fax: +90 242 517 1204
Email: [email protected]
Website: www.adinhotel.com
Facebook | Instagram | Twitter
3. Selge Beach Resort and Spa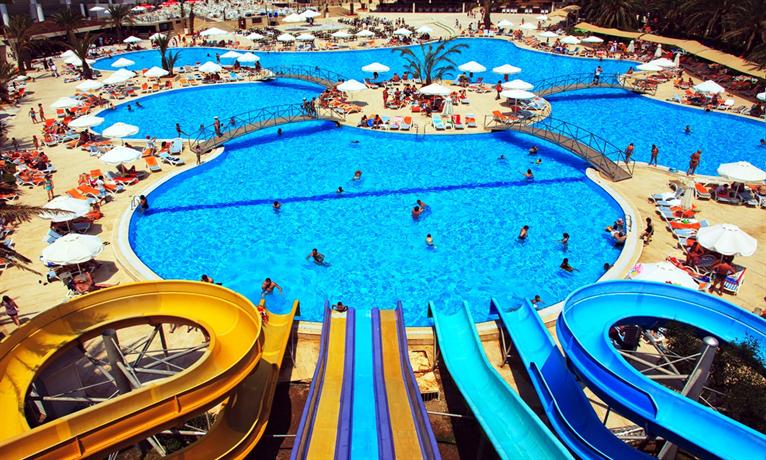 Picture Credit: www.hotelscombined.com
This 4 star hotel has a capacity of 719 rooms ranging from economy rooms to deluxe rooms to suites depending on your budget. All rooms offer premium bedding and pillows as well as other amenities such as WiFi.
Selge is the ultimate resort to spend your holiday at when you are in Antalya, serving the needs of visitors of all genders. Selge offers private beaches for both men and women, both beaches are 106m long and 80m wide, they also offer a common beach ideal for families. On top of that, this beach resort also offers a beach sunbathing area that is 100% private for ladies. The resort offers outdoor and indoor swimming pools for women, and one outdoor swimming pool for men, as well as a common swimming pool. Along with the Spa and other facilities, they also offer separate Masjids for men and women.
The resort has one main restaurant which offers the breakfast, lunch and dinner buffets. Selge has one à la carte restaurant that specialises in Lebanese cuisine, so if you want to try something different head over to the Lebanese à la carte restaurant. If you are looking to enjoy a small snack, Selge Beach Resort and Spa is complete with six cafes for you to choose from.
Address: Kızılağaç Tourism Center Pk.62 - 07600 Manavgat / Antalya
Contact number: +90 242 748 72 80
Fax: +90 242 748 72 94
Email: [email protected]
Website: www.selgebeachhotel.com
Facebook | Instagram | Twitter
4 . Ramada Plaza
This beautiful boutique style hotel overlooks the Mediterranean Sea from a cliff, where you can indulge in luxury, while enjoying stunning views of the sea and mountains.
Ramada Plaza offers a variety of rooms to choose from to suit your every need, ranging from deluxe rooms to suites. Each room has a view of the sea or the mountains. They offer impeccable service, devoted to provide you with a comfortable and relaxing stay at Ramada Plaza. The hotel have both an outdoor infinity pool and a closed pool in the spa. Ramada Plaza also provides sports facilities such as table tennis and air hockey.
The breakfast buffet is served at Mood's restaurant, whilst you can get fusion Italian fare at their à la carte Italian restaurant, Verona. Head over to their à la carte restaurant, Fish Inn, for some of the best Mediterranean seafood at Ramada Plaza
Tip: Alcohol can be removed from rooms on request when making the reservation.
Address: Gençlik Mahallesi Fevzi Çakmak Caddesi No:22 07100 - Antalya – Turkey
Contact number: +90 242 249 11 11
Email: [email protected]
Website: http://www.ramadaplazaantalya.com/hotel
Facebook | Instagram | Twitter
Are you excited to plan your stay at Antalya?! These hotels should be on top of your list when making a Halal booking. These hotels have made sure to mix in tradition and religion with other state of the art facilities and luxury to offer you a Muslim friendly holiday in Antalya!
So pack those shades and sun hats and make sure your phone battery is at 100% - You don't want anyone missing out on your beach holiday in Antalya, so keep those uploads on Instagram coming!
These resorts and hotels are sure to provide you with a fun stay while enjoying your dream beach vacation in Antalya!