The Holy month of Ramadan has finally arrived! In this holy month, we fast and gather with family in a festive celebration. Therefore, there must be a thought that may also be lurking in the corner of our minds; "what food is worth trying when breaking the fast and when celebrating Hari Raya or Eid al Fitr with my family and loved ones?" Of course, on this special occasion that is celebrated only once a year, there is a need of presenting something special to pamper our family.

No worries! HalalTrip always understands. Therefore, we present you the 15 snacks from around the world – from the ones that must be served to the ones you never thought could fit for the Ramadan celebration. Even better, we dare you to make these snacks that have Halal ingredients and recipes that are easy to find on the internet.
1. Mochi
Commonly sold during the Japanese New Year Celebration as a traditional sweet treat, Mochi is now available around the world. Even more, many dessert sellers are now selling Mochi as Ramadan hampers.
Image Credits: Wikipedia
Mochi is a healthy snack made of rice flour and is filled with red bean paste. People are fond of this dessert because of its chewy and soft texture, not to mention its cute bite size.

In the modern version, Mochi can be served in various colors and fillings, including a scoop of ice cream. It can be vanilla, chocolate, matcha, strawberry, mango, and even the exotic South East Asian fruit called durian.
2. Youxiang
After a month of fasting, the Hui people that occupy the western part of China celebrate Eid al Fitr by making Youxiang. During the celebration, the Hui people give this cake to friends, neighbors, and relatives as a way of showing respect to their ancestors.

This traditional fried oil cake has a sweet taste. It is made from wheat flour and glazed with liquid sugar, sometimes with honey. Hui people deep-fry this cake in boiling cooking oil, then flip, and dry them with chopsticks.
3. Jian Dui
Jian Dui is a traditional Chinese fried pastry made from glutinous rice flour. The distinctive feature of this traditional snack is that the pastry is coated with sesame seeds.
Image Credits: Yumofchina
Jian Dui's texture is crispy yet chewy on the inside. This snack has many names in Asian countries, Matuan, Goma Dango, Num Kroch, Sesame Ball, Sesame Seed Ball, Buchi, and Onde-onde. This sweet snack can be filled in various pastes; from lotus, mung bean, sweet black bean, and red bean.
4. Bubble Tea
These days, who doesn't know boba? Originally made in Taiwan, this worldwide Insta-famous dessert slash snack is sweet and fun to chew on. Made in various flavors, Bubble or boba tea is most definitely HalalTrip's most recommended snack that is great to be consumed as a dessert when breaking the fast.
Image Credits: Cremashop
Bubble tea's bubble is made from tapioca starch shaped like small bubbles. Those bubbles are usually mixed with brown sugar. It feels like the bubbles are dancing when slurping them inside our mouths.
5. Banana Kolak
This traditional sweet dessert is originated in Indonesia. Banana Kolak is made from coconut or palm sugar, coconut milk, and pandanus leaf. You can imagine the fragrance of this dish that is usually served warm during Ramadan to break the fast at Iftar.
Image Credits: Indoindians

Other than bananas, Kolak can be made from sweet potatoes, cassava, and even pumpkins.
6. Ube Balls
Ube Balls are the modern version of Jian Dui. Commonly found in the Philippines and Indonesia. These purple or yellow-colored Ube balls are made from steamed sweet potato, tapioca flour, cornstarch, and baking powder.
Image Credits: Onedaykaye
Unlike Jian Dui, Ube Balls have no fillings. It is let hollow due to the process of frying. This sweet and fun treat is very easy to make. Other than that, it is also a good dish to enjoy on Iftar or at a family gathering during Hari Raya.
7. Bubur Sumsum
This traditional sweet delicacy is commonly found in South East Asia specifically in Indonesia and also Malaysia. This dessert is mainly made of coconut milk and rice flour which is processed in a large skillet by continuously stirring until it produces a thick and soft texture. When it is done, liquid palm sugar is poured on top of the Bubur mixture.
Image Credits: Food.detik
In Indonesia especially on Java Island, Bubur Sumsum usually comes as an appetizer before eating the main meal when breaking the fast.

Fun fact: The name sumsum comes was taken from the texture and the color of this dessert that resembles, sumsum which means bone marrow.
8. Curry Puff
Curry Puff or Karipap is a savory snack commonly found in Malaysia, India, Indonesia, and Singapore. Curry Puff is believed to be a result of acculturation from the Portuguese empanadas or the British Cornish Puff mixed with Asian spices and rich flavors, which is Curry.
Image Credits: Worldbakers
Curry Puff fillings are much more diverse in Singapore. Instead of chicken curry, you can find Curry Puff with tuna, sardine, corn, red bean, and even durian fillings. While in India, Curry Puff can be found vegetarian friendly.

Most of all, based on our opinion, munching on Curry Puff during Iftar time is the best way to break the fast.
9. Samosa
Samosa is one of the most wanted appetizers served in households during special celebrations including Ramadan. It is an Indian traditional fried or baked pastry that existed since medieval times.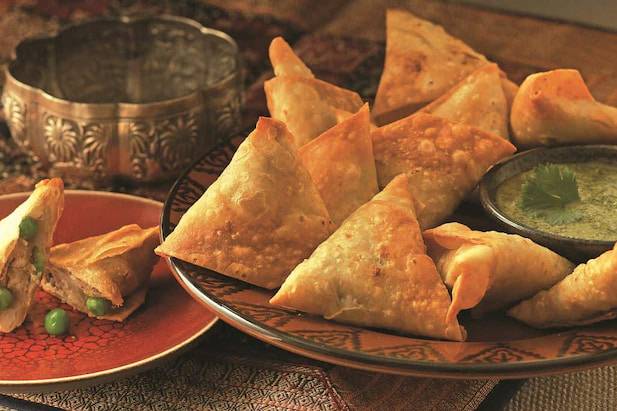 Image Credits: Sukhis
Usually shaped in triangular shapes or cones, Samosas are filled with spiced potatoes, minced meat, onions, and peas. Chutney, an authentic Indian dipping sauce often accompanies this dish.
10. Loukoumades
Known to be a Greek version of Donuts, Loukoumades has proven to exist since the 13th Century written by al-Baghdadi in Kitab al-Ṭabīḫ. In the Middle East, Loukoumades is one of the favorite street food during Ramadan.
Image Credits: Mygreekdish
Loukoumades are bite-sized balls that are deep-fried and then glazed with honey syrup and sprinkled with cinnamon. You can also find garnished with walnuts and sesame seeds.

Nowadays, this sweet fried dough can be found glazed with liquid milk chocolate, peanut butter, maple syrup, and even Nutella. You can also find them garnished with fruits like strawberries, almonds, and ice cream.
11. Bitterballen
This traditional Dutch snack is breadcrumbed meat-filled balls that are deep-fried into perfection. The filling consists of beef, beef broth, and seasonings.
Image Credits: Dreilaenderschmeck
This addictive crispy snack is recommended to be enjoyed during the month of Ramadan, especially at Suhoor. Not only does the beef satisfies our stomach and tongue, but the protein content also helps our metabolism while fasting.
12. Turkish Delight
This enticing Turkish delight is a sweet made from the gel of starch and sugar. The texture is chewy and crunchy because of the chopped pistachio inside.
Image Credits: Thecookingfoodie
Came in various flavors rose, orange, lemon, pomegranate, mint, pistachio, walnut, hazelnut, and chocolate, Turkish Delight is suitable for serving guests, friends, and family during Hari Raya. In fact, this sweet snack is also suitable for gifts.
13. Sheer Khurma
This famous dessert is usually served at Eid al Fitr and Eid al Adha by Muslims in Central Asia, especially Pakistan, India, and Afghanistan. Sheer which means milk and Khurma which means dates consisting of dates, milk, vermicelli, charoli seeds, and various nuts. Sheer Khurma can be served warm or cold, therefore, perfect to be consumed during Iftar.
Image Credits: Indianhealthyrecipes
14. Maamoul
Maamoul is a cookie that originated in ancient Egypt as Kahk. In the Middle East; Syria, Jordan, Lebanon, Egypt, and Palestine, this cookie is associated with Eid to remind people that there is a sweet reward waiting at the end of fasting. You will find a lot of households serving this for guests during the Eid celebration.
Image Credits: Curiouscuisiniere
This shortbread is made with semolina flour. It is then filled with dried fruits such as dates and pistachios. It is flakey and has a sweet robust center.
15. Ghoraibi Cookies
Ghoraibi Cookie is a butter cookie that originated in Lebanon, as well as the Middle East. Ghoraibi is easy to make due to its simple ingredients. It is made of butter, sugar, flour, and almond.
Image Credits: Thecookbook
This Ramadan cookie is usually consumed at the dawn of Iftar or when Eid comes. Ghoraibi cookie's texture is crispy, but it is less dense and softer compared to other butter cookies.
Those are the 15 Ramadan favorite snacks from around the world. Are you interested in trying it out and even making them on your own?

Continue reading HalalTrip for articles about Muslim-friendly snacks, desserts, and foods. Happy fasting and have a blessed Ramadan!