Breakfast is, without a doubt, one of the most potent meals of the day. Breakfast helps fuel your body and allows you to focus on making your entire day productive. Having a good and nourishing meal is the best thing to get your day started.
But, if you're not the type to get up at seven in the morning to grab a meal, brunch is your next best bet. It doesn't end too early, giving you time to prepare your meal.
Also, it offers a lot more than just eggs and toast. However, with brunch, you can get much more to eat and enjoy a hearty meal. If you're in Singapore or are planning to visit, make sure to indulge in the oversupply of refined cuisine the nation offers.
Finding places to eat isn't a problem, but finding good, quality restaurants can take some effort. It is always better to look at reviews before you visit restaurants, as this can save you time and money.
Fortunately for you, we have listed a complete breakdown of some of the best brunch hotspots in Singapore. Are you craving an English-style breakfast or the perfect al dente pasta? We have got you covered.
Here is our take on some of the most brilliant brunch places to visit when you're in Singapore!
The Best Brunch Spots in Singapore
1. Publico Ristorante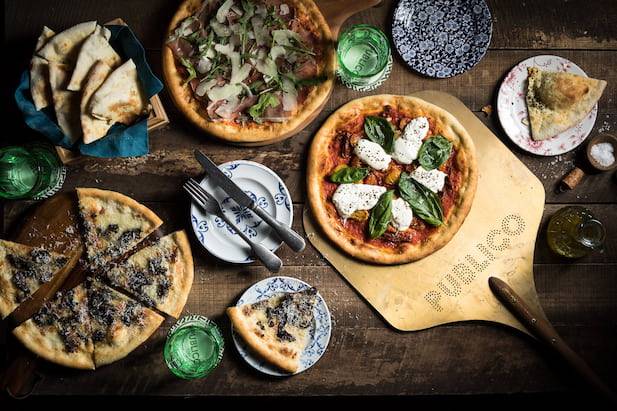 Image Credit: Publico SG
So, you're craving Italian cuisine? - Not to worry. You'll get the best of the best in Publico Restorante. Inspired by authentic Italian diners, this restaurant is not one to miss when in Singapore. It offers some of the top Italian hits of all time. It includes a long list of pasta, pizzas, and classic Italian breakfasts.
You can get your fundamental breakfast pieces here, like avocado toast and poached eggs, but with an Italian spin. Sounds like something you would enjoy? It's open Fridays and weekends for brunch.
2. I Am
Image Credit: I am
This Muslim-owned cafe is next on our list of top brunch spots in Singapore. If the vibrant and modern aesthetics of this cafe aren't enough reason for you to visit, try the food. You will be blown away by the rich dishes served here.
It is the perfect brunch place for hanging out with your friends and family to enjoy a well-cooked meal to start your day right. Plus, the menu is Halal from start to finish.
One of the most famous meals here is The Cast Iron. - Served baked beans, beef bacon, and sausages. - You don't want to miss out.
3. Limaa Cafe
Image Credit: @limaa.sg on Instagram
Perhaps you're looking for something cozier? Leave it to Limaa Cafe to set the vibe for you. This cafe is famous for its sweet pancakes, scrambled eggs, and rendang chicken, available on the deluxe menu.
If you're into cute cafes, you must visit Limaa. You get to snap memorable pictures and have a #HashtagCozyBrunch. Plus, this cafe is Muslim-owned, making it even more amusing.
4. Penny University
Image Credit: Penny University SG
Maybe you are longing for an English-style brunch to satisfy your inner cravings? The food here is hearty and will fulfill all your English breakfast needs with its long list of delicious items. - Including; sausages, poached eggs, and delicious English-style tea.
However, if you're not an egg-type person, Penny University's steak fries are also a big yes when it comes to indulging in quality food.
5. The Tree Cafe
Image Credit: The Tree Cafe
When it comes to affordability and excellent platters of food, visit The Tree Cafe. It has to be one of the best cafes in Singapore to date because of its low prices and quality food. The Tree Cafe offers you everything you need in a Brunch-style cuisine.
From eggs to pancakes to sausage entrees, this cafe has it all. It is a Halal-certified restaurant assuring that Muslims from all around can visit here without any fears.