Lina's Cafe
Want to dine in somewhere while supporting a good cause? Then head over to Lina's Cafe!
Credit: @linascafesg on Instagram
Co-founded by Lina, this Muslim-owned cafe aims to create a place of refuge for families with Autism Spectrum Disorder (ASD) children to dine in a judgement-free zone. Lina got inspired to create an Autism friendly cafe due to her daughter's own ASD diagnosis.
Credit: @linascafesg on Instagram
This is Sara, Lina's 12-year old ASD daugther.

"She throws food, has tantrums and meltdowns and we get scolded due to this. When our landlord offered us to take over the space below our office in June 2017, we decided to create this cafe as we believe other parents (with ASD kids) would have the same problem as I do" - the co-founder, Lina, recalls.

And so, this became the start of something special. Lina, alongside her close friend of over 20 years from pre-university, Zima, opened up Lina's Cafe with encouragement from Mr Razif, the main founder.
That's Zima at the bottom! This polyglot and sole breadwinner takes care of her aged parent when she's not working. Her drive to be part of Lina's cafe was not only due to her fond passion for baking and cooking, but also because of her strong belief in the movement of empowering women in businesses.

Such a beautiful story indeed. So what kinds of food do they offer, you may ask?

Well, sit back, relax and enjoy these pictures of their mouthwatering dishes and refreshments!
Credit: @linascafesg on Instagram
With prices starting as low as $2.80, they serve a range of cuisines from Asian food like Mee Rebus Special Mak Timah ($4) and Home Style Fried Noodles ($6), to Western food like Fish & Calamari with Fries ($10.20) and Creamy Chicken Pasta ($9.20).
If you don't eat meat, don't worry because they sell plenty of Vegetarian dishes as well such as Avocado Salad ($5.80) and Aglio Olio ($8).
Notably, their Mee Siam and Mee Rebus recipes have stayed the same since the 1970s! Lina noted that she inherited this recipe from her mom, who still uses it today.
Just be sure to check their menu online first before you head down to try their food because some menu items are only available on certain days of the week.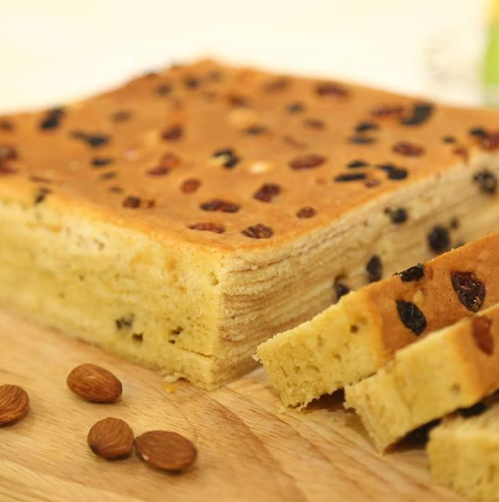 Credit: @linascafesg on Instagram
Now, if you're not a savoury type of person, take a look at their menu's 'Bakes & Desserts' section. There, they they serve traditional delicacies like the one depicted in the image above: Lapis Fruit & Nut ($4.80/bar). So cheap right?
Credit: @linascafesg on Instagram
Here's another one of their popular desserts called Nutella Tapak Kuda ($12.50/roll). The softness of the cake coupled with the creamy, cold bitterness of the Nutella is truly the best food combination ever!

But that's not all❗️
Every year, they organise a project called #TheBigProjectBakeSale where they use the proceeds collated from donated bakes and customer tippings, to aid in the costs of developmental and therapy needs of ASD kids from various families. They hold this project biannually. In 2018, they held it during April and Ramadan.
So if you are a local Halal baker who is interested to contribute to this beautiful cause, donate your baked goods to them! On the other hand, if you are unskilled in baking, you can still support them by dropping by Lina's Cafe to purchase their bakes and share them with your loved ones.
Do follow their Facebook and Instagram pages to keep up to date about #TheBigProjectBakeSale! Let's increase awareness and acceptance of autism, they really need our help.
Credit: @linascafesg on Instagram
Now, after you've feasted on their tasteful dishes, your mouth might be feeling a little dry.
So quench your thirst with their special array of hot and cold drinks like Milk Tea ($2.60 - $4) and Hot Chocolate ($3.50). If you're a boba fan, you can even request to add pearls into your drink for an extra cost of just $0.50!
Credit: @linascafesg on Instagram
If you're feeling sleepy, re-energise your day with a cup of cafe latte ($4.80) ! You can enjoy it alone or with a slice of cake. Notably, the coffee beans are 100% Arabica with beans derived from Ethiopia and Costa Rica. Very refreshing indeed! ☕️
After you've explored their food and drinks, take a look around and immerse yourself in the initricate beauty of Lina's cafe.
You'll notice all their walls are painted in muted colours like white and pale yellow, and this is because ASD kids are known to be light and visual sensitive.
The ambience there is also intentionally made to be as peaceful and quiet as possible due to the fact that ASD kids are hypersensitive to loud noises.
Credit: Lina's Cafe
Even the front walls of Lina's Cafe are painted with a drawing of an autism tree mural, alongside the beautifully-written cursive words: Living with autism. This was done with the intention to raise awareness about Autism.

Overall, the look of Lina's cafe is very minimalistic yet aesthetically pleasing and meaningful.
So whenever you have the time, do drop by Lina's cafe! You can be rest assured that you will be treated with respect and understanding because the staff here are all firm believers that everyone, especially autistic children should feel welcome in their cafe. What's more, all families with ASD kids who dine in get up to 4 selected free drinks!

Visit them, they deserve all the love and support they can get :)

Address: 7 Jalan Pisang Singapore 199074
Telephone Number: +65 9187 2094

Business Hours: 11am - 7.30pm (Mon), 11am – 8.30pm (Tue to Sat). Close Sun, 1st Mon of every month