If you have made plans to visit South Africa why not book a stay at the unique Mandela Rhodes Place Hotel.
Located in the bustling capital of Cape Town, you are sure to enjoy a fun, relaxing, Muslim-friendly stay at the 4-star hotel. A mix of old and the new, incorporating modernity with historic buildings, its charm will make you want to extend your vacation.
Keep reading to find out what they have to offer.


About the Hotel


Image Credit: Mandela Rhodes Place
The Mandela Rhodes Place Hotel features contemporary design with elegant interiors and friendly staff. If you are a fan of architecture, you will find certain design elements fascinating, such as the Nelson Mandela statue that greets you in the lobby.
Image Credit: Mandela Rhodes Place
The hotel is located within the heart of Cape Town's cultural hub, allowing you to explore the city's cultural heritage whilst living in luxury. The hotel offers apartments and suites instead of usual hotel rooms, ensuring your stay is personal and luxurious. The hotel is great for family trips; it is also the perfect honeymoon hotel destination in Cape Town.
Image Credit: Mandela Rhodes Place
Due to the hotel's location, you will find many places to meet, eat out, shop and relax close to the hotel, you will also be able to visit cultural landmarks quite easily. Since Mandela Rhodes Place is a 5-star hotel, they provide free wireless WiFi, and undercover parking (charges apply). You will find the Hotel's swimming pool on their rooftop terrace offering an almost classic rooftop view of the street and surrounding city-scape.


The Suites
Made up of 4 historic buildings that have been fully restored and integrated with one modern highrise, The Suites provide guests with elegant, contemporary one and two-bedroom apartments and suites. The hotel has a total of 40 rooms (suites and apartments).
Image Credit: Mandela Rhodes Place
Each apartment offers spacious rooms with minimalist but classic interior décor and furnishings, all apartments come with an open-plan lounge and equipped with a fully functional kitchen allowing guests to entertain, eat or simply relax whilst enjoying the urban landscape.
The Studio Apartment

Image Credit: Mandela Rhodes Place
The apartment is the smallest from the range, it measures up to 52m2 and comes with one large double bed. The room is priced at R1550 per night. The Superior Apartments feature a separate lounge and bedroom area, it is 67m2 in size and costs R1750 per night. The Deluxe Apartments are spacious and includes an open-plan kitchen and dining area, it is 78m2 and costs R2050 a night.
The Platinum and Superior Apartments
Platinum Apartment

Image Credit: Mandela Rhodes Place
If you are traveling with a large family or group of friends, opt for the two-bedroom Platinum and Superior Apartments. The platinum apartment features an entrance hall, separate lounging and dining areas, 2 bedrooms and bathrooms, as well as a private balcony with amazing views of Cape Town. One bedroom includes 2 single beds and a queen-sized bed, whilst the other has two queen-sized beds. The apartment is 140m2 and costs R3050 a night.
Superior Apartment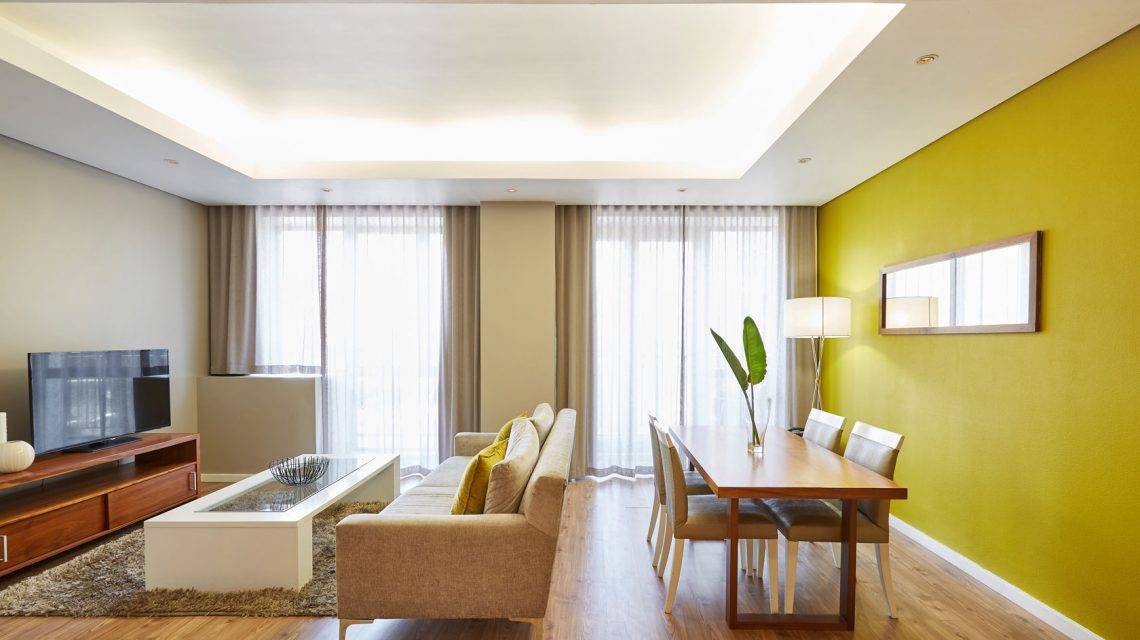 Image Credit: Mandela Rhodes Place
The two-bedroom Superior Apartment is similar to the Platinum one but does not feature a hall and balcony. It has the same bedroom setup as the Platinum Apartment. The Superior Apartment is 110m2 and costs R2350 a night.
All apartments feature the following amenities:
Air conditioning
Heating
Flat-screen TV
Satellite Channels
DVD Player
Telephone
Wake Up Service / Alarm Clock
Safety Deposit Box
Desk
Sofa
Seating Area
Dining Area
Kitchen
Refrigerator
Microwave
Oven
Electric Kettle
Toast
Kitchenware
Tea/Coffee Maker
Washing Machine
Ironing Facilities
Hairdryer
Linen & Towels Provided
Complimentary Amenities (Soap, Body Wash, Conditioning Shampoo)
Daily Housekeeping Service
Laundry Facilities
Room Service
Cots Available on Request
Also, note that the bathrooms are fitted with a bidet.


Halal Services


Image Credit: Mandela Rhodes Place
The best part about the hotel is that it is Muslim-friendly, and the staff has been trained on Muslim requirements.
The Hotel also offers the following prayer facilities:
prayer mats can be provided
list of nearby mosques can be provided on request
male and female prayer rooms can be made available on request
prayer timetable available at front desk or room
Mosques
Cape Town is a multicultural city and you can easily find Mosques close to the hotel. Here's a list of Mosques you can visit whilst in Cape Town:
Noor El Hamdedia Mosque (1 min drive / 3 min walk)
Palm Tree Mosque (2 min drive / 4 min walk)
Auwal Masjid (3 min drive / 7 min walk)
Nurul Islam Mosque (3 min drive / 6 min walk)
Masjid Boorhaanol Mosque (4 min drive / 8 min walk)
Halal Food


Also Read: GOLD Restaurant | Seriously The Ultimate Halal Restaurant In Cape Town
Food being an important part of any trip, you must be worried about being able to find Halal food. Cape Town has a variety of Halal restaurants and eateries which you can easily find through a quick Google search or on the Halal Trip app! There are Halal restaurants within walking distance from the hotel, and you will find more scattered around the city. You can even get a list of Halal restaurants from the front desk on request.
Some of the restaurants closest to the Hotel are listed below:
Mariam's Kitchen (2 min)
Saray Restaurant (4 min)
Bo-Kaap Kombuis (5 min)
Gold Restaurant (6 min)
Mesopotamia (5 min)
Non-Halal Activities
Hotel does not have a discotheque
Hotel does not have a bar
No adult TV channels in the room
Hotel is not part of a gambling resort
However, the hotel does serve alcohol.
Tips & Bonus!

Children under the age of 11 stay for free – check the website for more details.
You can get 20% off if you are booking on the same day as your arrival, it excludes breakfast, is non-refundable and full payment is required. Contact the hotel for more details.
Hotel rating: 4-Star

Address: Cnr Wale & Burg Street, Cape Town, 8001
Contact No.: +27 (0) 21 481 4000 (Tel) | +27 (0) 21 481 4001 (Fax)
Website | Facebook | Instagram | Email