Crescentrating - the sister brand of HalalTrip - together with Mastercard has unveiled the list of best destinations for Muslim travelers for the year 2017! These destinations have been ranked based on indepth research, providing a better look at how well destinations around the world are capable of catering to Muslim travelers.
Below is the list of Top 10 OIC Destinations for Muslim travelers:
Below is the list of Top 10 Non-OIC Destinations for Muslim travelers: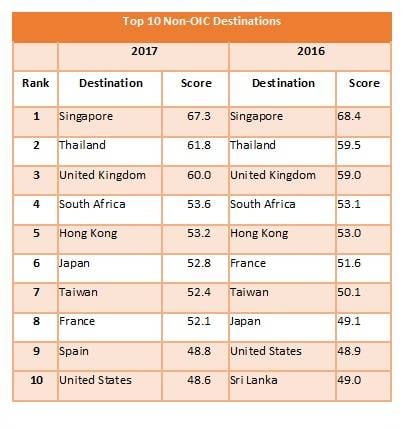 About Mastercard-CrescentRating Global Muslim Travel Index (GMTI)

The above destination rankings have been released following the launch of the Mastercard-Crescentrating Global Muslim Travel Index 2017 - the latest comprehensive research that provides indepth insights into the Muslim Travel Market.

Over 130 destinations have been analyzed by GMTI 2017, comparing them against various criteria to determine the level of Muslim-friendliness offered by each destination. Determining criteria included Muslim arrivals, air connectivity, visa restrictions, suitability as a family holiday destination, ease of communication, the level of services and facilities it provides, accommodation options and marketing initiatives.

The Index helps destinations, travel services, travelers and investors to keep track of the Muslim travel segment as well as to benchmark their own progress in reaching out to Muslim travelers.