So it was actually my 2nd time to go to Philippines, but it was my first time to Cebu & Bohol. I had only gone to Manila & Boracay but my friend told that me that Cebu was also beautiful. When I received the email from HalalTrip, I directly accepted the offer! Because Cebu was also on my wishlist if I were to go back to Philippines! Yaynesssss! And also, it was so interesting to have a real 'Halal' trip and we could share all things Halal we could find in Philippines.
So the trip happened on May 30th - June 3rd, our first stop was Manila. I arrived in Manila in the morning and directly went to the Dusit Thani Hotel in the Makati district - just 10 steps away from malls. SM Makati, Greenbelt and two other malls. I barely knew that the hotel had such a 'Halal' certificate; our hotel got a Crescentrating of 5 - which meant that the hotel would be able to provide information about prayer times, nearest mosque and prayer directions. They also had a Halal certified restaurant & kitchen.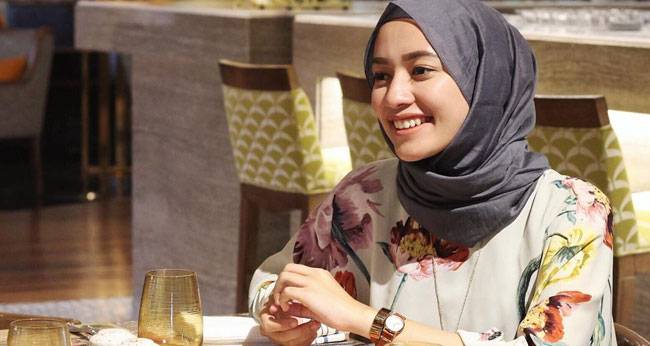 At noon, we just went to touristic places in Manila and had a little stop at the malls near the hotel. Our schedule was pretty full, 'cause we went to 3 cities in only 5 days. So on the 2nd day we went to Bohol by plane. It was a 1.5 hour flight from Manila, but something bad happened when we just arrived in Bohol - 2 of our friends lost their luggage! So they needed to wait until the next day for their luggage. Thankfully when we arrived in Bohol, we didn't have any schedule - we just went to the hotel and had dinner together.
We stayed in a resort called Bohol Beach Club - it is a beautiful resort with beachfront view. The beach is really relaxing - we can just lay down in the hammock in front of the beach and enjoy the sunset. Best!
The next day, we went to some touristic yet famous places in Bohol, the first one is the famous Chocolate Hills. But to see the beautiful Chocolate Hills, we had to take the 214 stairs. It was pretty tiring 'cause we went there around 11.30 am and the sun right above us! After that we went to the Chocolate Hills Adventure Park and some of us tried the bike zip - where we have to paddle a bike in a rope, between 2 hills. The length was about 600 metres and the height was 150 feet above the ground. Another great experience!! Even we were so nervous at first!
We had our late lunch at Loboc River. The river was just so beautiful; the colour was light green and it was sooo clean. We had our own boat and we just went around the river.
The next day, we went to Cebu by ferry. Yayyyy!! It took only 1 hour from Bohol to Cebu. We arrived and had lunch first and directly went to the Profood Factory, who made the famous brand of dried mangoes. Afterwards we went to one of the mosques in Cebu.
In the afternoon we went to our resort called Crimson Resort & Spa Mactan. MY FAVORITE ONEEE!! Ahhh that was why my friend told me Cebu was beautiful. Hihi, we got our own private pool at the villas. The resort also a beachfront view resort.
We had dinner right by the beach. The resort also had Halal certification. They provided the Quran, praying mat, and praying direction in our room. Of course the food was Halal too. We had dinner and lunch at the hotel and everything was just soooo goooddd :) Too bad we only had 1 night in Cebu.
But everything was worth it! Thank you so much HalalTrip & Tourism Philippines for providing us the best!