Why not have your next meal at some of the best Middle Eastern restaurants in Singapore? You will soon find that there quite a few Middle Eastern restaurants serving Muslim-friendly food in Singapore that is perfect for a night out. Famous for aromatic, spicy flavours and delicious grilled meats, there are some Middle Eastern cuisine places in Singapore you should definitely check out.
1. Pistachio Grill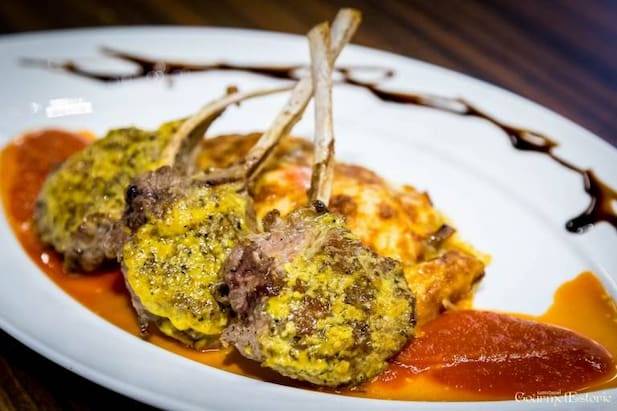 Image Credit: Gourmet Story
Pistachio Grill is an awesome spot for delectable, authentic Middle Eastern food - and it's also where you will find some excellent Muslim-friendly food in Singapore too. This restaurant is located in Zhongshan Mall on Ah Hood Road and serves up some delicious fare such as pitas, falafel and beef or chicken wraps, as well as platters with a nice variety of delights. Do try out their delicious tangines in their comfortable well-lit dining area. You can finish off your meal with some delicious baklava too.
Location: 20 Ah Hood Road, Singapore 329984, 20 Ah Hood Road, Zhongshan Mall #01- 15, Singapore
2. Balqis The Bistro
Image Credit: Balqis The Bistro
Balqis The Bistro is the place you should visit for Halal Middle Eastern food in Singapore when you are in the East Village area. You can taste an interesting variety dishes which range from Saudi to Yemeni cuisine as well as Lebanese cuisine – do try the Saudi Chicken Bukhari, Mutton Mendi and amazing Arabian rice dishes on offer. This is one of the ideal spot for Muslim-friendly food in Singapore where you can enjoy your meal in small and cosy, yet modern dining area. This is a great place to visit when you are with friends or family.
Location: 430 Upper Changi Road #01-04, Singapore 487048
3. Tabbouleh Lebanese Gourmet Café And Restaurant
If amazing Lebanese cuisine is what you are after, Tabbouleh is a Lebanese restaurant in Singapore, Arab street where you should go next. Here you can get to taste the fantastic Mediterranean flavours when you order Shish Tawouk, falafels, hummus or some amazing lamb koftas with rice dishes. There is quite a decent variety on the menu and selecting a few items would be hard! The dining area is very simple and casual where you can watch the busy street while enjoying a great meal.
Location: 41 Arab Street, Singapore 199740
4. Fill-a-Pita
When it comes to Halal food in Singapore don't forget to check out vegetarian or vegan restaurants as well. Fill-a-Pita serves some delicious vegetarian food with fresh ingredients – and just like the name suggest,s they have some amazing pita sandwiches to check out. Some favourites include the falafel, eggplant and labna filling and these are especially popular. Don't forget to check out their hummus and tabbouleh as well. The restaurant has a nice outdoor dining area where customers can enjoy the fine weather.
Location: 3 Pickering Street, #01-29 Nankin Row, China Square Central, Singapore 048660
5. Pita & Olives
Image credit: Hungry Ghost SG
Pita & Olives is one of the ideal spots for Halal Mediterranean restaurants in Singapore for some excellent meals. This outlet is located in the Suntec City Mall and is great to stop by after a long day of shopping. You can enjoy some of their best stuff that includes – hummus, chicken shawarma, zatar or falafel set menu options. They have some awesome platters that are ideal for sharing too. They serve both Israeli and Mediterranean food that has some amazing flavours with the home-made touch that will make you want to drop by again.
Location: 7 Temasek Blvd, Singapore 038987
You can easily experience some amazing dishes now that you know where to find Halal Middle Eastern food in Singapore – so try something different next time you go out.