Dressing modestly has never been so easy for Muslimahs! With the advent of international shipping from Muslim-dominated countries to fashion trends that fall perfectly in line with modesty hopes, there are endless ways to ensure feeling fabulous and dressing in a delicately halal way. Trends are moving seamlessly across a globalised world allowing modest fashion to be more accessible and fashionable.
ASOS is part of a movement selling fashion and cosmetic products online and internationally. Its main customer base are young savvy users who are interested in classy timeless pieces as well as trendy modern clothes. The company has an overwhelming choice of brands, styles and designs. This is ideal for providing each individual with a style that suits their personality and curated aesthetics. However, it can not be doubted that the search across the website can be daunting and time-consuming.
Halaltrip has endeavoured to make your search seamless and specific to your modest requirements without foregoing your own personal character, fashion-style and most importantly your Deen. Shopping for modest clothing is now a stylish breeze.
Modesty clothing disclaimer
It should be mentioned that Islamic requirements of dressing allow the hands, face and feet (according to certain schools of thoughts) to be shown. However, it is in no shape or form an Islamic trait to judge other Muslimahs on their dress and choices. Muslims should also consider that societal traditions and contexts influence the way Muslimahs may choose to dress. Whilst some regions may accept and encourage women to don bright colours, others may find black a more halal option. In the case of bottoms and trousers, a debated arena, some may believe that wide trousers are halal and others may believe longer tops covering slimmer fitting trousers are adequate. Body shape and size also plays a part in making clothes modest or not, there is no one formula of modest dress that suits all Muslimahs.
However, there is one formula from the religion of Islam that we should consider. Each Muslim should worry about their inner intentions, their own actions and constantly work on bettering their own worship, rather than concern themselves with the way others dress. This can avoid many disputes and heartbreaks.
1. Categories to search on Asos
Layering
ASOS DESIGN oversized shacket in purple and white check - £32.00.
Layering is a styling technique each Muslimah should master. Layering is great for the colder and milder months but can also be helpful in summer. Make sure to invest in classic colours; neutral, black and white. Otherwise, seek to understand the colour scheme in your closet to know which colours would work best with your current clothes.
Shirts, Shirts and more Shirts
ASOS DESIGN Long Sleeve Boyfriend Shirt in Cotton in White - £25.00.
One of the most perfect items for layering is the trusty shirt. We mean all types of shirts: long line shirts, oversized shirts, flannel shirts and even longline t-shirts. These are perfect for providing extra coverage, adding layers of modesty and covering your backside and hips.
Tops
Weekday Aggie turtleneck sweater in olive green melange - £35.00
When it comes to layering under, thin shirts and blouses can be great in the warmer months whilst turtlenecks can be helpful to layer under in transition months. However, turtlenecks can come in all sorts of materials and thickness, consider getting cable knit for the winter and swapping out for cotton in the warmer months so that your skin can breathe. Polyester may be cheaper but it is not great for those hot sweaty days.
Cardigans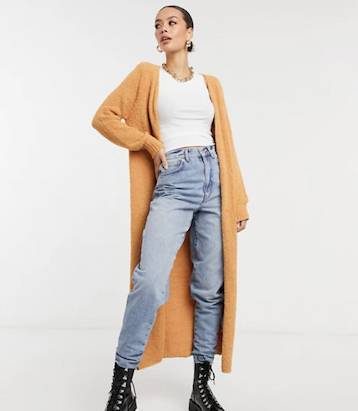 Maxi Cardigans can almost give you the semblance of an open abaya, buying a slightly bigger size could also mean you could close the cardigan like a long dress or abaya. Especially useful on those colder days. Shorter cardigans are also a must-have as they are used for layering and adding a splash of colour to plainer outfits.
Wide Leg trousers
Topshop wide leg trousers in camel - £39.99
It was not long ago when wide-leg trousers were sparse and hard to find for everyday use. Luckily, modesty trends have caused an upcoming trend of wearing wide-leg trousers. Wide leg trousers are now easily found for casual, occasional and smart wear. Asos has a wide selection of wide-leg trousers (see what I did there). You will find slouchy looks for your more relaxed days or if you sport the active-wear aesthetic, marl and work tailoring for smart office looks, and silky satins for glitzy occasions.
Skirts and Dresses
Glamorous midi satin slip skirt in purple ditsy floral - £28.00
Buying skirts and dresses can be risky business, although online they seem modest, upon purchasing them you may notice the gauzy transparent materials. This often makes it hard to wear the dress and it can end up in the back of your closet. In order to have free reign over buying dresses, consider investing in slip dresses and slip skirts which can be used to layer and provide extra coverage. Shorter ladies can remember that midi skirts and midi dresses can be maxi and modest on them.
2. The Modest Fashion Edit
Image taken from ASOS website.
The Modest Fashion Edit on ASOS's search bar will lead you to a carefully curated selection of modest clothes for Muslims and non-muslims who choose to cover up certain parts of their body. This was a hugely performative move that caused a media stir when ASOS launched it. The selection is not wide which can help with finding clothes quickly but it must be remembered this edit does not showcase all the modest options, just a select group of favorites that is specially marketed to young Muslim fashionistas.
3. ASOS Design Dresses
ASOS DESIGN oversized maxi smock dress in self-check with pintucks in black - £38.00
Asos Design is a wide-reaching brand that provides many modest options, their options often include maxi and midi dresses with high necklines and long sleeves. They also have modest bridal dresses and occasion wear which is perfect for weddings and Eids!
4. Shopping in the Men's Section
ASOS DESIGN irregular cord overshirt in off white - £28.00
Muslimahs should consider shopping in the Men's section as the oversized nature of the clothes and the variety you can find means you will be staying fashionable, on deen and trendy. A lot of men's fashion verges on neutral designs that do not denote masculine style. It is of course a Muslim responsibility to ensure you do not dress like the other gender. However, the fashion and designs of hoodies and even trousers can appear gender-neutral, fashionable, and halal. A lot of the clothes will hide female curves and guard Muslim women's modesty as the items appear tailored and smart but loose.
5. Training Hijabs
Under Armour Training Sport Hijab in black - £30.00
Asos has recently taken to selling training hijabs, a slip-on hijab that is perfect for working out with its durable sweatproof and waterproof material. Gone are the days of making sure your hijab doesn't slip off, Hijabis can focus on getting stronger and fitter without holding on to their headscarf.
6. Body Types and Sizes
Image from ASOS
Every BODY is BEAUTIFUL, however, comparison and trying to fit into a certain size can be a curse that leads women to believe otherwise. Muslim Women fall into the trap of judging their bodies harshly because of the dual judgment they receive from non-muslim communities and Muslim gaze and expectations. Muslimahs should remember that God has created us all with specific differences and this requires different sizes and considerations. Learn to understand what sizes look good on you and make you feel comfortable. Do not worry about the number on the tag and instead focus on your favorite pieces. Favorite pieces should be the items that make you feel confident and modest.
A Muslimah pro-tip to building a wardrobe that is useful and versatile is to measure your most worn pieces of clothes when buying online to know that you are getting a size that will fit you as you like.