The Hamad International Airport in Doha, the magnificent capital city of the country, is very well renowned all over the world due to its unique architecture, features, and world-class facilities provided to travelers.
The airport is located about 5 miles (8km) southeast of downtown Doha, and comprises one main terminal to date, whereas a second terminal is projected to be built in time for the 2022 FIFA world cup, where there'd be a spike in the number of people visiting the country.
The terminal comprises 5 concourses (A, B, C, D, E) that connect to domestic and international flights. Two gates each for concourse A, concourse B and concourse C were built to accommodate the Airbus A380.
Important Contacts
General Contact - +974 4010 6666
Airport Safety - +974 4010 9777
Airport Police - +974 4010-9666
Qatar Duty Free +974 4010 4167
Unique Features
Unlike many airports in the world, the Hamad International Airport is home to a magnificent collection of sculptures and artwork which are acquired and constructed by renowned artists and sculptors all over the world. The airport is like a miniature art museum in which you will be able to admire different pieces of art which have their own unique wonders. Waiting for a transit flight at the Hamad International Airport is never boring!
The Lamp Bear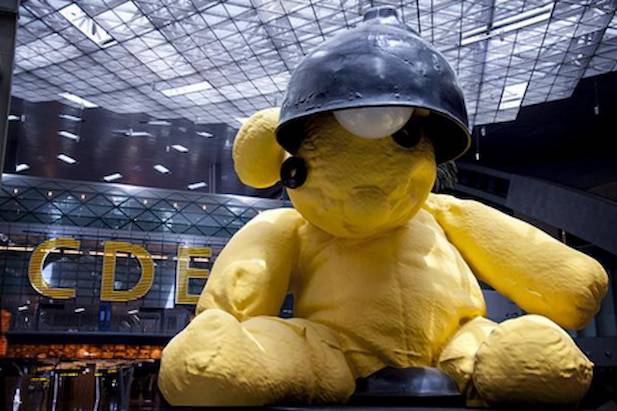 Picture Credit - dohahamadairport.com
One of the most eye-catching pieces of work at the airport is the gigantic lamp bear statue that stands in the airport hall. It was designed by the Swiss artist Urs Fischer and weighs over 18 tons. This magnificent piece of art was first displayed in New York, and later found its way to the Hamad International Airport after being won by a member of Qatari royalty at the Christie's auction, in New York.
If you find your way to Concourse C of the Hamad International Airport, you'll be able to visit this masterpiece, it's a piece of art named "other worlds" by American sculptor Tom Otterness. From a distance, it looks like a sculpture of a little boy lying on the floor to one side, but as you approach closer you'll be able to see that not only is it a visual art piece, but an interactive play area as well. It has limbs for slides the torso is a playpen and many more. This is an attraction that will give you and especially your little kids loads of fun when you are on the airport premises.
Prayer Rooms and Facilities

Picture Credit - www.scout.voyage
Since Qatar is an Islamic nation, it goes without saying that finding prayer locations will be easy. In order to perform prayers in the airport, you'll find spacious prayer rooms throughout the passenger terminals. The prayer rooms are separate for men and women, and they include separate ablution facilities as well.
Simply follow the airport map or stop at an information desk and they'll assist in locating the nearest prayer room for you.
Banking Facilities
The airport has multiple ATMs located throughout the passenger terminal which dispense cash in multiple currencies. Just have a look at the airport map or turn to an information desk to locate the nearest ATM.
In terms of foreign exchange, there are 4 locations in the airport where you'd be able to perform your exchange currencies and money transfer transactions. They are located in
Departures check-in area – at the end of check-in Row 9
Departures– towards Concourse B (near Marché restaurant)
Arrivals baggage claim area – towards the end of Belt 3
Arrivals hall – meet & greet area (adjacent to Al Maha Lounge)
A branch of the Qatar Islamic bank is also located on the ground floor of the arrival hall in the airport for any relevant transactions in terms of Islamic Banking.
Facilities for Families with Children
The Hamad International Airport provides loads of facilities, especially for traveling families. Having to wait at the airport for long hours can be tiresome, so in order to keep your children engaged, activity nodes are present in Concourse A, Concourse B, and Concourse C, which is equipped with televisions, PlayStations, internet browsing, and art pieces. Your children would keep themselves busy and occupied giving you a little breather to stretch and relax
Family rooms are also located throughout the terminal which provide water and milk warmers, and diaper changing facilities that will help you tend to your little infant or toddler's needs.
Since it is an uncomfortable task to accompany your older child to a toilet of the opposite gender, family toilets are present throughout the terminal so that you can tend to your child's needs with ease and comfort.
In order to locate the activity nodes, family rooms or family toilets please refer to the airport map or stop at an information desk for assistance.
Dining
When it comes to food, the Hamad International Airport offers a variety of cuisines to you on a silver platter. Whether you are craving American or authentic middle eastern cuisine. you can indulge yourself with a delicious treat. Since Qatar is an Islamic country there will be no worries about whether the food is halal, which will make it easy for any Muslim traveler. Here is a list of cuisines that you can enjoy at the airport!
Arabic
American
European
International
Italian
Seafood
Shopping

Picture Credit - frontiermagazine.co.uk
There is a variety of shops with renowned brands where you'd be able to purchase sweets, perfumes, toiletries, skincare products, books, magazines, souvenirs, electronics, handicrafts, and even gold jewelry and watches. The Qatar Duty-free also offers a variety of products for you to choose from.
Relaxation

Picture Credit - www.agoda.com
In order for you to relax and unwind after a long flight, you can head to the Vitality Wellbeing and Fitness Centre, which offers an indoor swimming pool, hydrotherapy tub, gymnasium, spa rituals, and even squash courts.
In case you are suffering from severe jet lag, head over there and treat yourself to a relaxing massage and a dip in the pool.
If you want a few hours to yourself, to relax, read or have a power nap, you can find your way to a Quiet room in which comfortable recliners and calm lighting is provided to simply let the stress go. To make it a comfortable experience, separate quiet rooms are present for men and women. Simply follow the map or stop at an information desk to find your way to the nearest quiet room to give your head a break from all the traveling.

For reservations or more information, please contact T +974 4010 8204, F +974 4022 5395 or email [email protected]
Transportation
Finding means of transport to and from the airport is not a hard task. You can easily book a cab with the assistance of the taxi services present in the Arrivals terminal, simply follow the "Taxi" sign or stop at an information desk at the airport. Please make sure you have sufficient Qatari riyals for payment since payment is only permitted in the local currency.
If you want to rent a car during your stay in Qatar, you'd be able to do so, given that you have the below pieces of documentation
An International driving license or a license issued from a GCC (Gulf Cooperation Council) country.
A credit card with a minimum of 3 months validity is required at the time of booking, although most bookings can be settled in cash when returning your car. Payment terms are in Qatari Riyals.
Photocopy of the entry stamps into Qatar on your passport.
You will be able to rent a car on arrival at the Hamad International Airport, with the assistance of local and international car rental services present in the arrivals terminal.
Limousine services are also available at the airport, for pre-booking you can contact the Mowasalat Limousine service at (+974) 800 5466.
For booking on arrival simply visit the Mowasalat counter at the arrivals terminal to book your limousine and make your payment in Qatari Riyals at the end of the journey.
If you prefer taking the public bus to travel throughout Doha, you'll to be able to do so. The buses are maintained and regulated by Mowasalat, the state transport company. All buses are well maintained and well equipped, and the service is provided by well-trained staff
In order to travel by public bus in the city, you're required to purchase a smart card in order to make the payments. To figure out the package that you want to purchase please visit the Mowasalat counter and they'll help you to choose a package based on your destination in the city, and they'll give you the right card to make your payments easily.
Find a Mosque near you in Doha