A great time includes experiencing the best festivals in
Thailand
during your stay and gives you a chance to learn more about
Thai culture
- ideal reasons on why you should travel to Thailand. Known as the "Land of Smiles," Thailand offers a travel experience like no other - from the ever accommodating locals to the unique Thai festivals that occur throughout different times of the year represents great reasons why you should travel to Thailand for a wonderful experience – so check out a guide to the best festivals in Thailand listed below.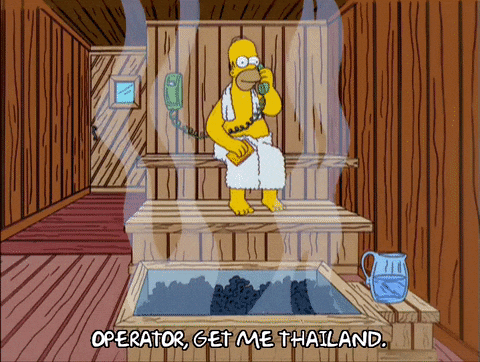 Credits -giphy.com
1) Loy Krathong And Yee Peng
Picture Credit - www.flickr.com
The celebrations you need to experience in Thailand will include the festival Loy Krathong which is held before Yee Peng on a full moon on the 12th month of the
Thai Lunar calendar
– so the dates will change. Loy Krathong usually takes place in
Chiang Mai
coinciding with Yee Peng.
To celebrate Loy Krathong, people make offerings of boat-shaped flower baskets (which are known as krathong) that are released and float along the river - this symbolises the release of negativity. Yee Peng celebrations involve decorating home with lanterns, traditional dances and even a parade. In Chiang Mai, floating paper lanterns are released into the air to symbolise letting go of last year's negativity– and making new wishes.
With glowing lanterns floating away into the night and bright krathongs floating in the river, these are some of the must-see events in Thailand – it's truly a spectacular sight and making this some of Thailand's best festivals to experience.
2) Songkran
Picture Credit - www.holidaysgenius.com
Songkran is probably the most important of all Thailand festivals and events where the largest celebrations are in Bangkok and Chiang Mai. The festival takes place from April 13th to 15th every year. From parades, dancers and traditional costumes – it's some of the must-see events in Thailand.
Major streets are closed just for the event. Prior to the commencement of the event, which is mostly celebrated by the younger generations - as a mark of respect, the practice of pouring water over the elderly's palms would take place.
The festival is extremely fun– considering a large part of the festival a huge water fight! Water guns, plastic buckets or hoses take your pick and have fun with everybody splashing away in the warm weather. The largest party is at Tha Phae Gate is where you will numerous food stalls and live entertainment.
3) Chiang Mai Flower Festival


Picture Credit - www.thailandtravel.com

The Chiang Mai Flower Festival is a three-day event held every February in Suan Buak Haad and is one of the must-see events in Thailand where beautifully crafted floral arrangements and floats are the main highlights.
The park is spectacularly decorated with flowers, and stalls in the park will display vibrant colourful flowers that you can buy too. The most popular ones are the orchids, chrysanthemums and the
Damask Rose
which is only found in Chiang Mai.
A lively afternoon parade of traditional Thai dancers and musicians will take to the streets and a beauty contest known as
Miss Chiang Mai Flower Festival
will be held. There will be plenty of entertainment and refreshments to look forward too as well.
Don't miss out on experiencing a festival in Thailand, start planning your trip today!