Thailand is indeed a country that is very well-known for its flavorful and vibrant cuisine that is jam-packed with different flavors and different textures that make their food taste appealing almost instantly on sight. What makes Thailand an amazing destination for a Muslim traveller is that many of their dishes revolve around ingredients like chicken, seafood and fresh fruits and herbs, therefore once you set foot into a halal restaurant in Thailand you would have so many beautiful options of dishes to choose from.
The list goes on and on since the Thai cuisine is one of the most sought-after cuisines in the world, but below are 7 of the most mouth-watering halal dishes a Muslim traveller must try during their holiday in Thailand!

via GIPHY
1. Khaoniao Mamuang (Sticky Mango Rice)
I have to include this at the top of my list because this is a Thai dish which is famous all over the world that any Muslim traveler would love! It is vegetarian as well, so for all the vegans out there this is going to be your all-time favorite Thai dish. It comprises a semi-sweet mango sitting over sticky glutinous rice, and topped off with coconut cream, it's absolutely perfect for a day when you are hungry, and more in a sweet mood rather than a savory one. The moist mango and sticky rice is a perfect combination of sweet and sour, definitely a must try for any Muslim traveler during his/her stay in Thailand.


2.Pla Muek Yang (Thai Charred Squid)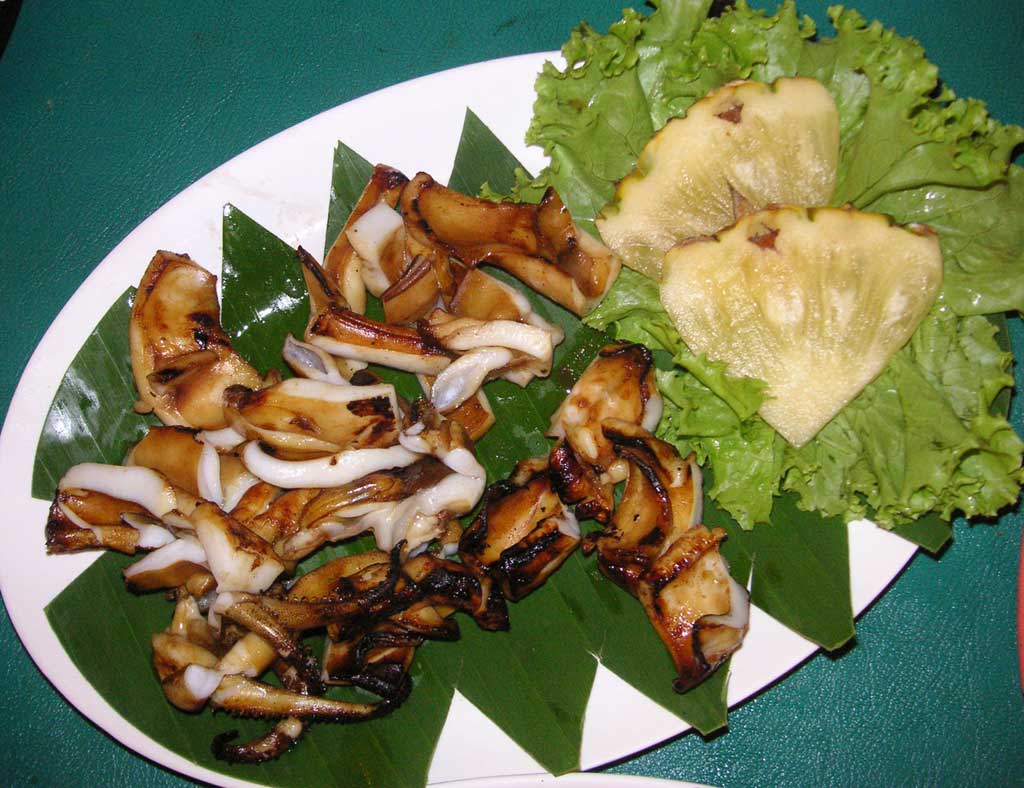 Picture Credit - www.panix.com
If you are a huge fan of squid, this is a dish you have to try! Pla Muek Yand brings out the squid's taste to its maximum. The squid is drizzled with oil and charcoal-grilled, which gives out such a beautiful aroma that would get anybody's mouth watering at an instant. The grilled squid is later topped off with crunchy nuts and a dressing mostly made out of lime, crushed herbs and ginger which uplifts its aroma and taste even further. Surely Pla muek yang is a Halal dish that every Muslim traveller must give a go!


3.Kao Mok Ghai (Thai-Style Biryani)
Just a note to remember "ghai" is called chicken, so if you're looking for chicken, look for the word. So back to the dish, yes? The Kao Mok Ghai is an amazing dish for all those who are big fans of the classical Indian biryani, but this dish has a special twist. The chicken is marinated with loads of amazing spices which includes cloves, cardamoms, cinnamon , turmeric, curry powder and basil leaves, so that it's packed with flavor. Also, it's served with a flavorful dressing called "Nam Jim" which is made out of mint and ginger that ties the entire dish together, giving it a unique Thai flavour. This makes it yet another Thai dish in the "must eat" column of any Muslim traveler's wish list.
This is a common dish among the Muslim community in Thailand and is very easy to find in most halal Thai restaurants in the country.


4. Yam Thale – (Spicy Seafood Salad)
This is a dish which is very healthy. It is a carbohydrate-free dish, very ideal for dinner. For all those of you who absolutely love seafood, this is the Thai dish that you must have, from the very first day you set foot in Thailand.
This dish has a combination of prawns, mussels, crab and squid, cooked and tossed over a bed of leafy greens and vegetables. The best part of this dish is that even though each type of seafood has their very own unique taste, it is all tied together by the zesty, flavorful dressing that makes you go "Wow!" the instant it touches your taste buds!


5. Yam Neua Yang (Spicy Beef Salad)
If you are fond of mint, garlic and beef, this Halal Thai dish is just for you. This spicy beef salad comprises yummy pieces of tender grilled beef with a hint of chili, garlic, mint and lime which sits on a salad of fresh mint, coriander, onions and tomatoes. Just like the Yam Thale (seafood salad) this dish is very fresh, light and healthy. It is so simple yet very, very delicious, which makes it a must-try dish in your halal holiday to Thailand!


6. Panang Ghai (Spicy Coconut Curry Chicken)
Picture Credit - www.recipesbnb.com
Yet another delicious chicken dish which works amazingly well with plain white rice. The things which I love most about this dish is the fresh coconut flavor of the thick gravy, and the tender chicken swimming in it with hints of flavor of red pepper. Getting the spice of Thai chili and red peppers along with the creaminess and the richness of the coconut cream is such a delight! You could literally eat a whole bowl of plain white rice with this beautiful curry for all three meals of the day and it still would be so yum!


7. Phat Kaphrao Ghai (Thai Basil chicken)
This amazing chicken dish is a Thailand street food favorite, served with white rice and a fried egg. In this dish, the chicken chunks are marinated with chili, garlic and lime, then stir-fried along with the addition of holy basil, which gives the dish a unique taste and look. When you get a whole mouthful of plain rice topped with the basil chicken, you'd experience a fusion of different flavors, but the most prominent flavor that you would taste is the peppery flavor from the holy basil, which distinguishes this dish from all the chicken dishes around the world. Which is why this dish totally deserves a spot on one of the 7 dishes a Muslim traveler must try during his/her stay in Thailand.
via GIPHY