Imagine crystal blue waters, the pristine strip of beach with fine golden sand. A private sanctuary right one of Bali's most relaxing provinces – Nusa Dua. Wake up to the best sites of nature and savor being just five minutes away from the beach.
Take a breather from the hustle and bustle of life when you're a Nusa Dua Beach Hotel & Spa. Meet the locals and experience the amazing Bali hospitality. This 5-star sanctuary was designed with accents of the Indonesian culture in a serene botanical setting. Here, you'll breathe the new ambiance and be surrounded by the beautiful architecture and natural elements that resemble Bali.
Image Credit: Nusa Dua Beach Hotel & Spa
Just 15 minutes away from the airport, you don't have to ever worry about having to sit through a long bumpy ride. This also means that you could leave a little later than usual before catching your flight back home.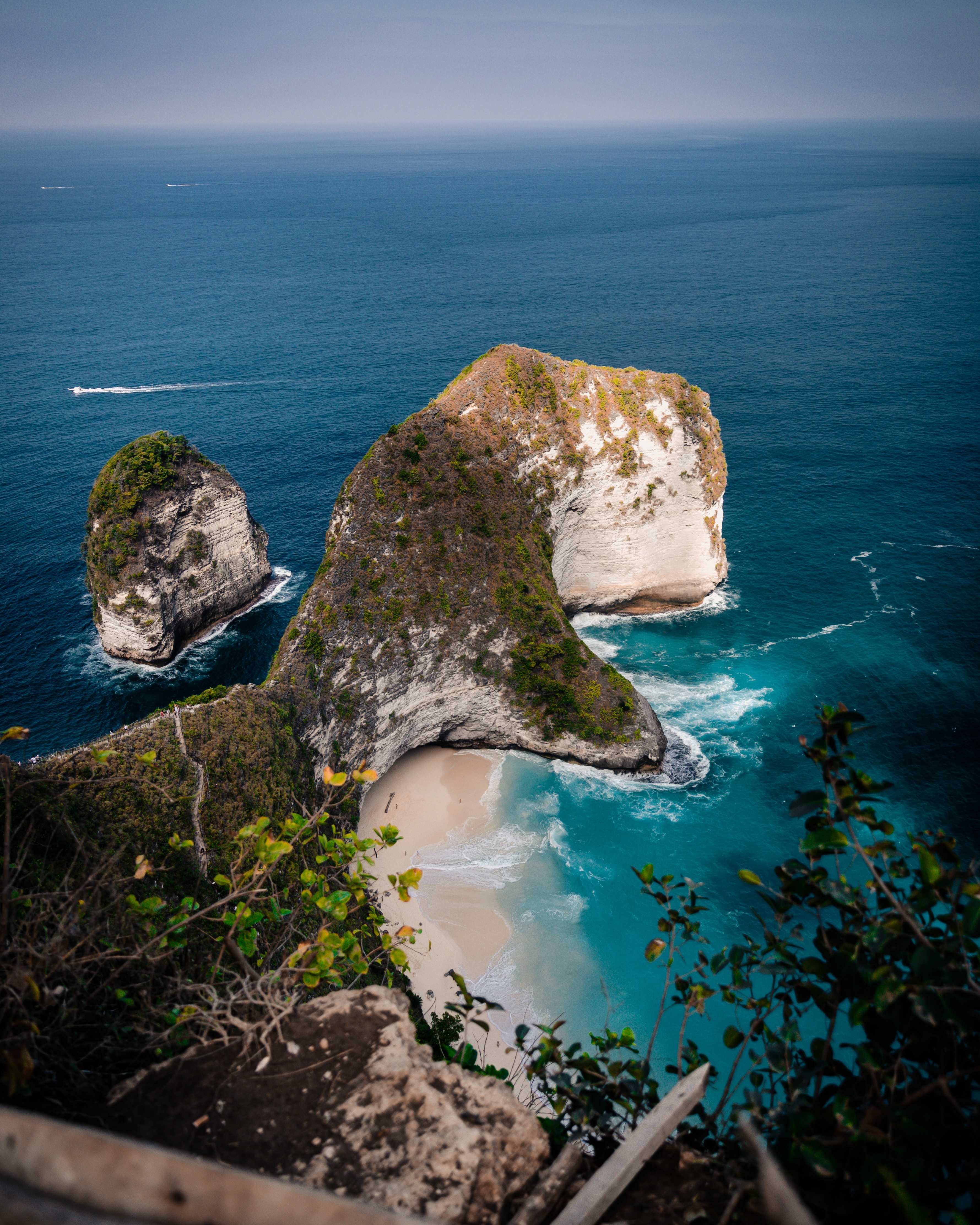 Image Credit: Nate Johnston on Unsplash
The best time to visit Nusa Dua is some time between the end of May till the end of October – from NOAA (the National Oceanic and Atmospheric Administration). During this time, Nusa Dua is in the high season of clear blue skies with temperatures ranging from 24°C to 25°C on cooler days and 30°C to 31°C on warmer days.
Also Read: Pop By These Hidden Gems Of Bali The Next Time You're On This Island


The Rooms

Image Credit: Nusa Dua Beach Hotel & Spa
Nusa Dua understands that everyone has different preferences and styles, hence whilst you have the choice of bigger deluxe family rooms constructed to satisfy tired parents and excitable children, or deluxe rooms that offer just the right amount of space for solo or couples. There are also opportunities to splurge in a personalized manner and be transported to your dream.
Image Credit: Nusa Dua Beach Hotel & Spa
Authentic hardwood floors, spacious balconies with the view of lush tropical gardens and perfectly crisp bedsheets and intricate wood carvings that accentuate the Bali ambiance. The rooms in Nusa Dua Beach Hotel & Spa captures Balinese luxury and identity in even into the littlest details of the room.
Image Credit: Nusa Dua Beach Hotel & Spa; Palace Club Lagoon
Wake up to their immaculate outdoor lagoon and when the sun starts beaming, lounge at the patio just outside your room or take a quick dip in their outdoor pool. The Palace Club Lagoon Room and suites give you instant access to Nusa Dua Beach Hotel & Spa's various pools or savor the breathtaking view, peering over palm trees at their spacious balconies.
Image Credit: Nusa Dua Beach Hotel & Spa; The Royal Residence
The Royal Residence incorporates vintage drapery, heavy textiles, vintage wood within 2 levels. It ensures to encapsulate what classic Balinese royals once experienced. The Balcony extends out into the pool and garden views and it also has a private plunge pool for the whole family.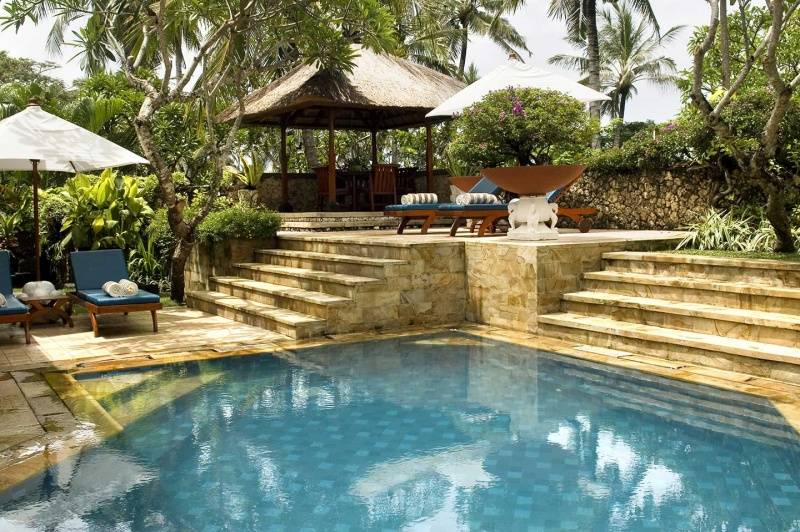 Image Credit: Nusa Dua Beach Hotel & Spa; Nusa Dua Suite
The Nusa Dua Suite gives a homely feel, with different levels, neutral and warm tones. It has an upper level with encompassing views of the palm trees line the beach. The separate living area truly makes you feel you have rented a home in Bali.
Image Credit: Nusa Dua Beach Hotel & Spa; The Batur Suite
The Batur Suite ensures that people who enjoy the outside nature, are gifted with a sleek lagoon swimming pool, decks for sunbathing all in a modern marble feel as well as a lush tropical garden.
Image Credit: Nusa Dua Beach Hotel & Spa; The Agung Suite
The Agung suite with its white and lighter tones has an airy feel, with a spacious living area. The mature designs, making it the perfect place for 4 adults to come to relax their stresses away in a highly deserving manner.
Note: Feel free to request for a copy of the local prayer time table to keep track of your prayers.
Also Read: Get Your Dream Floating Breakfast And Feel Like Royalty For A Day At These 5 Resorts in Bali!


The Spa

Image Credit: Nusa Dua Beach Hotel & Spa; The Nusa Dua Spa
A 5-star hotel with a 5-star top-notch spa makes the trip here an unforgettable experience.
Nusa Dua Spa makes it their mission to offer traditional Balinese beauty and spa treatment. The product they use has been a national treasure to Balinese women for centuries.
Image Credit: Nusa Dua Beach Hotel & Spa; The Nusa Dua Spa
They encapsulate modern luxuries that do not stray from providing their cherished clients with a genuine Balinese experience they will never forget; with coffee and lime body scrubs, milk baths, body, and skin oils that are carefully pressed, natural essential oils to relieve tensions, mixtures of spices, herbs, and plants native to Bali.
Image Credit: Nusa Dua Beach Hotel & Spa; The Nusa Dua Spa
The Nusa Dua spa ensures to offer a relaxing, restful but also healing wellness experience as well as a traditional experience that could only be experienced in Bali.


Dining
The dining options are balanced at just enough for your stay of a week, 7 options to experience. Here is a break down of your breakfast, lunch and dinner options.
Image Credit: Nusa Dua Beach Hotel & Spa; Raja's Balinese Cuisine
Nusa Dua Beach Hotel & Spa has four Halal-certified restaurants, each set to serve different types of cuisines. The Indonesian council of Majelis Ulama Bali has declared that the food served is Halal and according to the Islamic law. All ingredients and production processes are in accordance with the decree of Fatwa Commission of the Indonesian Council of Majelis Ulama Bali.
If you're planning your stay within the Ramadan period, Halal iftar and sahoor will be made available upon request in the 4 restaurants and room services.
Raja's Balinese Cuisine
Image Credit: Nusa Dua Beach Hotel & Spa; Raja's Balinese Cuisine
For an authentic Balinese experience, this dining experience not only serves award-winning food but it does so in an elegant fine dining ambiance. The architecture is wooden inspired, with engraved wooden planks, high planked ceilings in rich mahogany. This ensures that when your dinner of Kunyit coconut curries, sambal tapas, warm spiced Ayam Betutus arrive all your senses are overfilled with Balinese hospitality. Not forgetting the delectable traditional desserts.
Note: The menu has an in-depth description of each meal for newbies.
Tamarind Mediterranean Brasserie
Image Credit: Nusa Dua Beach Hotel & Spa; Tamarind Mediterranean Brasserie
This halal-certified restaurant will call you from afar, with its complete structure in wood. The bamboo thatched roof houses an incredible restaurant. The views of the ocean will accompany the wide range of dishes from the west along with side contemporary Asian dishes. From Pizzas to linguine, aubergine dishes to chicken tikka, you can find the traces of Greece, Italy, India on the menu. The options don't end there, go for dinner for an entirely different menu
Tamarind understands the sweet tooth well, with beautiful exotic flavors such as tamarillo, mango and papaya pulp, and mandarins but it also understands classical flavors with inclusions of Toblerone, chocolate, and vanilla.
Maguro Asian Bistro
Image Credit: Nusa Dua Beach Hotel & Spa, Maguro Asian Bistro
If you are craving a different type of Asian cuisine, namely Hong Kong styled street foods, Japanese sushi or Korean barbecues, Maguro condenses the variety of Asian foods into a hip cool setting beside the pool. The fresh seafood will explode in flavor, the combinations of fresh local fruit and spices of Bali to add a kick to your dishes do not fail to spice up the holiday you're experienced. There is also an international dessert list.
Wedang Jahe Restaurant
Image Credit: Nusa Dua Beach Hotel & Spa, Wedang Jahe Restaurant
Set in an idyllic setting with Balinese women artistically painted on a brick wall. The restaurant doesn't offer a menu online due to its endless choices that change. Just be prepared for a mixture of local dishes as well as international ones.
There you have it, Nusa Dua Hotel and Spa. You have an opportunity to make your dream holiday come true.
Free Download: Wonderful Indonesia | Get Your Halal Travel Guide

Address: Nusa Dua Beach Hotel & Spa, Kawasan Pariwisata Nusa Dua, Badung, Bali 80361, Indonesia
Price Range: IDR 1,778,502 onwards
Mosques Nearby: Masjid ITDC Nusa Dua
Masjid Agung Ibnu Batutah
Halal Food Nearby: Bebek Tepi Sawah Nusa Dua
Queens of India Nusa Dua
Website | Facebook | Instagram