It has often been said and still it is true: Japan is one of the safest country for solo travelers, especially women. In fact, Japan might be the place most suited for a single female visitor. The Japanese are well known for their friendliness and polite character. The high level of politeness and safety makes Japan a very relaxing place when travelling solo. The variety of things to see and do make it especially good for the kind of travel that lets you see and do what interests you. Japan is as stunning as it is convenient: The public transportation system is modern, clean, and has English signage. A lot of hotels in Japan have single rooms available, which makes it cheaper for the single traveler. With or without companion, Japan is that fascinating country that will definitely offer you a wonderful time.
Find Halal Restaurants in Japan
Find Mosques and Prayer Places in Japan
Getting Around:
Japan is famous for the Shinkansen bullet trains that you might already have heard of. The Japan Rail Pass (also called JR Pass) is a very cost effective rail pass for long distance train travel in Japan. The JR Pass can be used only by foreign tourists. The pass can be purchased online or through a travel agent outside of Japan. You will then receive a voucher that has to be exchanged to the actual pass inside Japan within three months of purchase.
The pass will not pay off for urban travel alone. But if you cover some long distances within a relatively short time period, the pass is likely to save you some dollars. Furthermore, the pass provides convenience and flexibility in addition to saving money. Pass holders don't need to buy tickets before riding trains and can spontaneously make trips at no extra cost. In general, the 7-day pass costs about the same as regular Shinkansen tickets for a round trip between Tokyo and Kyoto. It will most likely not pay off if you travel less than that. The Japan Rail Pass Calculator and the timetable website Hyperdia are good tools to compare regular ticket costs with the pass.
You will find further information on the official website: http://www.japanrailpass.net/en/
Day 1: Landing in Tokyo

Picture Credit: Adrian Chandler, www.flickr.com
A good starting point for your trip is Tokyo. The city has so much to offer, you could spend months in it and still will have adventures and places to explore left. So, just let us give you some suggestions:
For foreigners, it is very nice to stay in Asakusa. Asakusa is the center of Tokyo's shitamachi (literally "low city"), one of Tokyo's districts, where an atmosphere of the Tokyo of past decades endures. It's popular with tourists and locals alike. Senso-ji, a very popular Buddhist temple, which was built in the 7th century, is the main attraction of the district. You can approach the temple through the Nakamise, a shopping street that has been providing temple visitors with a variety of traditional, local snacks and tourist souvenirs for centuries.
It's highly recommended to explore Asakusa on foot, but you should also consider a guided tour on a rickshaw. Asakusa is served by several public transport lines such as Ginza Line, Asakusa Line, Tsukuba Express and Tobu Railways.
Day 2: Roaming in Tokyo
Tokyo Skytree

Picture Credit: japan-magazine.jnto.go.jp
Start your day with a visit to Tokyo Skytree. This television broadcasting tower one of the tallest buildings in the world, measuring 634 meters, and a landmark in Tokyo. There are two observation decks: At 350 meters, there is a restaurant, a café and shops behind large windows. The highest platform is at 450 meters altitude. An outer ramp surrounds this segment. Visitors can enjoy the view over one of the biggest cities in the world. You can purchase the entry tickets at the tower itself, 365 days a year.
A shopping complex and an aquarium are located at the base of the tower.
You will find the entrance to the Tokyo Skytree on the 4th floor of Tokyo Skytree Town, which comprises the range between Tokyo Skytree Station on the Tobu Isesaki Line, and Oshiage Station on the Asakusa Line, Keisei Oshiage Line and Hanzomon Line. Alternatively, you can walk across the Sumida River from Asakusa in about 20 minutes. Buses from Tokyo Station, Ueno Station, and Haneda Airport also reach Tokyo Skytree. You can refer to the image below and identify the different routes to get to Tokyo Skytree Town.
Web: http://www.tokyo-skytree.jp/en/
Address: 1 Chome-1-2 Oshiage, Sumida, Tokyo 131-0045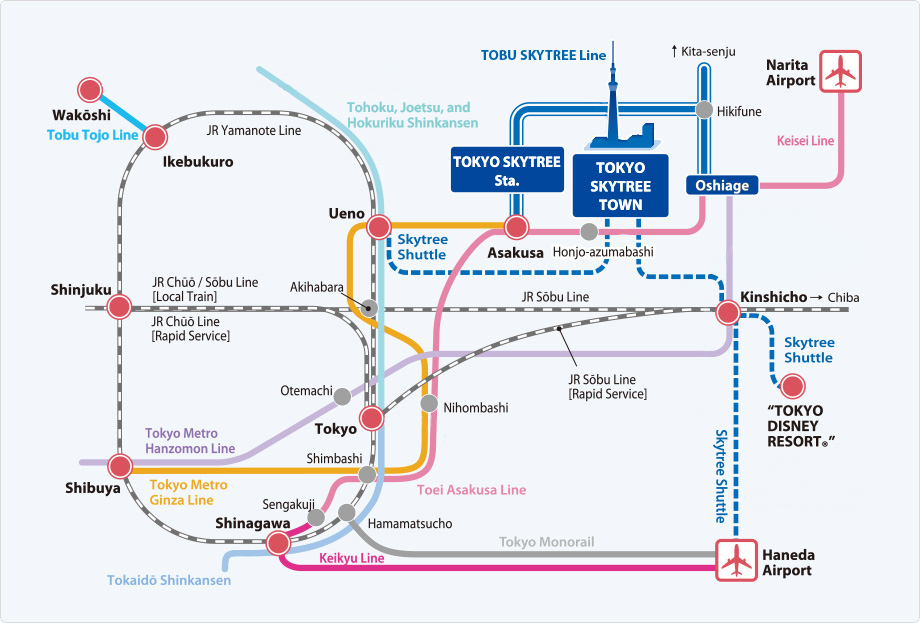 Picture Credit: www.tokyo-skytree.jp
Shibuya Crossing

Picture Credit: www.francescocattutophotographer.com
After that, take a subway ride to the legendary Shibuya Crossing. The intersection is heavily decorated by neon advertisements and giant video screens. This iconic place gets flooded by pedestrians each time the crossing light turns green, making it a popular photo and movie filming spot. Some people recommend watching the crossing from an elevated position like Starbucks or the public Shibuya Mark City, but if you really want to soak in the atmosphere, you should stand down at ground level with all the other people around you. Shibuya is a well-known center for youth fashion and culture, and its streets are the origin of many of Japan's fashion and entertainment trends.
To get there, take the Hachiko exit from Shibuya Station, which leads directly to the Shibuya Crossing.
Cat Cafe MoCHA

Picture Credit: digjapan.travel
A short walk from Shibuya Crossing you will find one of the famous cat cafés, MoCHA. When you're done with shopping and have had enough of the scramble at the busy Shibuya crossing, come here to relax, play with the kitties, and spend some healing time.
Website: http://www.catmocha.jp
Address: 32-12 Udagawacho Assorti Shibuya 8F, Shibuya 150-0042
Shinjuku

Picture Credit: fastjapan.com
A short subway ride will take you to Shinjuku Station. Shinjuku is one of the 23 city wards of Tokyo, but the name commonly refers to just the large entertainment, business and shopping area around Shinjuku Station. There is a lot to see near JR Shinjuku Station, which is the busiest station in Japan with 3.5 million passengers per day. At the east exit are the entertainment districts of Kabuki-cho and Golden Gai, and there are plenty of shops and department stores. The business district on the opposite at west exit is dominated by office buildings and hotels next to the town hall, and here and there you can see publicly accessible art installations. The south exit leads to a broad terrace with skyscrapers surrounding, ideal for a pleasant walk. Here you'll find the park Shinjuku-Gyoen, an oasis of peace in the heart of Tokyo. The various areas of Shinjuku each have their own charm, waiting for you to explore them.
Shinjuku Gyoen Ramen Ouka

Picture Credit: www.halalmedia.jp
After exploring the Shinjuku neighbourhood you will most likely be hungry and weary. While finding a halal local restaurant in Shinjuku may not be one of the simplest things to do in Japan, the Shinjuku Gyoen Ramen Ouka is definitely worth a shot. This restaurant lets you indulge in the taste of Japan just like a local. Just like any other ramen restaurants, they serve you a hot bowl of Japanese goodness and warms you up during the winter. However, what's different about this ramen stall is that it is halal and is run by Muslims. Don't miss the chance to fit in like a local and slurp some delicious ramen.
Address: 1-11-7 Shinjuku | 1f, Shinjuku 160-0022, Tokyo Prefecture
Day 3: Tokyo - Kyoto
Golden Pavillion

Picture Credit: handsonkyoto.com
In the morning, take one of the convenient Shinkansen bullet trains to Kyoto. You will pass the Mt. Fuji, so better sit on the right-hand site of the train. Sit back, relax and enjoy the beautiful landscape.
When you arrive in Kyoto, there should be time to visit the Golden Pavillion, also called Kinkaku-ji. The golden pavilion, which is a Zen Buddhist temple, is the picture perfect symbol of the traditional Japan. Its top two floors are completely covered in gold. Reflected in the adjacent "Mirror Pond" with its small islands of stone and pine trees, the Kinkaku-ji Temple offers a breathtaking picture that you should not miss. It's one of those iconic buildings you want to see in person. The temple garden will captivate you with its landscape and a charming teahouse in the middle.
Kinkaku-ji can be reached from Kyoto Station by Kyoto City Bus number 101 or 205.
Website: http://www.shokoku-ji.jp/
Address: 1 Kinkakuji-chō, Kita-ku, Kyoto
Manga Museum

Picture Credit: www.kanpai-japan.com
Close to the subway station Karasuma-Oike, you will find the Manga Museum. This is the first museum in Japan that is all about mangas. It offers an impressive selection of exhibits, encompassing everything from 19th-century Japanese journals and books to popular contemporary works from Japan and abroad. The museum owns around 200,000 manga and manga-related exhibits. Special exhibitions also take place here. Furthermore, the museum serves as a library. Of course, there is also a museum shop and a café.
Website: http://www.kyotomm.jp/english/
Address: Karasuma-Oike, Nakagyō-ku, Kyoto 604-0846
Day 4: Enjoying Kyoto
Fushimi Inari Shrine

Picture Credit: thetruejapan.com
When in Kyoto, you must not miss the infamous Fushimi Inari Shrine. Fushimi Inari is an important Shinto shrine in southern Kyoto. It is famous for its thousands of gates, the torii, which line the path behind its main buildings. The trails lead into the forest of the sacred Mount Inari, which stands at 233 meters.
Fushimi Inari is the most important of several thousands of shrines dedicated to Inari, the Shinto god of rice cultivation, fertility – and foxes. Foxes are believed to be Inari's messengers, resulting in many fox statues across the shrine grounds. The hike to the summit of the mountain and back takes about 2-3 hours, however, visitors are free to walk just as far as they wish before turning back. Along the path, you will see numerous smaller shrines with piles of mini torii gates that were donated by visitors with minor funds. Along the way, there are also a few eateries that offer local dishes such as Inari Sushi and Kitsune Udon ("Fox Udon"), both containing fried tofu, thought to be a favored food of foxes.
Just be warned: Fushimi-Inari Shrine is one of the most popular sights in Kyoto, so better come early on a weekday morning. However, whenever you go, rest assured that you'll leave most of the crowds behind as you ascend the mountain.
Fushimi Inari Shrine is situated close to JR Inari Station on the JR Nara Line, not far from Kyoto Station. The shrine can also be accessed by a short walk from Fushimi Inari Station along the Keihan Main Line.
Website: inari.jp/en/
Address: 68 Fukakusa Yabunouchicho, Fushimi-ku, Kyoto 612-0882
Tenryu-ji Temple

Picture Credit: www.thousandwonders.ne
Afterwards, head toward the Tenryu-ji Temple & Arashiyama Bamboo Grove. Right off the main drag in Arashiyama, a few steps from the main bus stop Tenryuji-mae and the Keifuku Line's Arashiyama Station, Tenryu-ji Temple is the logical first stop for any exploration of Arashiyama.
Tenryu-ji is the most important temple in Kyoto's Arashiyama district. This Zen temple is registered as a UNESCO world heritage site.
You start by exploring the main hall and observing the famed garden and pond from inside the hall, then you put your shoes back on and explore the garden, which is the main attraction, on foot. The Tenryu-ji Temple Garden is said to have been built by the founder of the temple, Muso Soseki, in the 14th century. The garden is arranged so that visitors can enjoy the changing scenery while walking around the pond in its center. Visitors can also have a taste of the temple's Zen vegetarian cuisine. The temple is a short walk from either Arashiyama station or Saga Arashiyama station (served by different subway lines).
Website: http://www.tenryuji.com/en/
Address: 68 Susukinobaba-cho, Saga Tenryu-ji, Ukyo-ku
Arashiyama Bamboo Grove

Picture Credit: www.insidekyoto.com
Tenryu-ji Temple is connected to the iconic Arashiyama bamboo groove, make sure to take a stroll there as well. The bamboo trail can be accessed via the North Gate of the temple. The Arashiyama Bamboo Grove is one of Kyoto's most popular tourist attractions and for good reason: standing among these sky-high stalks of bamboo is like being in another world. There's just one main path through the grove, which leads leisurely uphill. Strolling through the forest will cost you nothing, since there is no entry fee. The Bamboo Forest is a popular location for wedding photographs – the presence of the newly married couple is quite common in the grove. Also, it is popular among Japanese girls and couples to put on their kimonos and head to the Bamboo Grove for a photoshoot. The crowds are worst in the weekends and particularly during the spring cherry blossom and fall color seasons, so just try to avoid these times.
Address: Saganonomiyacho, Ukyō-ku, Kyoto, Kyoto Prefecture 616-8394, Japan
Day 5: Kyoto - Nara
Nara Park

Picture Credit: www.wesidetrip.com
With easy access from Kyoto, a trip to quiet Nara is the right idea to escape from Japan's well-known tourist magnet.
Nara Park in central Nara alone is worth a full day. The park is home to hundreds of freely roaming deer. Believed to be messengers of the gods in the Shinto religion, Nara's nearly 1,200 deer have become a symbol of the city. Nara's deer are quite tame, although you should always keep in mind, that they are still wild animals. Deer crackers can be purchased around the park, and some deer have learned to bow to visitors to ask to be fed. Visiting and feeding the deer is a nice activity for families. Nara Park is a five minute walk from Kintetsu Nara Station or a about a 20 minute walk from JR Nara Station. Alternatively, you can reach the park by bus. There are multiple stops around the park.
Website: https://www.visitnara.jp/destinations/area/nara-park/
Address: Noboriojicho, Takahatacho, Kasugano, Zoshicho, Nara-shi, Nara-ken

Of course, Nara does not lack of temples and shrines. In fact, Nara has a variety of shrines, temples, and ruins that are collectively a UNESCO World Heritage Site. So, if you are not into deer feeding, why not visit Ikoma Sanju Amusement Park or hike Mt. Wakakusa?
Day 6: Nara - Osaka
Umeda Sky Building

Picture Credit: www.elevatorimagazine.com

With 2.7 million inhabitants, Osaka is the third largest city in Japan after Tokyo and Yokohama. The city is the traditional trade center of Japan and today one of the most important industrial centers and one of the most important ports in Japan.
To get an overview, pay a visit to the Umeda Sky Building. If you stand in front of the sparkling glass walls of the 173-meter-high building, you will get a sense of the incredible achievements that were necessary to build this impressive structure.
The Umeda Sky Building is a pair of skyscrapers connected in midair. The names of the two are the "Tower East" and "Tower West" which both are 173 meters tall with 40 floors. The building is a land mark of Osaka and at the very top of it there is a "floating garden observatory". Don't get mistaken by the name: oddly, the garden has no flowers or trees. Nonetheless, the stunning 360 degree panoramic view, which can be enjoyed from the open deck, is certainly worth a visit. The building is not only popular among tourists but also among couples. On the 39th floor, which is also where the entrance is, there is a restaurant, bar, and café to elegantly enjoy the best food and sights.
Additionally, there are other places to enjoy besides the observatory. On the first basement level, there is the "Takimi Lane of Restaurants" that replicates the downtown romance of the early Showa Era. Many restaurants there serve typical Japanese dishes like Ramen, Teppanyaki, Tempura, and Sukiyaki. On the third floor of "Tower East", there is a cinema, showing movies from all over the world. At the outdoor space "Wonder Square" which is in between the Eastern and the Western towers, many festivals, exhibitions, shows, concerts, and fairs take place throughout the year.
The nearest station is JR Osaka Station and Umeda Station of the Osaka City Subway, Hankyu Line, and Hanshin Line. It takes 10 to 15 minutes to walk to the building from either station.
Web: http://www.kuchu-teien.com/global/index.html
Address: 531-0076 1-1-88 Oyodo-naka, Kita-ku, OsakaCity
Day 7: Beautiful Osaka
Osaka Castle


Picture Credit: www.layoverguide.com
Start your last day by visiting Osaka Castle. It is one of Japan's most famous castles and played an important role in uniting Japan in the 16th century. When it was built in the late 16th century, it was the largest and most impressive castle Japan had ever seen. The entire Osaka Castle Park covers about two square kilometers with lots of green space, sport facilities, a multi-purpose arena (Osakajo Hall) and a shrine dedicated to its builder, Toyotomi Hideyoshi. Inside, you will find a museum displaying artefacts that includes art and armor.
We recommend visiting the castle in the morning, so you will have enough time for more Osaka City sightseeing in the afternoon.
The best approach to Osaka Castle is through Otemon Gate at the southwestern corner of the park. The closest subway station is Tanimachiyonchome Station along the Tanimachi Line and Chuo Line.
Web: http://www.osakacastle.net/english/
Address: 1-1 Osakajo, Chuo, Osaka, Osaka Prefecture 540-0002
Aqua Liner

Picture Credit: www.japan-highlightstravel.com
After enjoying Osaka Castle, we recommend taking an Aqua-bus, the "Aqua Liner", as a pleasant way of sightseeing. There are several rivers flowing through the city of Osaka crossed by many bridges. A great number of outstanding historical sites can be seen and enjoyed along those rivers.
You can board an aqua bus from the Park (Osaka Castle port). The long, flat boat rises only 1.6 meters from the water surface so it can pass under bridges. The cruise, which lasts for an hour and runs every day, covers Osaka's main sightseeing spots, including Osaka Castle, Nakanoshima, Osaka Business Park, and Osaka Amenity Park.
Website: http://www.osaka-info.jp/en/facilities/cat37/post_263.html
Osaka Aquarium Kaiyukan

Picture Credit: almanac.charmlab.org/osaka-aquarium-kaiyukan.html
Finish your stay in Japan with a visit at Osaka Aquarium Kaiyukan. Being one of the greatest aquariums in the world, the Kaiyukan has 30,000 creatures and 580 species, mostly from the Pacific Ocean. The main attraction is a huge whale shark. The arrangement of the basins designed in a way that it corresponds to the actual geography as far as possible. At the very end you will find a huge pool full of rays and mini sharks. The pool is open and visitors are allowed to pet the creatures in there!
Website: http://www.kaiyukan.com/language/eng/
Address: 1 Chome-1-10 Kaigandori, Minato Ward, Osaka, Osaka Prefecture 552-0022
After this week in Japan you will most likely be already addicted to the country. The country will leave you awe-struck for sure. You will come home from your trip feeling confident about navigating a foreign country on your own, and you will have fun telling stories about what you discovered on your trip. And who knows? Maybe you will come back and explore what has not been covered by this one-week itinerary like Kobe, Hiroshima, or Okinawa. For sure, Japan has so much to see, do and explore!