Night drives are soul-stirring. Couple it with scenic and mesmerizing places to see, and your night drive is complete. Getting away from the hustle of the city and driving into the vast horizons after a long day is what most of us need.
While exploring your locality or vacation spots at night on your own can be thrilling, a guide that outlines the best places to take a scenic night drive will be time-saving and helpful in preparing your itinerary. Read on to know a detailed outlook of the 9 Places to take a scenic night drive that we consider the best in the world to rejuvenate your soul!
1. Pacific Grove, USA
Location: Monterey Bay, California
An ocean view with charming sounds of the splashing sea makes a must-try for a scenic night drive with plenty of activities along the 17-mile line. Also, with 17 marked stops, you can enjoy the ocean's view at many points, savoring the Pacific Ocean to the fullest.
A small fee gets you going on this road and the best season to visit would be fall or spring. Moreover, golf lovers could have a fascinating day out on the golf course at the world-famous Pebble beach available and embark on a night drive along the Pacific Grove that would forever etch in your memories.
Some of the best spots along the Pacific Grove are Restless Sea, Cypress Point Lookout, The Lone Cypress, etc.
2. Cronulla, Sydney
Location: New South Wales, Australia
Cronulla is a paradise for couples as the 30 KM drive along oceans calls for romantic moments spent basking in the shadows of the stars at Cronulla beach. Further, you can satiate your late-night sweet tooth cravings at some of the dessert bars located. These bars are sometimes open till 11 PM on Saturdays.
Take your furry pal along to Greenhills beach where they are allowed sans leash after 4 PM.
Thus, Cronulla should be on your list as nothing screams scenic night drive more than enjoying the reflection of moonlight on a serene ocean bed.
3. Amalfi Coast Road, Italy
Image Credit: silvia trigo on Unsplash
Location: Amalfi, Italy
Named after the colorful town of Amalfi, the coast road contains many settlements with vibrant colors sprawling across beautiful landscapes. No wonder it is a world UNESCO heritage site.
However, along with beauty, you can expect the hairpin bends to slightly induce terror but the ocean view at each bend might take your mind off the fear.
4. Ocean Drive, USA
Location: Miami, Florida
Wishing to stay connected with the city life while enjoying a night drive around the area's main restaurants and hotels? You should try out the Ocean Drive that begins in South Miami and finishes at 15th street.
Moreover, enjoy the ocean sounds while soaking in the nightlife filled with dancers and singers at various restaurants.
5. Karakoram Highway, Pakistan - China
Image Credit: Shakeel Ahmad on Unsplash
Location: Pakistan - China Border
Enjoy the scenic beauty along with numerous monuments in this challenging terrain in May - October every year. Varied colors welcome you and the sun setting across the mountains is a sight to behold when beginning your night drive.
Moreover, if exploring the mountains are on your list, then this highway should suit your taste. Also, make sure to bring 4*4 vehicles to cross some of the tough curves and bends.
Further, Muslim travelers can mingle with the local population to cherish the humble hospitality you will receive from them. You feel that your night travel is speeding through different small countries on this stimulating stretch.
6. Parramatta, Sydney
Location: Cumberland, Greater Western Sydney, Australia
History buffs can include visiting this age-old city in Australia as some of the city's famous places are open 24 hours a day. Take your family for a riverside walk along the Parramatta stretch. Further, make a pitstop at Harris Park to relish the Indian delicacies like Sweets, Namkeens, Dosa, etc.
7. Atlantic Road, Norway
Image Credit: Julien Riedel on Unsplash
Location: Kristiansund and Molde, Norway
The Norwegian Zig-Zag road is known to mend "broken hearts". Also, this iconic road is perfect road trip material as it covers scenery, culture, and history. Within just 8.3 Km, you can witness the architectural marvel of creative bridges along with the coastal beauty.
Moreover, every village in between will remind of the rich Norwegian culture that is now gaining prominence in the world.
8. Causeway Coastal Route, Northern Ireland
Location: Belfast, Northern Ireland
Who wouldn't like to indulge in one of the most scenic routes in Northern Ireland while covering the world-famous Emerald Isle location? Along with the coastal brilliance, you are sure to enjoy the nighttime that stirs up many emotions while socializing with the local population.
Do not miss to click flamboyant photos with your family with the beautiful landscapes as your backdrop.
9. Romantic Road, Germany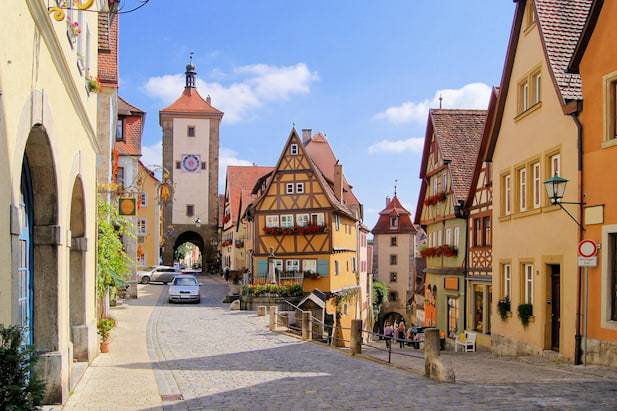 Image Credit: FodorzTravel
Location: Wurzburg, Germany
If visiting villages that take a spot on the postcards you have come by, then this drive will remind you of just that. Passing by many cities, you are sure to cross the rich culture of Bavarian villages while cruising amidst the alps with snow cradling the mountain tops.
Also, make sure to make the most of the Munich city that you will cross and have a day at the Neuschwanstein castle to enjoy the richness of Germany's culture.
Final Thoughts
Night drives are plenty of fun when you have some locations to explore along the way. Hence, pick a few from the above for your "bucket list" when planning for a staycation as the world has no bounds while exploring even at night.
A scenic night out with your loved ones will strengthen the bond and the happiness builds further!
Cover Image Credit: Patrick Tomasso on Unsplash