This article was written by one of our contributing writers. Check out more travel stories right here.
As international travels continue there might be things that weigh us down and to consider regarding to go or not in our well-deserved holiday, especially for those with kids. Here's an in-depth story and experience of one of our writers regarding her travels to Phuket with kids.

1. Considerations and concerns regarding traveling with kids
Image Credit: Estée Janssens on Unsplash
Although international travel out of South Africa has been an option for quite a while since the hard lockdown many of us experienced in March 2020, we were still very hesitant to travel with our kids for a number of reasons. Firstly, we weren't actually sure what the restrictions of other overseas countries were because truth be told many of the restrictions had so much noise and jargon that the man on the street, myself included, didn't really know what it meant: would we be expected to wear masks? Would we be forced to do covid tests before entering major attractions which is a definite reality because at the beginning of the year, for example, you couldn't enter the Sheikh Zayed Mosque in Abu Dhabi without a negative covid test, which is an additional cost many of us may not factor in before traveling. Worst... What if we spent all this money to go overseas and then... A specific attraction was closed down due to covid or just our luck closed for the day because there was a positive case and the staff needed to fumigate the premises?
My greatest fear though was subjecting my children to an unnecessary covid test and many countries initially required a test which to me didn't really make much sense. I couldn't vaccinate them because they were too young and the vaccine was free and less traumatizing but I had to test a 4-year-old and put him through that anguish because he couldn't take a vaccine due to government regulations. In any event, we didn't feel it feasible and felt that travel would become a disaster for the kids. Come July 2022, Alhamdullilah almost all countries have relaxed their restrictions significantly and we could finally board that plane again.
Many countries including South Africa have now introduced the latest, updated regulation where children under 12 years traveling with vaccinated parents do not need to be tested so scurrying around for tests a day before your flight and the risk of your 9 old being positive is no longer a concern. Unfortunately though while researching I found that some European countries still require a test from children under 12 so while we initially planned Italy the covid test was just too much admin and Phuket invited us with open arms.
2. Choosing the right airline
Image Credit: Philip Myrtorp on Unsplash
Despite already being a global favorite considering their status of having been voted the best airline for 6 years in a row, Qatar Airlines seems to be gaining even more popularity post covid. Apart from being the host country of the 2022 FIFA World Cup, their airport is already experiencing a great deal of traffic, especially with their competitive prices during a time when let's face it the world is seeing a dramatic increase in everything.
Although I've never flown with them before and have always been rather partial to Emirates I must admit that I can understand why they've received this prestigious award 6 times over. With kids, perhaps even without kids, I would never fly anything except economy, my rational being that no matter how much we pay we all going to the same place so in essence the kids will still complain about the food no matter how glamorous it's plated and still fight with each other no matter how far apart they are seated and we'll all still feel the same turbulence regardless of the price bracket so I rather save the money for another plane trip.
3. Flight and airport experience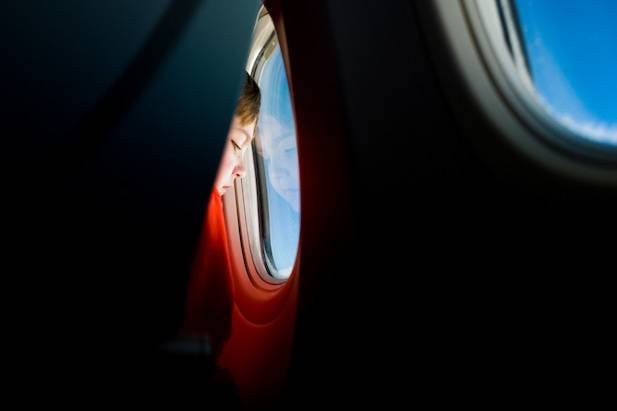 Image Credit: Steven Coffey on Unsplash
At the South African exit points, no documentation was requested. This doesn't mean that it's been removed completely, so. I would still recommend that you take it with you to be safe but no one was soldiering the terminals demanding your vaccine status. As of June 2022 masks are also no longer required in South Africa so the airport was a mask-free zone. Upon boarding the aircraft we also didn't require any documentation nor was it queried at our final destination. The crew did, however, ask that face masks be worn upon entry although during the duration of the flight the cabin crew did not insist that our masks be put back on unlike during the initial days of travel when even local flights required that masks be worn throughout the flight.
The seats in economy class are comfortable especially if you are small built and have children. At the beginning of the flight, the cabin crew gave the kids a rather decent goody bag, and the kid's meals are packed in a charming little lunchbox that you can keep. The kids' meal though is very bland and the portions are extremely small so I wouldn't suggest it for an older child, though it might be a delightful treat for anyone 8 years and younger.
Each passenger is given a covid kit consisting of surgical gloves, a face mask, sanitizer, a comfort kit including an eye mask, ear plugs, socks, and a toothbrush. We had to take two flights with a layover in Doha before reaching Phuket. The aircraft obviously wary depending on the destination, so the cuisine was different from South Africa to Doha and Doha to Phuket. Interestingly enough though the entertainment was slightly different as well with the Doha Phuket flight offering a wider selection of movies and series. The entertainment on a whole though was brilliant and in fact far more superior to other major flight carriers.
4. Layover, arriving in Phuket, and verdict on traveling with kids post-COVID pandemic
Image Credit: Victor Ene on Unsplash
Be prepared though for a financial shock upon reaching Doha as the prices are exorbitant and while the size of the airport is impressive I have to fault it on the fact that it can't seem to cater for the number of flights it offers - The food court in the transfer lounge was too small, our flight was delayed because we had to wait for fuel, a common occurrence in airports but I fear a technicality with so many fighting leaving simultaneously and the restrooms could be improved upon in terms of cleanliness... Again, simply because there's just too much traffic. My greatest critique though is that some staff are not able to understand or fluently speak English. A major oversight considering you a gateway to so many international channels.
Finally reaching Phuket we were met with the dreadful challenge of a nearly 45 min wait at customs. Perhaps our flight was a bit early but not enough tellers were open and biometrics were taken at custom for each traveler including my 5 and 10-year-old kids. The baggage though was ready and waiting for us and the Thai population from the moment of entry was an absolute delight. What is a major plus is the compact size of the airport. In Doha, we literally drove on the runway for 5 mins before taking off. So finding our way around the airport was extremely easy and an added plus was that all the ground staff spoke English fluently
At Phuket International Airport no vaccine status was required and from the airport to Patong, it was another hour-long taxi drive so be prepared for the additional transit upon landing. The process was also a bit slow when returning home as the check-in dragged and there was only one teller stationed at the baggage wrapping-which is 250 Baht per bag. Also, ensure that you eat before leaving your hotel as there isn't any halal food at the airport
The journey post covid is almost back to normal and is not at all taxing if traveling with kids.