With Ramadan right around the corner, the time for all Muslims around the world to devote their days to prayer and concentration on God is close. Suhoor is an integral part of this process and also the hardest part for some.
What you eat during this time will determine whether the day will be a breeze or otherwise. To get through the day on just one meal, it is essential that you choose power foods that will give you the energy that lasts long until it is time for Iftar.
Selecting what to eat during dawn can be a difficult task - especially because people often relate eating a lot of tasty food to eating well. It is important that you take in good nutrients that will give you the necessary energy needed. A good Suhoor meal can save you from feeling burnt out by the end of the day.
People can choose from various options, but since it is important to maintain a healthy diet, here are a few power foods for Suhoor that can help your Ramadan fasting go easily.
Hydrating Fruits
Image Credit: Anastasia Eremina on Unsplash
Fruits are the ideal way to start Suhoor. Healthy, hydrating, and a light start to your day, picking the fruits full of fiber and potassium that help maintain body fluids is a great way to be energized throughout the day. Different fruits can give you all sorts of nourishments as well.
Avocados: Tasty, full of natural fatty acids, potassium, and vitamins C, E, K, and B-6, avocados make the perfect fruit for Suhoor. Make an avocado sandwich, add it to a salad or eat it as it is - the variety of ways you can consume avocado is what makes it great.
Bananas: Bananas are fiber-rich food with natural sugar and a lot of potassium. It also slows your digestion, so you stay full for a long time.
Berries: All sorts of berries are a good addition to your breakfast plate. They are also rich in Vitamin C apart from the fiber they provide and are also nature's candy - keeping the sweet cravings at bay.
Dates: Rich in potassium, dietary fiber, vitamins, and disease-fighting antioxidants, dates are the ideal Suhoor food. They are also a typical Ramadan food due to their religious significance - having been mentioned 22 times in the Quran.
They were also the fruit that the Prophet himself broke his fast with and are highly recommended due to their many benefits like improving digestion and reducing blood pressure.
Milk
Milk gives you calcium that strengthens your bones and is also very filling to consume. A glass of milk can keep a person full for five hours.
It is also highly versatile - add some nuts to your glass, eat it with bananas or have a bowl of fruit on the side. Another way to consume milk would be to eat yogurt. They build your muscles and also enhance gut microbiota.
Eggs
Image Credit: Priscilla Du Preez on Unsplash
Eggs are a great protein resource and budget-friendly food since they are easily available everywhere. The different ways you can cook eggs to spice up your breakfast also make them so great. Have them poached or boiled with a toast, and you are good to go for the day.
Whole Grains
Eating carbohydrates are a great way to retain energy, and whole grains are full of them. They have high fiber, which equals more energy, and the fact that you can find breakfast items like wholegrain bread and bagels so easily is also an additional upside to it.
A delicious and filling way to consume whole grains would be to eat oats, quinoa porridge, or barley with milk.
Nuts
Nuts are good sources of healthy fat and are essential in your diet as your body can start to crave fats when you fast for long periods. They help you keep away from binging, and you can add them to almost anything! The best sort of nuts to have is almonds for their low cholesterol and high vitamin E and potassium.
Fish And Chicken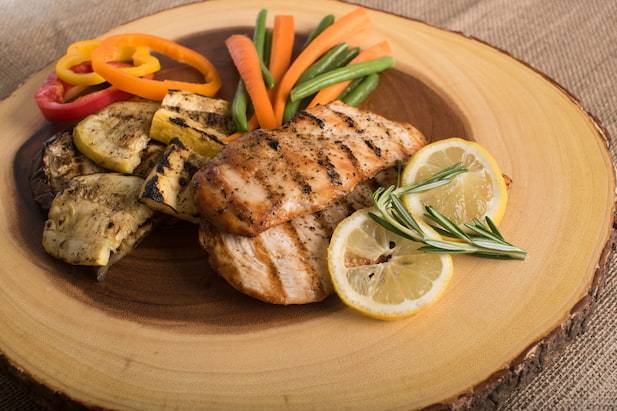 Image Credit: Mark DeYoung on Unsplash
Fish and chicken are not common breakfast foods, but they are perfect for Suhoor. They are vitality-boosting foods with energy-yielding nutrients. Never fry your chicken or fish for Suhoor. Instead, have sardines or salmon, which have high potassium, and consume your chicken with vegetables.
Foods that you must absolutely avoid for Suhoor due to their downsides like lower energy and higher saturated fats are as follows:
Greasy and fatty food
Heavy desserts
Canned foods
Salty and spicy foods
Final Thoughts
Ramadan fasting can actually prove to have many health benefits. The correct food can help your body increase metabolism, regulate bad cholesterol, give you a month-long detox, and even boost your good mood and mental health.
You are what you eat, and there are only upsides to eating healthy food that is good for your body. Make sure this Ramadan is healthy by incorporating some of these power foods for Suhoor so that you do not go through a difficult time while fasting for something so auspicious.