As with Muslims all around the world, the 300,000 Muslims in Hong Kong are observing the holy month of Ramadan. As a city that values diversity, Hong Kong carries a vast option of halal eateries and shops for local Muslims and travelers. The island city also has four large mosques which are the Kowloon Masjid, Masjid Al Ammar, Jamie Mosque, and Chai Wan Mosque; and smaller worship places.
To get more information regarding Ramadan 2023, you can also visit our page dedicated to everything about Ramadan!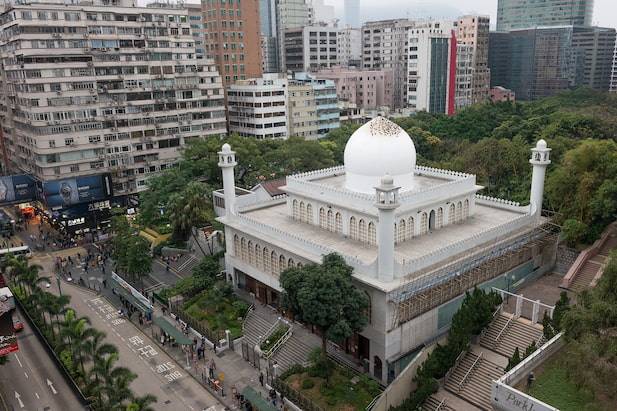 Kowloon Mosque in Hong Kong
Common practices for the Muslims in Hong Kong during Ramadan include gathering for special Ramadan prayers in mosques, breaking fast collectively in mosques where congregants would bring food and necessities to be shared amongst the community.
According to Muhammad Arshad, Chief Imam in Hong Kong the Ramadan scene in Hong Kong has changed since the pandemic hit last year. Mosques were closed for about half of Ramadan last year. Due to safety and health precautions, congregants are required to maintain social distancing and wear masks during prayers in mosques.
Chief Imam Muhammad Arshad at Kowloon Masjid
"Indeed, last year's and this Ramadan have been totally different from the previous years. While we're still doing Tarawih prayers, social distancing and safety measures are implemented and we're not organizing any collective gathering for breaking fast, unlike previous years where congregants would bring food and drinks to share with the community.
Before the pandemic hit, there would be nightly gatherings of about 1,500 to 2,000 people in Kowloon Mosque alone, but now, we're only praying with the staff of the mosque," he said.
The pandemic has also impacted halal eateries in Hong Kong and altered the business strategy of restaurants during Ramadan.
Mr Ma, owner of Ma's Restaurant, a popular halal Chinese restaurant in Hong Kong
Ma's Restaurant is a halal Chinese restaurant popular among Muslims; both locals and travelers. From Shanghai beef noodles and spicy soup to veal goulash and an array of dimsum choices, Ma's customers are spoiled with an extensive halal Chinese menu.
Before the pandemic, customers would have to pre-order their meals when they go to Ma's for Iftar. "Due to travel restrictions and health concerns now, in-dining traffic has slowed, and most people feel safer eating at home. We have started to focus more on deliveries through 3rd party and self-pickup since our customers feel more comfortable having their meals in a private setting," said Mr. Ma, owner of Ma's Restaurant.
Dimsum take-out from Ma's Restaurant
A fan of Ma's Restaurant in Sham Sui Po, Anisha, a Malaysian living in Hong Kong, recently ordered dimsum in from Ma's to break fast with her husband and two children.
Having moved to Hong Kong 12 years ago when she married her husband, a Hong Kong citizen, Anisha has observed Ramadan many times in Hong Kong, as she's unable to return to Malaysia every year.
Reminiscing the past, Anisha recalled that before the pandemic hit, the Kowloon Masjid in Tsim Sha Tsui gave free meals during Ramadan; they offer hot porridge, samosa, and juice during breaking time. It would get very crowded, and people would go early to collect their portion of food.
"Occasionally, we would go to Masjid al Amar in Wan Chai to break our fast. During Ramadan, for 30 days, they offer free meals to all Muslims to break fast," she recalls.
Besides Ma's Anisha also loves the dimsum at the Islamic Canteen Center at Masjid al Amar, where she would frequent before the pandemic hit. However, Anisha and her family usually breaks fast at home.
"In the past 10 years, the availability of halal food and ingredients have increased tremendously. Now, we are able to get many Malaysian or Indonesian halal items, so we can easily cook everything at home."
Anisha and her family usually get their halal chicken and red meat at Tsim Sha Tsui market, and their fish and vegetables from Tseung Kwan O market or Sheung Tak market.
Muzzil Khairat at the Kowloon Masjid
Muzzil Qayyum Khairat, another Malaysian living in Hong Kong, shared that he used to frequent halal F&B outlets spread across Hong Kong when he moved there for work in 2019. There are several halal eateries spread across Hong Kong but the well-known halal Chinese food (in contrast to halal Turkish or South Asian food) are Islam Food in Kowloon City and the Islamic Centre Canteen in Wan Chai.
"I brought a non-Muslim friend to eat at the canteen in Wan Chai and she said it's among the best dim sum in the city what more with its exceptionally reasonable price for dim sum," he recalls.
Muzzil at Kowloon Peak and Lantau Peak
An active and health-conscious person, Muzzil mostly cooks his own meals. "I source my halal meat from a halal sundry shop in Cheung Sha Wan or Sham Shui Po that I've frequented since 2019," he shared.
While halal items and Muslim-friendly locations are widely available across Hong Kong, Anisha and Muzzil still miss home, because that's where their families are, and that Ramadan and Raya are all about family.
Pandemic or not, because they're away from home, both Anisha and Muzzil shared that they would video call with their families in Malaysia frequently throughout Ramadan, and on the first day of Raya.
Anisha, with her family in Hong Kong, usually goes to Kowloon Masjid for their Raya prayers. "There used to be three prayer sessions because of the crowd. All Muslims in Hong Kong will be here, so you can imagine the crowd and everyone wearing new clothes and celebrating under one roof. I really enjoyed this."
Chief Imam Muhammad Arshad
Although certain practices have changed, Chief Imam Arshad shared that Ramadan is a month that calls for Muslims to be united beyond religion, but with humanity as a whole. "The challenges that came with the pandemic have brought us all together to defend ourselves irrespective of color, creed, and country. Ramadan teaches us discipline, self-accountability, and caring for others, so there's no better time to practice that than in this holy month."
HKTB bringing Hong Kong to the Muslim community in Ramadan
Halal tourism has always been one of Hong Kong Tourism Board's focus and a lot of effort has been put into promoting Hong Kong as a Muslim Friendly travel destination. This Ramadan, Hong Kong Tourism is partnering with popular Muslim travel portals like HalalTrip to celebrate the festive season with the Muslims around the region. For more information, please visit www.discoverhongkong.com.
This Article was brought to you by The Hong Kong Tourism Board (HKTB)