Challenging Experience
This could be by far one of the top reasons to visit Mount Kinabalu. All you adrenaline junkies or those of you who are looking for an opportunity to challenge yourself, climbing Mount Kinabalu would prove to be quite rewarding. The summit reaches an amazing height of over 4,000 kilometers creating an ideal adventure spot for one of the most thrilling hiking and mountain climbing experiences. If you are looking for the ultimate challenge, you might want to join the 'climbathon' where every year, athletes race to the top of Mount Kinabalu in Sabah within a few hours.
UNESCO World Heritage Site
Interesting Folklore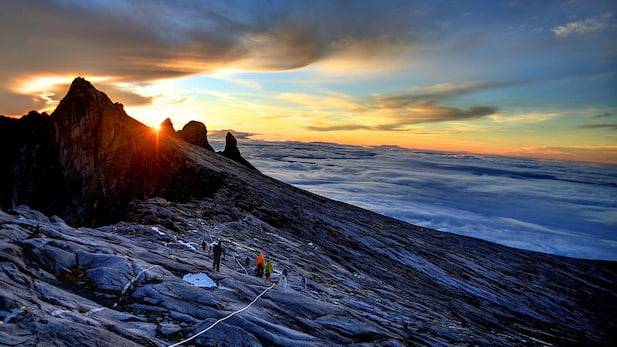 Amazing View
The experience on climbing Mount Kinabalu only gets better as you reach the peak. After a very adventurous trek, you will reach the peak of the mountain where you will be able to enjoy the breathtaking view of the surroundings. With dense clouds covering the surroundings, it might even seem as if a snowy blanket covers the entire area. If you wish to spend the night in the mountain huts, you can even get a summit-climbing permit together with an accommodation package.
Amazing Attractions Located Nearby
Once you are done climbing Mount Kinabalu, there are so many other amazing attractions in the vicinity that are waiting to be discovered. Out of these attractions, the Poring Hot Spring, also located in the Kinabalu Park is a great stop where you can soak your tired feet and enjoy a refreshing wash after the strenuous climb.