Sweden is a
Scandinavian
country bordering Finland and Norway. It is a part of the
European Union
, and boasts many positive things like equality, quality of life, health, education, and more. There are so many reasons why you should visit Sweden - here are 10 of them!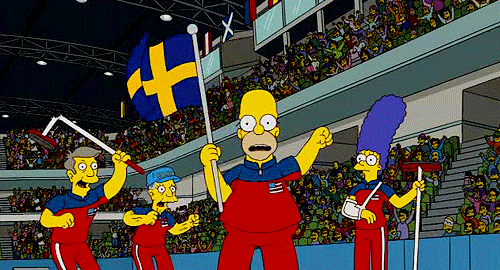 Credits - giphy.com
1) A Land of History


Fourteen thousand years ago, Sweden was only a pure land covered with ice. Now, it is the third largest country in the European Union, with a population of more than 10 million. The country's history is well preserved in its art and architecture, including some of the top attractions in Sweden such as the Vasa Museum which houses the 17th Century ship that was salvaged in the 1628's maiden voyage. Walking through the cobblestone streets and narrow alleys filled with artworks and unique architecture will make you feel like you're in another century.
2) Prayer Facilities & Mosques in Sweden


Muslims traveling to Sweden need not worry about finding places to pray. Many
mosques
in Sweden have sprung up over the last 40 years or so, giving way to
Halal tourism
in Sweden. The Stockholm Grand Mosque is the largest mosque in Sweden, with a history of more than 100 years, which you should definitely visit.
3) Halal Food


Halal food
in Sweden is also not too hard to find. There are many
restaurants
all around the country offering Muslim-friendly facilities in Sweden. One would be the
Al Habesha Restaurant
, which offers delicious
African
and
Ethiopian
cuisines. But when choosing a restaurant, always be careful and confirm their Halal certification or Muslim-friendliness.
4) Amazing Wild and Plant Life


When you visit Sweden, you will get the chance to explore some of the most stunning nature and
wildlife
in the world. Reports say a massive 97% is left uninhabited by humans and is filled with mountains, lakes, and trees. An excellent spot to witness the beautiful wildlife would be the Sarek National Park. Hop on a helicopter and spend a few days camping in the wilderness - you'll get to see plenty of wild animals including reindeer and moose, and take in the amazing serenity of nature.
5) Island Getaway


Island hopping
is one of the main attractions in Sweden for locals and travelers alike - not only it is a great experience in a foreign country, but it is also one of the more affordable options. The Stockholm archipelago is home to about 24,000 islands. Woah! These islands are the locals' getaway during weekends, where they can lay back, relax, and enjoy nature. Another popular island is Lofoten Island where you will get to witness breathtaking views of the mountains and enjoy the amazing marine life!
6) As White as Snow


Snow! Traveling to Sweden during winter is something you cannot miss. You can go
ice skating
,
snowboarding
,
skiing
, or even enjoy a game of
ice hockey
. Or for a truly unique experience, you can stay at the
world's first ice hotel
, which, you guessed it, is built entirely using ice! Be sure to wear thick layers of clothes to enjoy this unique hotel!
7) Weather Like No Other


Sweden's weather is also pretty unique. During the summer months, the sun doesn't set until after midnight, only to rise again around 3 a.m.! But during winter, the sun rises around 8 a.m. and by 3 p.m., it's dark outside. This is why Sweden has one of the longest fasting durations in the world - about 20 hours!
Aurora Borealis
, a natural phenomenon of flashing lights in the sky, can be seen from anywhere in the country.
8) Amazing People and Their Culture


The culture and traditions of the Swedish people are unique and fascinating. A few of these "traditions" that even you can be a part of include midsummer, crayfish parties, and
Swedish Fika
(the Swedish version of high tea). While you're there, join them in their traditions to learn a thing or two about their culture.
9) Beautiful, Handmade Glasswork


The
Kingdom of Crystal
(home to glasswork factories), so aptly named, is one of Sweden's main points of interest. See the experienced craftsman work the molten glass into beautiful works of art. The factories offer the glasswork for sale at a pretty good bargain, or you could try your hand at making one yourself. It'll be such a memorable gift to bring home!
10) Environmentally-Conscious


One of the main aspects of
Swedish culture
is promoting a green and
eco-friendly
community. It is one of the cleanest countries in the world and also one of the top contenders for the safest countries in the world. Let yourself loose and enjoy Sweden to the fullest! Being in a safe and clean country, you have no reason to hold yourself back.