Scrolling through your social media looking for new recipes that are Halal and fun to try this weekend? Check out these 5 recipes that went viral and took the internet by storm recently. The best part about all these recipes is that they are easy to prepare, affordable, and, most importantly, delicious. Read on to learn more about these recipes.
1. Anju's Enoki Mushroom
Anju or Zarina Anjoulie is a sensational Malaysian actress who shares mostly food recipes via her online platform. Her shares on the Enoki mushroom recipe recently garnered viewers' attention and try-out. Anju discovered this recipe during her recent visit to a Japanese restaurant and immediately fell in love with the flavor. She then decided to record her version of the recipe and share it with her followers, encouraging her fan to try it. Most stated that the recipe was worth a try.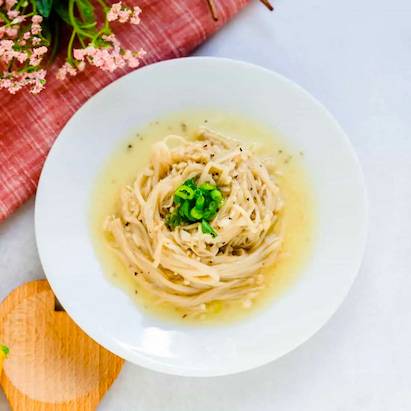 Image Credit: Low Carbing Asian
Ingredients:
1 pack or 200g of Enoki mushroom
2 tablespoons of butter
½ teaspoon of chicken stock powder
1/8 teaspoon of salt
1/8 teaspoon of black pepper
1/8 teaspoon of chili flakes
2 garlic clove
30 ml of water
1 tbsp of lemon juice
Preparation
Melt 1 tbsp of butter in a pan over medium heat. Cut and discard the bottom of the Enoki mushroom. Wash Enoki mushrooms thoroughly with water and squeeze out any excess water. Melt the butter in a pan over medium heat and transfer the cleaned enoki mushroom into the pan. Add 30 ml of water and ½ tsp chicken stock to the mix. Season it with salt, black pepper, and chili flakes. Once it's almost cooked, add 1 knob of butter and finely chopped garlic for more flavor. Add 1 tbsp of lemon juice to reduce the buttery feel.
Recipe credit to @Anjoulielavocah1
2. Healthy Breakfast Banana Muffin
Do you have an overripe banana at home? Please don't throw it; it'll be the perfect time to make this viral and easy-to-do healthy banana muffin at home. People on TikTok have been raging about this recipe as it is so easy to do and delicious to have, especially during rainy and cold weather.
Image Credit: The Modern Nonna
Ingredients
1 ripe banana
⅓ cup natural peanut butter
½ teaspoon pure vanilla extract
1 egg
¾ cup rolled oats
½ teaspoon baking powder
1 tablespoon of crushed peanut
Preparation
Preheat the oven to 375F. Mash the banana, add the egg, natural peanut butter, and pure vanilla extract. Please stir it and add the rolled oats and baking powder. Stir again and pour into a muffin paper cup. Bake for 22-25 minutes or until light and golden. Served with peanut butter on top and garnish it with the crushed peanut.
Recipe credit to @Themodernnonna
3. TikTok Viral Raw Carrot Salad
Ladies, do you feel out of sync today? It's time to turn that frown upside down with this raw carrot salad. Carrot is proven to regulate a hormone imbalance. However, eating carrots alone is boring, so let's spice it up by turning them into a wholesome salad. This fun and quick recipe recently garnered a lot of TikToker try-out and shares as it is delicious and healthy at the same time!
Image Credit: Kale Junkie
Ingredients
2 medium size carrots shredded
1 teaspoon Apple Cider Vinegar
1/2 lime juiced
1 tablespoon of olive oil
1 teaspoon of roasted sesame seeds
1/2 teaspoon of salt
1/4 teaspoon of black pepper
1/4 teaspoon of chili flakes
Preparation
Use a vegetable peeler to peel the carrots into long, thin strips over a mixing bowl. Add the olive oil, roasted sesame seeds, salt, chili flakes, and black pepper to the carrot strips. Toss several times to combine. Serve immediately.
Recipe credit to @Aribasfoodmood
4. Kylie Jenner's Flaky French Toast
Who doesn't know Kylie Jenner, one of the most followed people on Instagram? Everything she does gains people's attention. Kylie Jenner, who loves cooking, recently shared one of her favorite French toast recipes, which went viral. We all tried French toast, but how many of us tried the flaky one? Here's a recipe for you to see whether this recipe is worth a try.
Image Credit: Spoon University
Ingredients
1 loaf of French toast bread
1 box frosted flakes or any other cereal choice
1/8 teaspoon of Cinnamon powder
1/2 teaspoon of Vanilla extract
2 eggs
1/3 cup milk
Butter
Preparation
Crush those cereals up until it resembles bread crumbs and set them aside on a large plate. Combine eggs, milk, vanilla, and cinnamon powder. Melt 1 tbsp of butter in a pan over medium heat. Keep the butter handy for later. Dip a slice of the bread into the egg mixture and let it soak for a few seconds. Flip and let the other side soak for a few seconds. Cover the soaked bread in the cereal crumbs. Place your flaky bread in the pan for 4-6 minutes per side. Stack up your beautiful flaky French toast on a plate and finish it all off with your toppings of choice.
Recipe credit to @kyliejenner
5. Jennifer Aniston's Perfect Salad
Legend has it that Jennifer Aniston, Courtney Cox, and Lisa Kudrow ate the same salad on the set of Friends for ten years straight. However, Jennifer recently claimed that she didn't, but it went viral, so it could probably be worth a try.
Image Credit: The Modern Nonna
Ingredients
1 cup Bulgur
2 cups of water
½ finely diced red onion
½ cup finely chopped parsley
⅓ cup finely chopped mint
2 mini cucumbers
Preparation
In a pot on the stove, add one cup of bulgur and 2 cups of water. Cook the bulgur like you would cook rice, or you can follow the package instructions. Finely dice all of your herbs and vegetables. Add everything to a bowl with the cooked and cooled down bulgur and mix. Add chickpeas and then season with olive oil, lemon juice, and salt.
Recipe credit to @Themodernnonna
We hope you'll have fun recreating this viral recipe at home this weekend, but if you're traveling, don't forget to visit Halaltrip for more Halal-friendly travel information anywhere in the world.