Address: No. 12, Section 1, Zhongxiao East Road, Zhongzheng District, Taipei City, Taiwan, 10049
The Sheraton is a hotel company under the umbrella parentage of the prestigious Marriott Hotel group. Along with the prestigious reputation comes a luxurious experience that will complete your experience in Taipei. The hotel homes over 600 luxury rooms that are all in great demand.
The Sheraton Grand Taipei is part of the fabric of Taipei's modern society. Similar to a famous attraction, the hotel is the point of departure, meeting point and the chosen site of visit for locals and tourists. The Hotel's tremendous presence is not the only reason one should consider booking a stay. The hotel has a CrescentRating of 6, putting it on the higher end of Muslim-friendliness scale (a scale of 1–7), according to the world's leading authority on halal travel — a title well deserved. Read on to discover how the Sheraton merges a halal experience with modern splendour.
Location & places to visit nearby
Photo by Kharl Anthony Paica on Unsplash
The Sheraton Grand Taipei Hotel finds itself in the centre of the historical and cultural quarter of Taipei. Wander around the Zhongzheng District and find yourself at the Chiang Kai-Shek Memorial Hall and the gardens, a beautiful display of architecture and lush greenery with 2/28 Peace Memorial park, which memorialises the brave individuals who stood up against the Kuomintang government during the infamous February 28 incident.
The district is one of business and legal importance, being home to the National Taipei University of Business, the National Central Library, the Bureau of Consular Affairs and the Taiwan Taipei District Court. This should provide a progressive awareness of Taipei's modern everyday life.
Still need more ideas? Check out these 6 Must-See Attractions in Taipei for Every Muslim Traveler!
Transport
Photo by Lisanto 李奕良 on Unsplash
A Vip Car rental is available a few minutes away, and the hotel offers free parking for in-house guests. If driving is not your style, then the Shandao Temple Underground Station is mere minutes away and the central Taipei Main Station is less than 1km away.
The closest airport is the Taipei Songshan Airport (TSA), 5.2 km away, and there is an Airport Shuttle service that can provide security on your journey to the hotel. However, if privacy is your concern, the hotel can arrange airport private pick up and drop-offs for a set fee.
Rooms
The Sheraton Grand Taipei Hotel has a diverse choice of room and suite types that provide a personalized experience for each type of traveller.
Guests can choose from:
Photo by Sheraton Grand Taipei Hotel
Twin Deluxe Rooms with separate beds and simple comforts;
Photo by Sheraton Grand Taipei Hotel
The Executive Premier King / Deluxe Twin Room with city views of Taipei's bustling dynamism;
Photo by Sheraton Grand Taipei Hotel
Or perhaps if you wish more professionality, the Director King Room is perfect for relaxing as well as business with its room separation.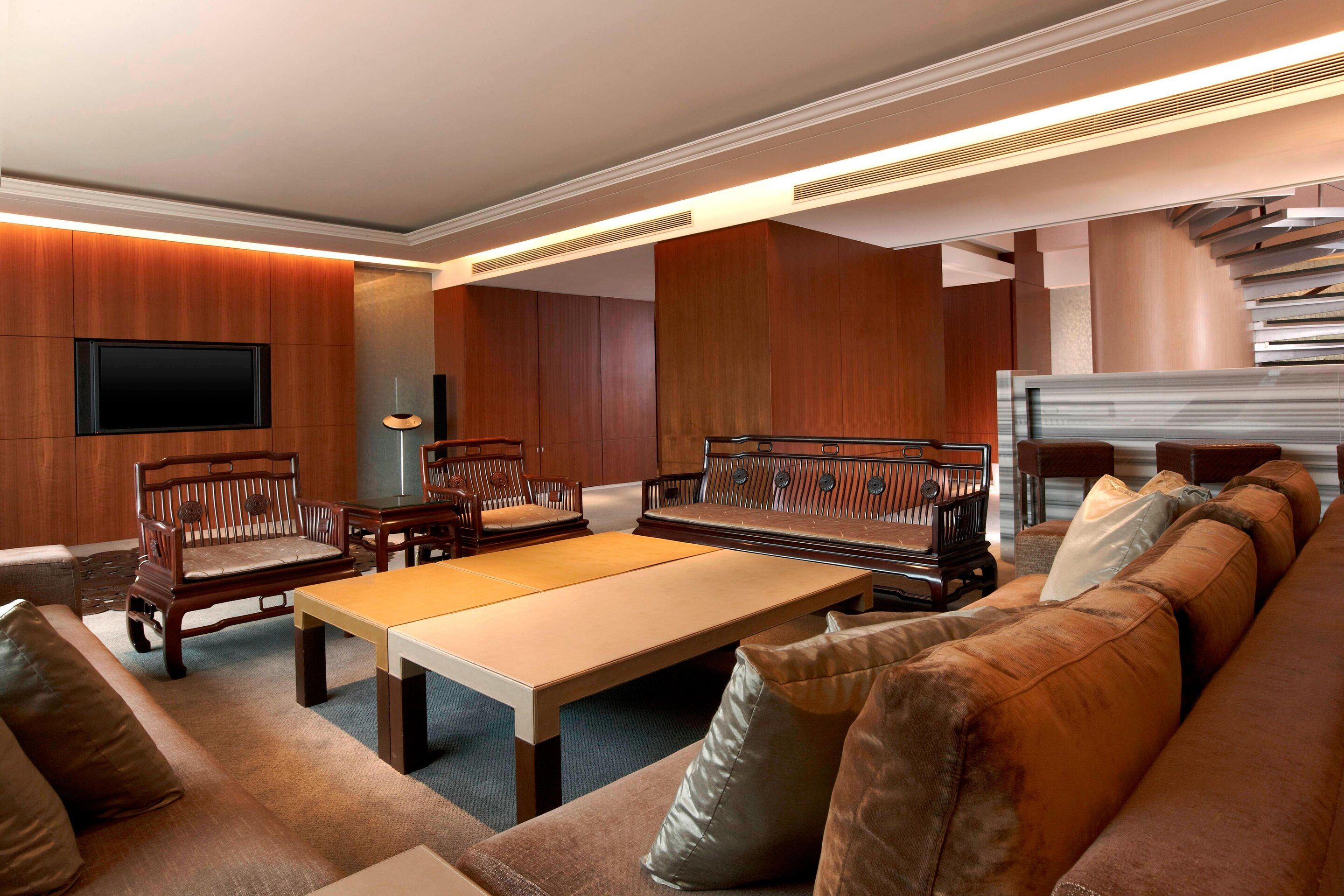 Presidential Suite Living Room. Photo by Sheraton Grand Taipei Hotel
Suites are also available for guests who require a more extravagant touch whilst they stay at the reputable Sheraton Grand Taipei Hotel. The Ambassador Suite is a room with a masculine aura, enough space to accommodate business meetings and destress in the living room with colleagues. The Presidential Suite combines modernism with an authenticity that can accommodate the most varied of families.
Amenities
Photo by Sheraton Grand Taipei Hotel
The Sheraton Grand Taipei Hotel provides an elite service throughout the hotel, the reputation of class prioritises its guests. This concern can be sensed across its many services and amenities. The staff at the hotel would be glad to help you arrange events and meetings in the public rooms, accommodating your every expectation and ensuring the actualization of your vision.
The hotel also homes a well-equipped fitness room, an authentic sauna, a heat-regulated swimming pool overlooking the city and an aerobics studio.
Halal Services
Photo by Malik Shibly on Unsplash
The Sheraton Grand Taipei Hotel combines modern elite hospitality with a concern for halal guests. Staff are trained on the expectations of Muslim guests and requests and information on prayer, food and privacy can all be explained at great length. The staff can provide your prayer mats, prayer directions, timetables and even Qurans. These little additions can complete your hotel experience and make you feel truly cared for, without forgoing your faith.
Muslim women are often forced to adapt to the amenities present, often forgoing experiences because things have not been made suitable for them. However, the Sheraton provides a female-only spa which is a thoughtful inclusion that safeguards both Muslim and non-muslims' modesty. Furthermore, female attendants can be assigned to rooms.
This particular Sheraton's primary concern is the comfort of business individuals hence there is no discotheque and gambling resort, this, in turn, is an ideal atmosphere for Muslims individuals who do not want to deal with the extra commotion. The hotel prioritizes concise service with no extra extravagance but a standard of great modernity and class.
Halal Food Services
Photo by Sheraton Grand Taipei Hotel
The hotel provides halal snacks and drinks in the food found in your private fridges. Snacks are of course not going to fill your appetites, and the hotel offers a separate halal menu as well as a halal-certified kitchen to prepare your food. Gone are the concerns of food cross-contamination.
The choices do not stop at Sheraton's menu, there are many halal restaurants available within 10 minutes walking distance. The Zhongzheng District is a bustling multi-cultural region with many choices of halal food from across the world.
Delhi X Press
Photo by Delhi X Press
Address: 2F, No. 3, Beiping West Road, Breeze Taipei Station, Zhongzheng District, Taipei City, Taiwan
Contact: +886-2-6632-8999
Delhi X Press provides a trip around the world with cuisine and dishes from the region of India, Morocco in North Africa, the varied Mediterranean and the Middle East.
Mamak Express
Photo by @tudou0612 on Instagram
Address: 2F, No. 3, Beiping West Road, Zhongzheng District, Taipei City, Taiwan
Contact: +886-2-2361-5566
Malaysian flavours, dishes and culture can all be experienced at Mamak Express, which offers the famous national dishes of nasi lemak and laksa, the flavoursome dips and fresh ingredients are all accompaniments that complete your savoury experience.
If you need more suggestions, check out our picks for the 7 Best Halal Food Restaurants in Taipei.
So what are you waiting for? Don't miss out on this chance to live in luxury during your next Taipei trip. Book now!