Known for its rapid growth, big cities like Seoul, the capital of South Korea, may be the top destination most travelers around the world would want to visit. However, this time we will take you to a whole different experience of traveling in South Korea. We are taking you on an adventure of South Korea's past – where cultural, historical and natural beauty were unified – because you deserve a unique and meaningful journey.
Let's begin the journey... Welcome to the one and only, Gyeongju – "The Museum Without Walls".
What you need to know about Gyeongju Korea:
Gyeongju is a coastal city located in the southeastern part of South Korea in a Province called North Gyeongsang. In this city, you will find yourself surrounded by numerous cultural properties and archaeological sites. Many of these gems are registered as UNESCO World Cultural Heritage sites. Indeed, Gyeongju is literally a giant open air museum that we must admire and protect at the same time.
The reason why there are countless historical sites nested in Gyeongju is because from 57 BC to 935 AD, Gyeongju was the capital of an ancient kingdom named Silla. Ruling for almost 1000 years, the kingdom was famous for their skillful gold-making craftsmen.
This place is definitely not to be missed when you are visiting South Korea, especially if you are a culture vulture, since there is so much you can do, learn and experience in just one place.
Here are our selections of 5 things to do in Gyeongju:
1. Autumn stroll like never before in Daereungwon Tomb Complex and Cheomseongdae Observatory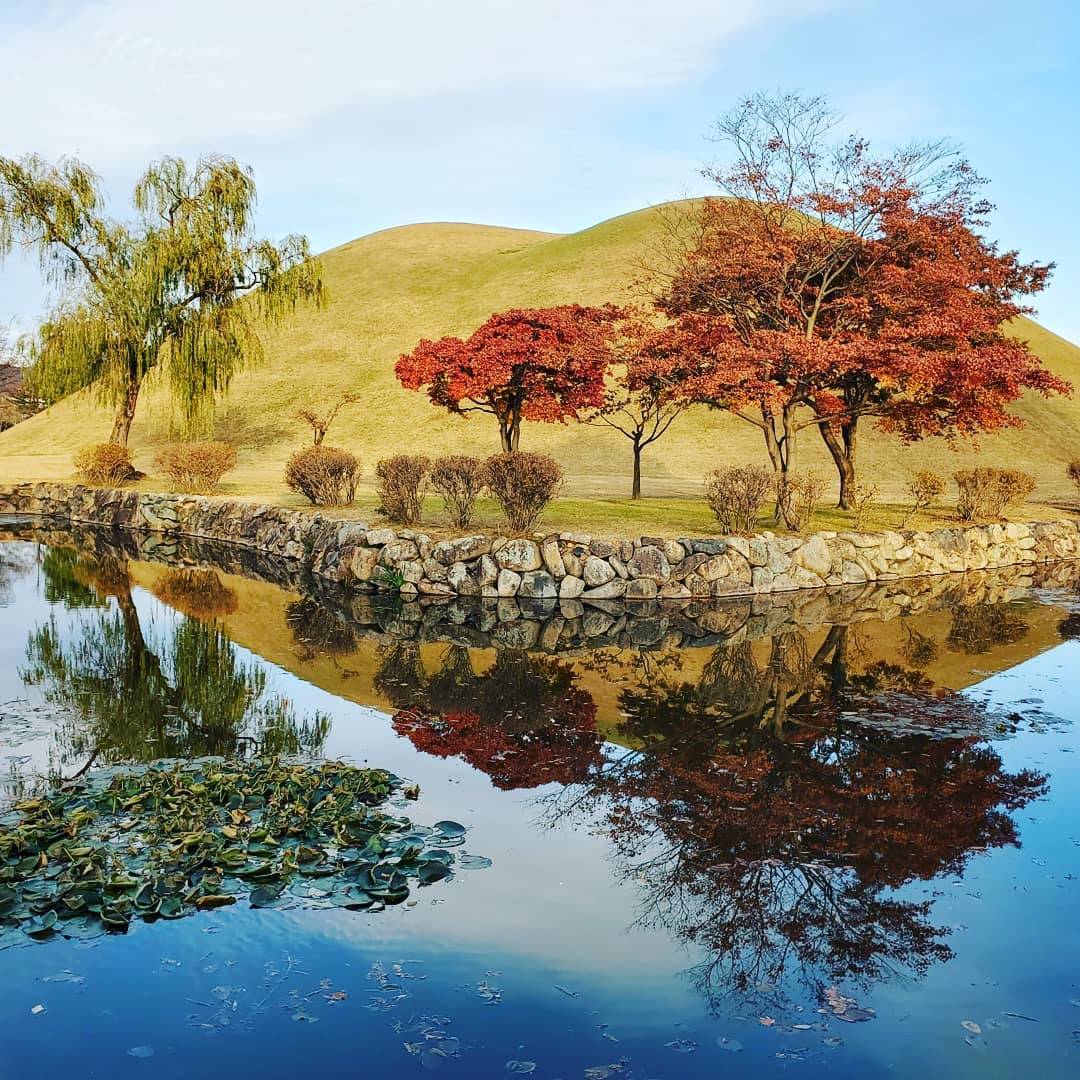 Credit: @joonbap on Instagram
Daereungwon Tomb Complex is a site where you can witness Tumuli of the kings and queens of the Silla dynasty. Tumuli is a unique ancient burial mound where stones are raised over a chamber that contains a coffin. Here, you can find Cheonmachong Tomb and admire exquisite ancient artifacts of Silla's Dynasty.
Credit: @athenazelandonii on Instagram
You will also find clean and well-maintained gardens and ponds within the complex. For a more romantic experience, this place is best visited in autumn, around September to November where you can watch the grass and leaves change color. Imagine holding your partner's hand and taking a walk back in time when the Silla Dynasty ruled, accompanied by traditional Korean music playing along the pathway.
What you should know: Remember to always respect and obey the rules as it is a sacred and holy area. Climbing the tomb is strictly prohibited.
Daereungwon Tomb Complex Address: 9 Gaerim-ro, Gyeongju, Gyeongsangbuk-do 38165 South Korea
Opening hours: 09:00AM-9:00PM
Entrance Fee:
Individuals: Adults 3,000 won | Teenagers 2,000 won | Children 1,000 won
Groups (30 persons/more): Adults: 2,400 won | Teenagers 1,600 won | Children 800 won
Phone number: +82 54-750-8650
Website: https://www.gyeongju.go.kr/tour
Credit: @amapro_ted on Instagram
Next attraction is Cheomseongdae Observatory. Cheomseongdae, which means "star-gazing tower" is the oldest preserved astronomical observatory in Asia that is located close to Daereungwon Tomb Complex. This Observatory was built during the reign of the first Queen of Silla Queen Seondeok. It was built around 632-647, a whopping 1300 years ago!
Okay, enough about history for now – here's the reason why we recommend visiting this place during autumn:
Pink Muhly Field.
Credit: @qorgh0 on Instagram
Yup! What you are seeing is real!
Rarely do people know, this particular grass turns pink in fall and best of all, it is located in the Cheomseongdae Observatory area. This is the reason why we put Daereungwon Tomb Complex and Cheomseongdae Observatory at number 1 on our list.
A suggestion from us, for better and more instagrammable photos or selfies, make Pink Muhly Field your last destination in the complex so you can reach there before golden hour. Remember, you first heard about Pink Muhly Field in the Cheomseongdae Observatory area from us.
Address: 839-1 Inwang-dong, Gyeongju-si, Gyeongsangbuk-do, South Korea
Opening hours: Every day 9:00AM - 10:00PM
Entrance fee: Adults: 4,000 won | Children 13-18: 3,000 won | Children 7-12: 2,000 won.
Phone Number: +82-54-772-3843
Website: https://www.gyeongju.go.kr/tour
2. Have an unforgettable cherry blossom moment with your loved ones at Bomun Lake Resort
Let's move on to spring! Maybe some of you identify sakura with Japan but, in fact, this pink flower that only blooms for two weeks exists not only in Japan but also in Korea. One of the best places to enjoy the cherry blossoms in South Korea is in Gyeongju, at Bomun Lake Resort.
Credit: @heimish_m on Instagram
Just look at those pink cherry blossoms. Oh, how lovely.
Credit: @sae_wele on Instagram
This enormous place is located under the ruins of an old fortress at Myeonghwal Mountain and overlooks Mount Toham. Not only is the scenery beautiful, this place also offers many things to do such as recreation, dining, sports facilities, and lodging. Therefore, coming here with friends or your partner will be very exciting. You can experience riding a swan-shaped paddle boat or taking an enjoyable walk surrounded by instagrammable pink colored leaves and much more.
What you should know: Cherry blossoms only bloom for 14 days at the end of March to early April. Make sure you get your timing right.
Address: Sinpyeong-dong, Gyeongju, Gyeongsangbuk-do South Korea
Phone Number: +82 54-745-7601
3. Soak in the beauty and serenity of Donggung Palace and Wolji Pond
Credit: @a_infires on Instagram
Formerly known as Anapji Pond, Donggung Palace and Wolji Pond is an artificial pond in Gyeongju National Park, South Korea. The pavilion and the pond were once part of a palace complex in the capital of the kingdom of Silla (57 BC-935 AD). This complex was constructed by the order of King Munmu in 674 CE.
For those who admire architectural works, this could be one of your bucket lists of must visit places in the world. The ancient architectural work of Silla's Dynasty is out of this world. Furthermore, this place is also very photogenic, especially at night. At night, the reflection of the buildings and the sky can be seen in this pool. Just imagine the serenity.
Address: 102, Wonhwa-ro, Gyeongju-si, Gyeongsangbuk-do, South Korea
Opening hours: 9AM-10PM
Entrance fee:
Individuals: Adults 3,000 won | Teenagers 2,000 won | Children 1,000 won
Groups: Adults 2,400 won | Teenagers 1,600 won | Children 800 won
Phone Number: +82 54-750-8655
4. Admire South Korea's national treasure, Silla gold crowns in Gyeongju National Museum
Credit: @gnmuseum_eng on Instagram
Built in 1945, Gyeongju National Museum houses over 3,000 artifacts and items on display from the Silla Dynasty (57 BC - AD 935). This place is located in the heart of Gyeongju. The best part is the fact that the entrance fee is completely free!
To those of you who adore history and culture, you cannot miss this place! The coolest artifacts that you have to see here is the Gold Crown. When the Silla Dynasty was ruled by Maripgan (417–458), The Silla dynasty was renowned for their extraordinary crafting skill in gold, silver and bronze. Just take a look at this Gyeongju National Museum's 32.5 centimeters tall National Treasure Gold Crown No. 188. WOW!
Address: 186 Iljeong-ro, Wolseong-dong, Gyeongju-si, Gyeongsangbuk-do, South Korea
Opening hours: 10AM-6PM (Tuesday-Friday), 10AM-9PM (Saturday), 10AM-7PM (Sunday)
Entrance fee: Free of charge except special exhibitions
Phone: +82 54-740-7500
Social Media: Instagram
5. Have a summer hike at Gyeongju Namsan Mountain
Credit: @afristanifamily on Instagram
Namsan mountain is located in the middle of Gyeongju National Park, to be precise in the southern part of the city. Tourists believe that you will know Gyeongju better once you've hiked Namsan Mountain.
One question, when hiking a mountain, what do you usually expect? Well, most people would usually expect beautiful scenery and fresh air. However, at Gyeongju Namsan Mountain you will get an extraordinary experience of hiking because the whole mountain is registered in UNESCO's list of World Heritage.
Credit: eimoberg via Wikimedia Commons
There are a total of 100 temples, 80 Buddha statues, and 60 stone pagodas spread along the mountainside. This scenic sacred mountain is truly an open-air museum. All that makes the hike on Namsan Mountain very therapeutic. Here you can reconnect with your true self, nature, and the past.
P.S. Gyeongju Namsan Mountain is best to be visited in the summer where the weather is clear.
Address: Namsan-dong, Gyeongju-si, Gyeongsangbuk-do, South Korea
Phone Number: +82-54-771-7142
Entrance fee: Free
6. Scream your lungs out at Gyeongju World Amusement Park
Credit: Visit Korea
Who would have thought a historical place like Gyeongju has an amusement park? This place is perfect for you thrill seekers who might want something that makes your heart pound faster. The most famous rides are the Draken, Python, Mega Drop, Tornado, Ferris Wheel, and Grand Canyon. Also try King Viking and Submarine Splash. It is best to come to this amusement park during winter, because they provide a special fun ride for winter, Ice-sledding. Wooo!!!
Fun fact: This place was once the shooting location for Running Man, I Live Alone and We Got Married.
Address: 544 Bomun-ro, Bodeok-dong, Gyeongju-si, Gyeongsangbuk-do, South Korea
Opening hours: 10AM-6PM
Entrance fee:
Individuals: Adults 47,000 won | Teenagers 39,000 won | Children 33,000 won
Phone: +82 54-745-7711
Wow, it turns out that there are so many things to do in Gyeongju Korea. All the attractions are here – from cultural and historical, to natural and spiritual, and even an amusement park. Other places worth mentioning are Bulguksa and Seokguram near Mount Toham, Gyeongju National Park area. Also spare some time to try their special bread, called Hwangnam bread. It is a small pastry that is filled with red bean paste.
Another tip from HalalTrip: It is better to save energy and stay in a place that is located in a good area for much easier traveling access. One that we recommend is Daemyung Resort which faces the Bomun lake. Click here for more.
See you on our next journey!
Top photo credit: Nicole Shirray on Flickr