Marrakech, the Red City, is not just a city, it is a legend! Built one thousand years ago, the Medina of Marrakech is a protected World Heritage site that has remained intact throughout history. This imperial city is a top-rated tourist attraction worldwide. It is the nexus of a bygone world of myths, castles, and scents, and a world of modern sensations. To visit Morocco is to visit Marrakech!
I invite you to time travel with me back into the ancient medina and souks (market), its royal medieval palaces, and riyads. Savor the exotic fragrance of food, incense, and leather. Walk in the marvelous Menara and Majorelle gardens and gaze at the wonders of Djemaa el-Fna. Your cherry on top will be the beautiful city of Essaouira.
Here is your guide to the 5 best things to do in Marrakech city! But don't let the article hold back your curiosity and emotions from exploring some more!
Absorb the atmosphere of Djemaa el-Fna!

Image Credit: Pawel Franke on Unsplash
Djemma el-Fna is literally a tiny wonderland! Imagine a theater, a circus, a museum, and a restaurant, all in one single place! Dancing monkeys and acrobats, artists, and magicians perform their arts while you sip from your cup of Moroccan tea at the terrace of one of many cafes around the square. As the sun sets, this place takes on a special atmospheric coat. Delicious aromas fill up the air and entice you into food!
Image Credit: Juan ignacio Tapia on Unsplash
There are many open-air food stalls for you to choose from. Make sure you try out authentic Moroccan food, most importantly, the local specialty of Marrakech: Tanjia. The way this dish is made is fascinating, let alone its taste! It is mostly made using seasoned halal beef or lamb, cooked very slowly in clay jars!
Here's a fun thing for you to do in the medina: take a ride in a horse cart and relax as you explore the Red city!
Lose yourself in the Souks of Medina!

Image Credit: Photo by Marwane El Ouakil on Unsplash
Before you think of walking around in the bouncy medina of Marrakech, expect to get lost! So much of what the old medina has to offer lies hidden in its maze-like alleys and homey riyads, in between the corners of busy shops and galleries, and behind walls that have long stood witness of treasures worth keeping.
Follow your senses, they will take you to magical places. Wherever you go in the medina, there is a tempting smell of some kind. The shops are colorful displays of crafts of leather, jewelry, plaster, wood, and metal, all bearing centuries-old traditions of Moroccan craftsmanship. You are likely to be invited into one of these shops, take the chance to get a souvenir! Always remember to negotiate prices.
Some places in the medina are easy to miss, so make sure to keep an eye out for Madrassa Ben Youssef! It is an ancient Islamic school where the Quran and other sciences were taught. Once inside, a marvelous masterpiece of art awaits you. On your way out, the special sounds of the Red city rush back to your ears and your adventure continues...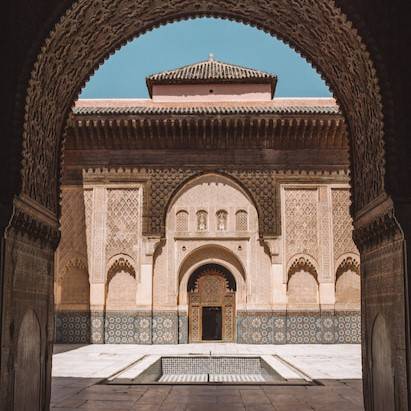 Image Credit: Alex Azabache on Unsplash
Your stay in Morocco could be right here in the old medina! There are many hotels and riyads. Riyads are friendlier and more traditional. Most of them have fountains and palm trees right at the center.
Image Credit: Federico Gutierrez on Unsplash
When in Marrakech you'd definitely not miss the eye-catching sight of the famous Koutoubia, the largest mosque in Marrakech. It is another wonderful architectural landmark that has endured long centuries of historical tides. Visiting this mosque will give you a spiritual shakeup!
Image Credit: Chronis Yan on Unsplash
Visit the Menara and Majorelle Gardens!

Image Credit: Author
Menara gardens are an iconic site in Marrakech. When you feel like taking a break from the racket of the city, visiting these gardens will refresh you! You may wonder where all that water in the pond comes from…well take a look at those beautiful snowy mountains in the background, now you may realize the genius of ancient artificial irrigation systems.
Image Credit: hazy momo on Unsplash
Now here's Marrakech's surprise for you! The gardens of Majorelle! They were designed over a period of 40 years starting in 1923 by a French artist who fell in love with Marrakech city. They are now home to the Islamic Art Museum of Marrakech and contain exotic collections of cacti, trees, and sculptures. The gardens were purchased and restored by the famous French designer Yves Saint Laurent. Take a little bit of this garden with you back home in the lens of your camera. Trust me, your photos will look amazing!
Have a royal experience in the Bahia and el Badi' palaces!

Image Credit: Abdelhamid Azoui on Unsplash
Being a tourist in Morocco can bring you a feeling of royalty at times. Imagine sultans, harem and servants…such is the life that was once lived in the Bahia and el Badi' palaces. As you walk past marble fountains, in and out the ornamented rooms where the spirits of old still dwell, your mind will draw pictures of aristocracy and nobility.
Riyads in the medina will offer you a taste of this experience! At very convenient prices!
Image Credit: Lindsey LaMont on Unsplash
Meet the 'sister' of Marrakech: Essaouira city!

Image Credit: Anastasia Dimitriadi on Unsplash
You may be overwhelmed by the submerging Marrakechi experience and still longing for its sensations…But, there is more for you in a place no less magical than Marrakech: Essaouira city. Once called Mogador, this fortress city is one of Morocco's most valuable tourist attractions. Within a two-hour drive from Marrakech, you will find yourself in one of Morocco's most beautiful medinas! It is famously known for its strong winds that attract surfers and beach lovers, and the old brass cannons lined up across the ramparts that surround the city.
Image Credit: Anastasia Dimitriadi on Unsplash
The medina of Essaouira is rich with art galleries. Paintings, woodcrafts and bronze are displayed in small shops scattered along its narrow alleyways. Like the medina of Marrakech, Essaouira has many spice shops with a wide variety of spices and aromatic herbs such as saffron.
One of the best things to eat in Essaouira is fish. Surprisingly, there are open-air restaurants that specialize in seafood in the port itself. Try out the simple delicious grilled sardines! They are as fresh as they can be, and the smell is mouth-watering!