Romantic Halal restaurants in Kuala Lumpur are plentiful if you've been looking for the perfect place to take your spouse for a special occasion. Here's a list of some of the most popular romantic Halal food spots in Kuala Lumpur! These restaurants are places where you can not only enjoy each other's company but also some great food, views, and experiences.
1) Dining in the Dark KL
Image Credit: Dining In The Dark KL
Starting the list off is one of the unique choices for a date night in Kuala Lumpur. As the name implies, the entire dining experience takes place in a pitch-black setting! Not to worry, you will always be assisted by highly-trained staff, few of them who are hearing impaired themselves. You will also not be told what you're eating (let them know of any allergies/dietary restrictions/etc. beforehand), which makes for fun conversations, and the fact that you will have to rely on all your senses other than sight will keep your sole attention on your partner by your side, which makes it one of the best romantic Halal restaurants in Kuala Lumpur.
(Note: The restaurant is not Halal certified, but they assure that all meat and other preparations are made according to Halal standards, and they do not serve pork. They do serve alcohol with meals, which can be omitted. Make sure to talk to the staff in advance.)
For more information on Dining in the Dark KL, click
here!
2) The 39 Restaurant
Situated on the 39th floor of Suria KLCC, also known as the Petronas Twin Towers, this is one of the most popular romantic Halal food spots in Kuala Lumpur. This is a great Halal fine-dining place in Kuala Lumpur where you can find traditional Malay cuisine that is elevated. Also, the view here is unparalleled, which makes it one of the most-visited Halal food restaurants in Kuala Lumpur.
For more information on The 39 Restaurant, click
here!
3) THIRTY8
The Malaysians sure love to be literal with their restaurant names, as this restaurant is situated on the 38th floor of the Grand Hyatt Hotel in Kuala Lumpur! Names aside, they also love enjoying great food in places that offer views that are unbelievable, just like THIRTY8, which is a popular romantic Halal food spot in Kuala Lumpur. Offering a wide variety of cuisines and dishes and a 360-degree view of the city, this is definitely one of the best Halal fine-dining places in Kuala Lumpur to take your soulmate too.
For more information on THIRTY8, click
here!
Disclaimer: This restaurant does not display a Halal certification in their dining outlets as they also serve alcoholic beverages. However, the restuarant has assured that their food served in all their dining outlets are Halal, obtained through Halal certified suppliers and cooked in kitchens that are halal certified.
4) Villa Danieli


Image Credit: TripAdvisor

Villa Danieli is located at the Sheraton Imperial Kuala Lumpur and is definitely one of the idyllic romantic dining spots in Kuala Lumpur with its trattoria-style ambiance and rustic décor. You can taste the amazing flavours of Italian food from the best pasta in some fine sauces or share delicious wood fire pizza with your partner in the colourful, warmly lit interior of the restaurant. The intimate setting also makes this the ideal romantic restaurant in KL to celebrate a birthday with someone special. Do note that Villa Danieli does serve alcohol but provides Halal dining options with no pork products.

For more information on Villa Danieli, click here!

Disclaimer: While the food here is Halal, the restaurant also serves alchohol
5) PRIME Steak Restaurant
Image Credit: Le Meridien
Prime Steakhouse has become popular for their fine, quality Halal-certified steaks, with cuts of Angus Beef, Wagyu Ribs and more. How does a romantic night out with an amazing steak dinner sound? Prime Steakhouse has got to be one of the best restaurants to impress your better half with delectable steak, fresh oysters smoked salmon and more. You can enjoy all these delights with that special someone in the glow of the restaurant's stylish interior.
For more information on PRIME Steak Restaurant, click here!
6) Qureshi Malaysia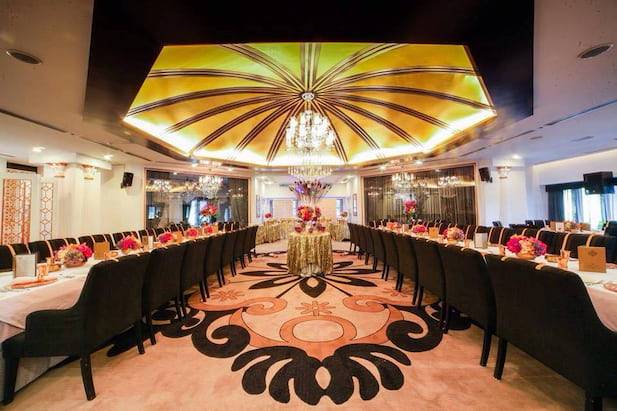 Image Credit: Qureshi International

If you are looking for romantic dining in KL and some great flavour, drop by this Muslim-owned restaurant, Qureshi Malaysia, to taste some of the most delicious Indian cuisines. You can enjoy a quiet, romantic evening out with your significant other in an extravagant interior - with an awesome variety of Indian dishes such as flavourful biryanis, tandoori grills, kebabs and so much more. Do give their parathas and lamb specialties a try too. Qureshi also has some delicious platters for two – the perfect way to spend your date in a luxurious setting.

For more information on Qureshi Malaysia, click here!