1. Home Cuisine Islamic Restaurant
Located in Bangrak district, just opposite to the French Embassy, Home Cuisine Islamic Restaurant is a family restaurant which offers a variety of dishes such as Chicken Biryani, Tom Yum soup and many interesting Thai dishes. There's another positive to dining in at this place, there's a mosque nearby, so, if you're late for prayers you won't have to worry about
finding a mosque.
Click here for more information about Home Cuisine Islamic Restaurant
2. The Muslim Restaurant
Picture Credit - www.eatingthaifood.com
You can find this restaurant at the Charoen Krung road near its junction with Silom road. You can find food made in Isaan (Thailand's North-Eastern region) fashion here. The restaurant also offers a number of Pakistani and Indian dishes to its customers. The food is believed to be so good that according to visitors they sometimes run out of food so if you're planning to visit, try to be there on time.
3. Sophia Restaurant
You can find it at the Ramkhamhaeng alley, it offers options for Halal fast food including Burgers. Furthermore, for those coming from Malaysia and Singapore, the good news is that you can communicate with the staff in the Malay language. However, the most liked thing about this place is its cosy interior.
4. Punjab Grill
Picture Credit - www.punjabgrill.in
This restaurant can be found in Radisson Suites Bangkok Sukhumvit hotel. As you would've guessed from its name, Punjab Grill specializes in making dishes that are native to the Punjab region of South Asia (India & Pakistan). The restaurant offers musical shows six nights a week where a number of renowned Indian singers are known to perform.
Click here for more information about Punjab Grill
5. Beirut Restaurant
Picture Credit - www.steakandteeth.com
Found in Sukhumvit Soi 39, Phrom Chit alley, Beirut Restaurant specializes in crafting delicious Lebanese food. The price might look a bit unjust but believe me the food makes it worth it. Moreover, the restaurant also offers mouthwatering vegetarian dishes. Finding the restaurant could be a challenge for some as it is hidden in the back streets of Bangkok.
Click here for more information about Beirut Restaurant
6. The Great Kabab Factory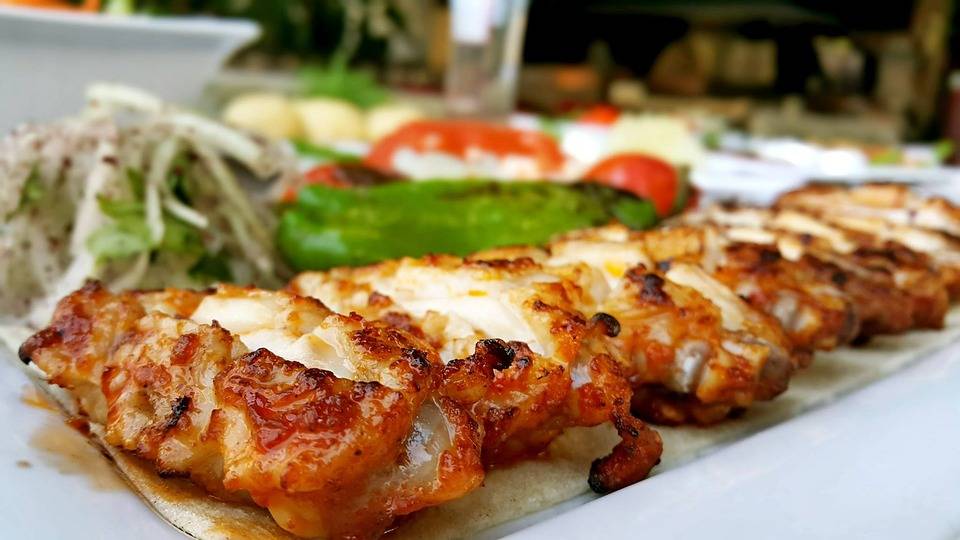 The Great Kabab Factory is located in the Majestic Grande Hotel building at 12 Sukhumwit road and can be accessed from both Nana and Phloen Chit station of the BTS Sukhumwit line you would have to walk for a few minutes though. The restaurant opens at 11 in the morning and closes at 11 at night. It mainly serves Indian styled food including Kebabs and curries. The restaurant offers a buffet in a unique way, you don't have to get up, instead, the food will be served on your table.
Click here for more information about The Great Kabab Factory
7. Bangkok River city cruise
Unlike any conventional restaurant, The Bangkok River City cruise offers visitors a chance to see the beauty of Bangkok while munching their favourite food. You can find numerous companies that offer these services in the River City. the food is not always Halal but you can inform the company so that they may prepare halal food for you. The cruise runs along the Chao Phraya River. During the journey, you can witness the sparkling skyline of Bangkok and see important cultural and national landmarks such as the King's Palace and several golden temples.
Finding Halal food
is not that difficult in Bangkok, apart from the above-mentioned restaurants you can find small side shops, local diners, and food stalls that serve Halal food, remember all these places will have 'Halal' mentioned in their logo otherwise there would be a Kalma written in Arabic.