Are you looking for more reasons to plan your trip to Tokyo now? Well we have the got the perfect idea just for you. Why not mix a bit of adventure and excitement into your trip by including a trip the well-known symbol of Japan, Mount Fuji? Located just about 100 kilometers away from the Japanese capital, Tokyo city, you can easily plan a Mount Fuji day tour to experience the great joy of conquering this mighty mountain, and also learn what makes this site as special as it is. To help you get started on your journey we have put together a day trip itinerary to Mount Fuji, just for you.

via GIPHY
Interesting facts about Mount Fuji

To begin with Mount Fuji, which is located on Honshu Island, is actually the highest mountain in Japan. Standing tall at 3776 meters (12,389 ft) it is ranked as the 7th highest mountain located on any island. A striking feature of the mountain is its symmetric shape which is even visible from city areas on clear days. Owing to its captivating beauty, the mountain is often a feature in various works of art and photographs. Aside from the its natural beauty, the mountain is treated as a symbol of Japan and one of Japan's historic sites which is considered by Japanese to be a representation of good luck and good fortune. This has led to the mountain becoming one of the most visited sites by pilgrims, sightseers, and adventure enthusiasts.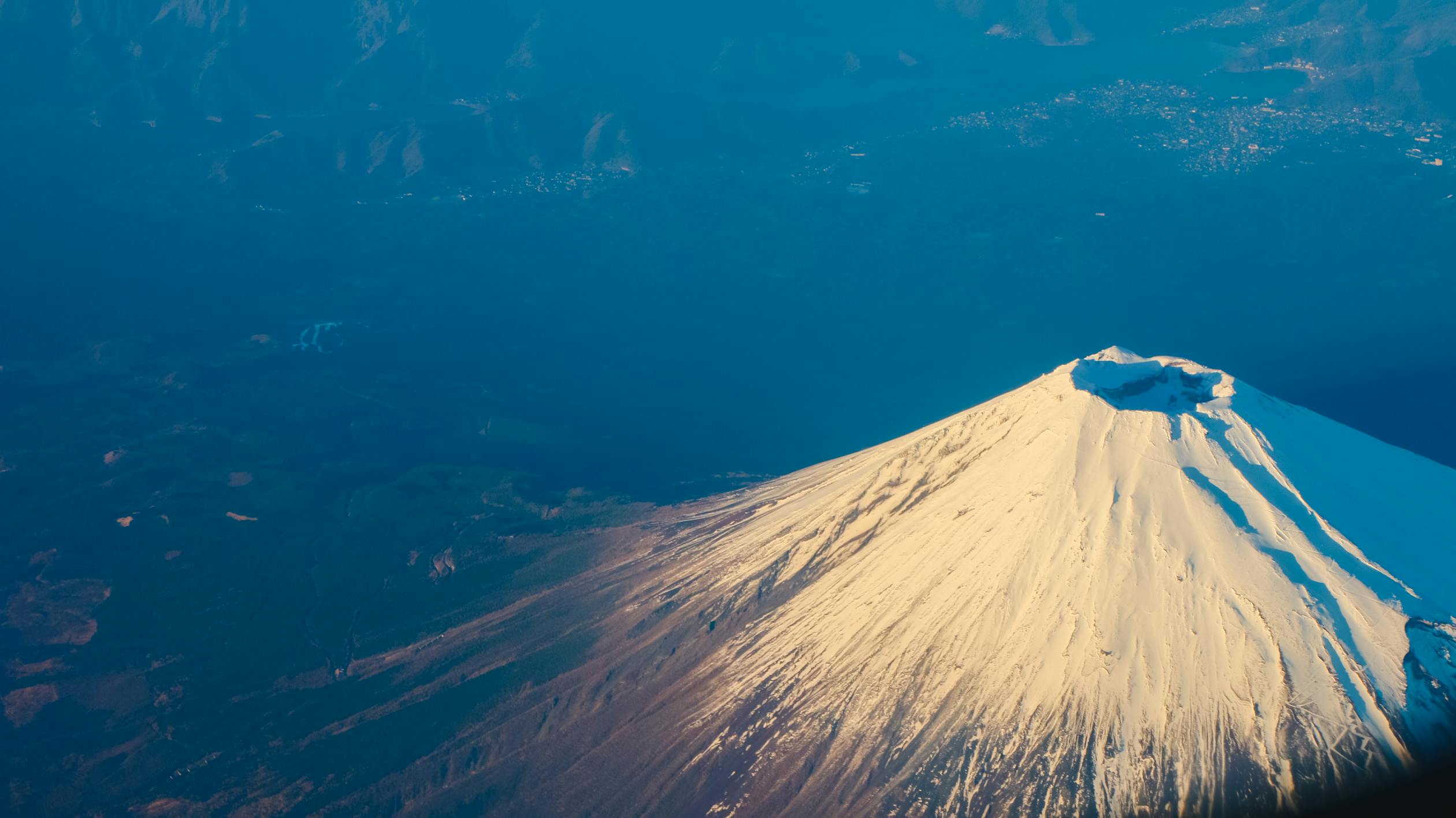 Another distinctive feature of Mount Fuji is that it's a giant volcano; and not just one but three volcanos layered one on top of the other. Being classified as an active volcano may sound like a scary fact but it actually has a very low eruption risk with the last known eruption dating back to 1707-1708.
The mountain is also identified as one of the Three Holy Mountains along with Mount Tate and Mount Haku. Owing to its amazing natural beauty, unique geographical identity, and historical & cultural value, the site was added to the UNESCO world heritage list since June 2013.
Best time to climb Mount Fuji

Picture Credit - Jakub Halun, commons.wikimedia.org
The best time to climb this well-known symbol of Japan is during the summer which ideally falls between July to mid-September. This is the time where the weather is sunny and bright making it a great time to go for a hike and enjoy the best views from the mountain top. The exact start dates of the climbing season are announced officially based on prevailing weather conditions, and you can get more information by visiting the Official Mount Fuji website. You can also check which trial is open during the time you'd like to visit the peak. It is strongly advised to avoid climbing the peak off-season as the thick snow cover and other adverse weather conditions make the climb extremely risky.
Mount Fuji trails leading to the peak

Picture credit - www.yokota.af.mil
1. Yoshida Route – Estimated time to climb about 6 hours and 3.5. hours for the descent. Since this is the most popular route and highly recommended for beginners, it tends to get quite crowded during the peak season, which might cause delays in your climbing schedule. Many choose to climb the during the night (starting around 10.00 PM) to make it on time to view the sunrise from the summit by about 5.00 AM
2. Fujinomiya Route – the second most popular route among climbers, it has the shortest ascension time of about 5.5 hours
3. Subashiri Route – This route gets its name as the surface of the trail is mainly sand (Suba translates to sand in Japanese). The ascension time of this route is about 7 hours and it takes only about 3.5 hours to descend. For this reason, many travelers choose to descend via this route.
4. Gotemba Route – Since this route has a gentle slope it has the longest climbing time of about 8 hours to reach the summit. But the less prominent slope makes it also great for those who are less tolerant of high altitudes as the risk of developing altitude sickness is much less.
How to get to Mount Fuji
Because Mount Fuji is one of the most popular attractions in the country, the transport network to get to the site is highly developed and gives you a number of options to choose from.
By train

Picture Credit - Jakub Halun, commons.wikimedia.org
To reach the Yoshidaguchi entrance you can take the Fuji Kyuko line train to Kawaguchiko Station followed by the Tozan bus which is often referred to as the mountain climbing bus and get off at the Fuji Subaru Line Go-gome stop
If you are travelling from Tokyo or Osaka it is quite advisable to book a Japan Rail Pass ticket and travel from JR Tokaido main line's Mishima Station, the JR Tokaido shinkansen's Shin-Fuji Station, the Tokaido line's Fuji Station or the Minobu line's Fujinomiya Station
You could also catch the Tozan bus by taking the JR Gotemba line to Gotemba Station or the Odakyu line to Shinmatsuda Station and also arrive at the climbing stations.
By bus

Picture Credit - shinjukustation.com
There are special bus services operated by the Fuji Kyuko bus service. One option is to take the highway bus form the Shinjuku Highway Bus Terminal or even catch the highway bus which travels from the Haneda Airport to Mount Fuji during the summer.
By car

Picture Credit - Jack Stump, flickr.com
If you wish to travel by car, you will need to check access prior to travel as there are often limitations set on various routes during the peak season. Parking facilities are available at Fujihokuroku Parking lot, Mizugatsuka Parking lot and Subashiri Multipurpose Parking Lot, and you can take a shuttle bus to the entrance points.
Preparing to climb Mount Fuji: What You Need for a Mount Fuji Day Tour

Picture Credit - climbing-mt-fuji.com
As you plan your day trip itinerary to mount Fuji you might want to make a note of a few important points to prepare yourself for the journey ahead of you. There is quite a striking temperature difference between the starting climbing point and at the peak of about 20 degrees. Even during the summer, the temperature at the peak could reach freezing temperatures, therefore it is advisable to wear appropriate gear and weather appropriate clothing. It is best to invest in mountain climbing shoes and jacket for this purpose. Other important things to take along with you include plenty of drinking water, a torch, a towel, light snacks, sunglasses and a climbing pole to reduce the strain on your legs.
Climbing Rules and Regulations

Picture Credit - www.fujisan-climb.jp
Since the mountain is considered to be a scared location and protected site, climbers are expected to be mindful of their conduct when visiting the area. As general guidelines refrain from removing any natural specimens form the area and also, causing damage in any way. Paid restroom facilities are also available for climbers along the way.
What to See and Do in and around Mount Fuji
Mount Fuji is part of the Fuji-Hakone-Izu National Park. Therefore, the area has quite a number of interesting sites you can visit during your trip. So apart from climbing the mountain here are some things you can see and do during your visit
Visit Hakone including the Ashi lake and hot springs

Kawaguchiko Lake

See the beauty of Kawaguchiko Lake - one of the Fuji Five Lakes located at the foot of the mountain
Fujiyoshida Sengen Shrine

Picture Credit - Neworion, commons.wikimedia.org
Learn more about Mount Fuji's ancient history at the Fujiyoshida Sengen Shrine (formally known as Kitaguchi Hongū Fuji Sengen Jinja)
Arakurayama Sengen Park

Picture Credit - Manish Prabhune, commons.wikimedia.org
Capture some breathtaking images from Arakurayama Sengen Park viewing point.
Subashiri 5th Station

Picture Credit - planetyze.com
Enjoy the amazing scenery at the Subashiri 5th Station
Souvenirs

Picture Credit - en.japantravel.com
Grab some souvenirs to remember you visit and enjoy some great tasting Japanese cuisine at the Gotemba Premium Outlets, which feature over 200 shops and restaurants
Address: 412-0023 Shizuoka, Gotemba, Fukazawa 1312
Phone: +81 550-81-3122
Hours: Monday to Sunday 10:00-20:00
Facebook | Instagram | YouTube | Google+

via GIPHY
Check out our solo travel ideas