Shopping in Japan could easily be a shopping lovers dream come true because there is so much variety in what is available. From high-end brands to traditional Japanese items, you would be able to purchase anything you desire and also come across several surprises as you wonder through the amazing array of stores that can be found. Here we have put together a Japan shopping guide showcasing the different types of shops in Japan and also focused on some of the top places to shop in
Tokyo
, which is by far one of the most happening shopping cities in the world.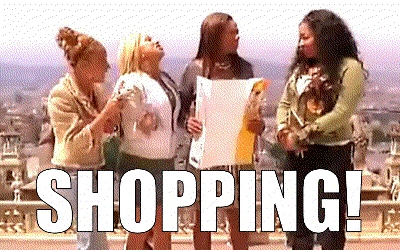 Credits - giphy.com
1) Department Stores
Taking a leading place on our Japan shopping guide are
department stores
. These stores have become popular tourist locations and important landmarks of the country because they have the complete mix of stores catering to every shopping need. Apart from having shops offering international brands, fashion goods, electronics, toys, groceries and many more, these locations are also famous for having good quality restaurants, which make them great places to spend time during your holiday. Some of the top department stores to look out for your Tokyo shopping tour are
Isetan
,
Mitsukoshi
,
Parco
, and
Marui
.
2) Electronics Stores
If you think of shopping in Japan,
electronic
items are one of the first things that would come to mind. Known to be one of the most technologically savvy markets in the world, you would be able to visit a host of electronics stores selling items like computers, phones, home appliances, toys and gaming accessories. Most of these stores are situated around major train stations and some of the top places to shop in Tokyo for such goods include
Akihabara
,
Shinjuku
and
Ikebukuro
districts.
3) 100 Yen Shop
For those of you who are looking for the perfect budget shopping experience,
100 Yen Shop
is a great option to check out. Most of the items in this store cost 100 yen (plus 8 percent charged as consumption tax) but they do have smaller items like snacks, which are often cheaper or more expensive items that are priced as multiples of 100 yen. You can find a range of items in the 100 Yen Shop, including socks, stationeries and homeware!
4) Convenience Stores
While shopping in Japan, you definitely would not be able to miss convenience stores also known as
Konbini
. With over 50,000 stores located all across Japan, it offers true convenience to shoppers as the locations are open 24/7. Convenience stores offer a complete range of goods including food, beverages, other essential household goods and also important services like ATMs, shipping and ticketing services, which would be very important for you as a tourist.
5) Shopping Malls
Our Japan shopping guide would not be complete without introducing you to some of the most amazing shopping malls in the Japan. These spacious locations found in all major cities and suburbs, often feature hundreds of stores including branded stores, fashion items, variety stores, restaurants and several other recreational spaces like movie theaters and gaming arcades. Therefore you could consider stopping by locations like
KITTE Marunouchi
,
Futako-tamagawa Rise
and Tokyo Solamachi for an unforgettable Tokyo shopping experience. Get ready to spend hours walking around the huge malls to shop till you drop!
6) Public Markets
To complete our list, public markets are great places to do some shopping in Japan - to understand the true essence of daily Japanese living. These markets are often packed with several vendors and stalls selling anything from fresh fish, fruits and vegetables, street food, handcrafted items and many more. Tsukiji Market is one such top places to shop in Tokyo to get a sense of this unique shopping experience. Head over here to have a taste of authentic Japanese food such as Takoyaki, and of course, shop for souvenirs to bring home for family and friends!