Tokyo
is definitely one location that you should have high on your list of places to visit. It is the perfect mix of the past and the future, and you can find aspects of both even in the midst of the bustling capital.
Tokyo offers its visitors some of the most unique experiences worldwide, and its
hotels
are no different. There are so many amazing places to stay in Tokyo, and many of them are so unique that it's unlikely you'll find something similar elsewhere. Of course, their luxury, and even traditional hotels are nothing to scoff at, but there are so many other cool places to stay in Tokyo that will give you something new and exciting to remember.
If you're wondering where to stay in Tokyo to take in the best of what this incredible
city
has to offer – here is a list of 7 types of must-visit hotels in Tokyo and the most unusual hotels in
Japan
.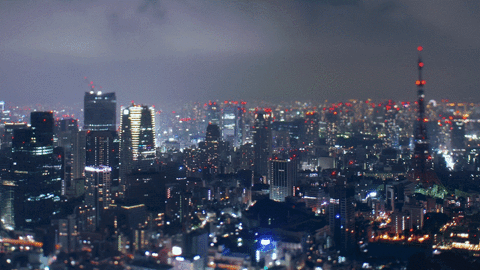 Credits - giphy.org
1) Capsule Hotels

Picture Credit - www.booking.com

Where?
Hotel Asakusa & Capsule, Shinjuku Kuyakusho-mae Capsule Hotel, The Kiba Hotel, etc.
One of the coolest places to stay in Tokyo is
capsule hotels
. These hotels feature futuristic looking capsule-bedrooms. Most capsules are fitted with a comfy bed, a TV, radio/alarm, and Wi-Fi. Some of them even offer saunas and jacuzzi that guests can enjoy for an extra cost. Capsule hotels are ideal for those who prefer minimum fuss. If all you want is a place to rest your head at the end of the night – this is the best hotel in Tokyo for you!
2) Flight Hotels

Picture Credit - www.pinterest.com

Where?
First Cabin
Have always wanted to fly first or business class, but didn't see the point in paying that much money for a flight that lasts less than half a day? Then you have to try out the flight hotels, which are one of the most unique
accommodations
in Tokyo. The capsules at these hotels range from small (which are literally the size of a first class cabin on a flight) to slightly larger (enough to hold a single bed).
3) Minshuku Hotels


Picture Credit - www.hotels.com

Where?
Yasuda no Ie, Nihon Tokyo Minshuku, etc.
When in Japan, sleep as the Japanese do; and there's no better place for this than Minshuku hotels. Minshuku is Japanese style bed-and-breakfast places, although they may be quite different to what you're used to. The concept is based around Japanese families renting out extra rooms they have to guests. Living amongst an actual Japanese family will give you a taste of what life is like here typically. You will be served
tea and snacks
,
breakfast
, and
dinner
. The rooms have minimal to no furniture, in accordance with tradition, and you might have to share a communal bath. But it's something that is definitely a unique accommodation in Tokyo because you won't find anything like it anywhere else.
4) Onsen Hotels


Picture Credit - selected-ryokan.com

Where?
Ooedo-Onsen-Monogatari, Black Spa Hotel Suehiro, Spa & Hotel Nagomi, etc.
Onsens
are inns with traditional Japanese hot springs. Japan has hundreds of these types of
hotels
, but they are still some of the best hotels in
Tokyo
and you cannot miss them. Although Onsen is typically located outdoors, more of them have been popping up indoors – with the rise of skyscrapers and such. But even in these places, the hot springs are filled with natural "black water" (kuroyu), which is traditional to the Tokyo area.
5) Robot Hotel


Picture Credit - www.engadget.com

Where?
Henn-na Hotel
Tokyo's
robot-run hotel
is definitely one of the weirdest hotels in Japan, which is why you have to check it out! From voice-activated commands to face-recognition technology, even the reception desk is 'manned' by a Japanese-speaking dinosaur-robot, and an English-speaking female robot! With Japan being one of the pioneers of latest technology, where else would be the ideal location for such a concept?
6) Themed Hotels
Picture Credit - www.pinterest.com
Where?
Keio Plaza Hotel, Hotel Public Jam, Hotel Gracery Shinjuku, etc.
Bring your childhood dreams to life in Tokyo. Whatever your fantasy may be, you are guaranteed to find a place that brings it to reality.
Keio Hotel Plaza
offers you a look into the surreal world of Hello Kitty, Hotel Gracery Shinjuku is Godzilla-themed, and Hotel Public Jam gives you the chance to spend a night inside a pirate ship-themed room, or even sleep next to an actual real-life vintage VW Beetle! While these are just three examples of amazing places to stay in Tokyo, there are plenty more!
7) Book-and-Bed Hotels


Picture Credit - www.boredpanda.com

Where?
Book and Bed Tokyo,
If you're a book lover, then you've undoubtedly had the feeling of never wanting to leave the bookstore. That's why book-and-bed hotels are the ultimate
must-visit hotels
in Tokyo for you. These hotels are designed to feel like a bookstore, with shelves lined full of books and cosy reading spots. You can read all night long, and you can read as many books as your heart desires!
8) Ryokan Hotels

Picture Credit - www.ryokan.or.jp

Where?
Sukero No Yado, Ryokan Sawanoya, Andon Ryokan, etc.
Ryokan
is a traditional Japanese inn that is decorated with all the authentic accents of a Japanese home. The most common features of a Ryokan inn is the classic futon that is rolled out on tatami mat floors. Other decorations are also kept minimal, keeping it in line with traditional Japanese styles. Many of the Ryokan places also offer cultural experiences such as old-fashioned Japanese entertainment, geisha dancing courses, karaoke, and Japanese party games. Unfortunately, these types of hotels appear to be quite rare these days, so grab the chance while you can!
9) Art Hotels
Where?
Park Hotel Tokyo, BnA Hotel, Shinjuku Granbell Hotel, etc.
Some of the best hotels in Tokyo are designed using amazing pieces of art. The amazing thing is that these hotels do not focus on famous names alone but on the art itself. These hotels are dedicated to promoting up-and-coming artists from all around
Japan and Asia
. Park Hotel Tokyo even had an interesting approach: they invited artists to stay in the rooms themselves and design art to alter the design of the room.